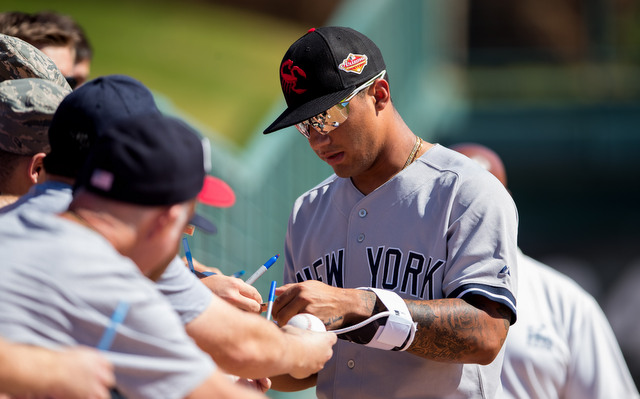 The Yankees and Pirates will resume their three-game series with the middle game later this afternoon. Until then, here are a few bits of news and notes to check out.
Three Yankees on Law's updated top 50 prospects list
I missed this last week, but Keith Law (subs. req'd) posted an updated list of the top 50 prospects in baseball. This isn't a re-ranking. It's more of an update to Law's preseason top 100 to reflect prospects who have either graduated to MLB or will soon. Here are the Yankees in the updated top 50 list:
2. SS Gleyber Torres (No. 4 preseason)
16. OF Blake Rutherford (No. 22 preseason)
20. OF Clint Frazier (No. 27 preseason)
Torres is behind only Mets SS Amed Rosario. He was also behind Red Sox OF Andrew Benintendi and Braves SS Dansby Swanson on the preseason list, but those two have since graduated to the big leagues, which is why Gleyber has moved up two spots.
OF Aaron Judge ranked 44th preseason but recently graduated to MLB, so he's no longer a prospect. RHP James Kaprielian went from 28th before the season to out of the top 50 in the update, presumably due to his continued elbow problems. LHP Justus Sheffield was 88th preseason and did not jump into the top 50. So, in the eyes of at least one prospect ranker, the Yankees currently have three of baseball's 20 best prospects in their farm system. And Judge and Gary Sanchez and Greg Bird and Luis Severino at the MLB level. Hooray.
Cabrera among top DSL prospects
Ben Badler (subs. req'd) recently put together a list of the top 20 prospects who spent time in the Dominican Summer League last year. The players are listed alphabetically. Not ranked. The Yankees had one player in the top 20: SS Oswaldo Cabrera. He tore up the DSL in 26 games last year before the Yankees brought him stateside. Here's a piece of Badler's scouting report:
He's a true all-fields hitter with a sound swing and natural hitter's actions in the box. When he swings, he doesn't miss much, with innate feel for the barrel and good plate coverage with a chance to develop into a plus hitter. Cabrera isn't that big and will probably always have a hit-over-power profile … He should be able to stick at shortstop.
Badler also notes Cabrera, who signed for $100,000 in 2015, made a slight adjustment after signing that has paid big dividends. He backed up a bit in the batter's box, giving him more time to react and allowing him to use his hands more efficiently. The just turned 18-year-old Cabrera is off a slow start with Low-A Charleston — he's the youngest player in the South Atlantic League by several months — but he hit .345/.396/.523 (193 wRC+) in 52 rookie balls games last year. A spot in the organizational top 30 prospects list awaits.
MLB unveils 2017 special event uniforms
Earlier this month MLB unveiled their special event uniforms for the 2017 season. These cover Mother's Day, Father's Day, Memorial Day, Fourth of July, and the All-Star Game. Rather than wear the special uniforms only on the day of the event, this year players will wear them the entire holiday weekend. Everything will then be auctioned off for charity. Here are the Yankees special event hats and jerseys, via Chris Creamer: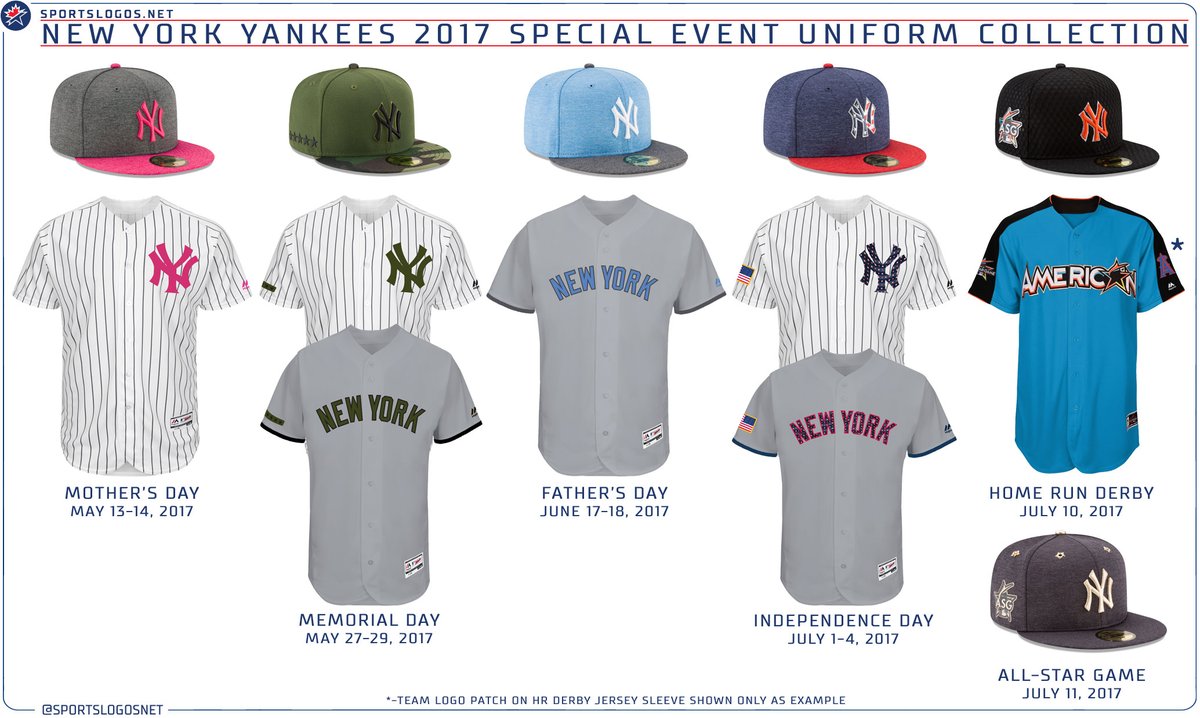 That stars and stripes hat for the Fourth of July is pretty awesome. These special event caps usually don't do anything for me, but I dig that one. Also, during the All-Star Game this year, each player will wear a patch on their sleeve that includes the number of All-Star Games they've been selected to in their careers. That's pretty cool.
Yankees are still the most valuable franchise in MLB
Surprise surprise, the Yankees remain the most valuable franchise in baseball, according to Forbes. By a lot, too. The Yankees are worth an estimated $3.7 billion. The Dodgers are a distant second at $2.75 billion. Yeah. This is the 20th consecutive year the Yankees have ranked as baseball's most valuable franchise. They generated an MLB best $526M in revenue in 2016 despite a 10% drop in attendance the last few years.
Amazingly, the average MLB franchise is now worth $1.54 billion, up a whopping 19% from last year. Incredible. The league can thank new television contracts and the rapid growth of the MLB Advanced Media juggernaut for that. The Yankees were worth an estimated $3.4 billion last year. Back in 2010 they were worth a comparatively tiny $1.6 billion. The franchise could very well triple in value before the decade is over. Owning an MLB team is good work if you can get it.