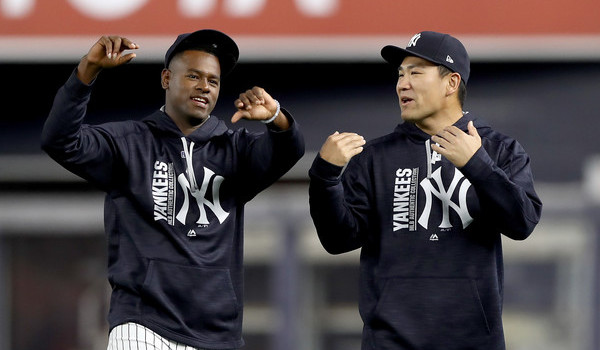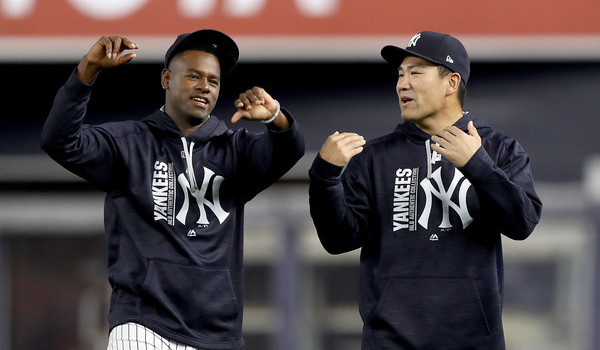 Five games into the 2017 season, everything that could go wrong with the Yankees was going wrong. Their young hitters were struggling, the rotation was providing neither bulk innings nor quality innings, and their greatest strength (Dellin Betances and Aroldis Chapman) was rendered moot because the rest of the team wasn't doing its job. The Yankees lost four of their first five games and looked every bit as bad as their 1-4 record suggested.
Fast forward a week, and the Yankees are now riding a seven-game winning streak heading into tonight's series opener against the rebuilding White Sox. This winning streak started with a late-inning comeback win over the Orioles last Sunday, the kind of game you can easily build a "turning point!" narrative around, and has continued with back-to-back three-game sweeps of the Rays and Cardinals.
Winning seven straight games requires a team effort. The Yankees have not been carried offensively by one player. There seems to be a new hero every night. Aaron Judge hit home runs in three straight games at one point. Aaron Hicks had a two-homer game last week. Last night Greg Bird snapped out of his slump and got in on the fun too. The bullpen has been great as well, even on days Betances and Chapman were unavailable.
One constant during this seven-game winning streak has been strong starting pitching, and given how things played out in those first five games of the season, I didn't think we'd be able to consider the rotation a strength so soon. The starters have pitched well and they've also pitched deep into games, lightening the workload on the bullpen. Here's the rotation game log for the winning streak:
Date & Opponent
Starter
IP
H
R
ER
BB
K
HR
April 9th @ Orioles
CC Sabathia
6
6
3
2
4
3
0
April 10th vs. Rays
Michael Pineda
7.2
2
1
1
0
11
1
April 12th vs. Rays
Jordan Montgomery
4.2
5
3
2
2
7
1
April 13th vs. Rays
Luis Severino
7
5
2
2
1
11
1
April 14th vs. Cardinals
Masahiro Tanaka
6.1
5
3
3
2
5
1
April 15th vs. Cardinals
CC Sabathia
7.1
3
1
1
1
6
1
April 16th vs. Cardinals
Michael Pineda
7
6
2
2
1
6
1
Totals
46
32
15
13
11
49
6
That's a seven-game stretch with a 2.54 ERA and a 4.45 K/BB ratio for the starters. They also have a 0.93 WHIP, if WHIP is your thing. Furthermore, the Yankees have gotten at least six innings from their starter in all but one of those seven games, with the only exception being Montgomery's big league debut. Joe Girardi said he was on a pitch count — Montgomery threw 89 pitches that day after throwing no more than 77 pitches in Spring Training or the minors — plus a kid making his MLB debut tends to have a short leash.
Pineda has been the pitching star during his seven-game winning streak. He retired the first 20 batters he faced in the home opener last Monday, and last night he gave the Yankees another seven strong innings. In a way, last night's game was more impressive. Pineda had everything working in the home opener, and when that happens, he's untouchable. Last night he ran into some trouble early, including allowing a two-out run in the second inning, but he settled down and pitched deep into the game. And when Yadier Molina took him deep to start the seventh inning, Pineda shook it off and retired the next three batters without incident. There was no unraveling this time.
"I didn't think his slider was as sharp as the other day, but he found a way to get through seven innings," said Girardi after the game. "His stuff got better after the second inning. Fastball and changeup was good. He gave up the one run with two outs, but then he settled down after that and threw a good game. It's important because you want him to keep building and get some momentum, because he had a hard time doing that last year."
Amazingly enough, Tanaka has been the Yankees worst starting pitcher in the super early going this year. I didn't expect to write that at any point this season. His three starts have gotten progressively better — at one point in his last start he retired 17 of 19 batters — but he still looks a little off. Tanaka's location has not been nearly as good as it usually is so far this year, particularly with his fastball. Check it out, via Brooks Baseball: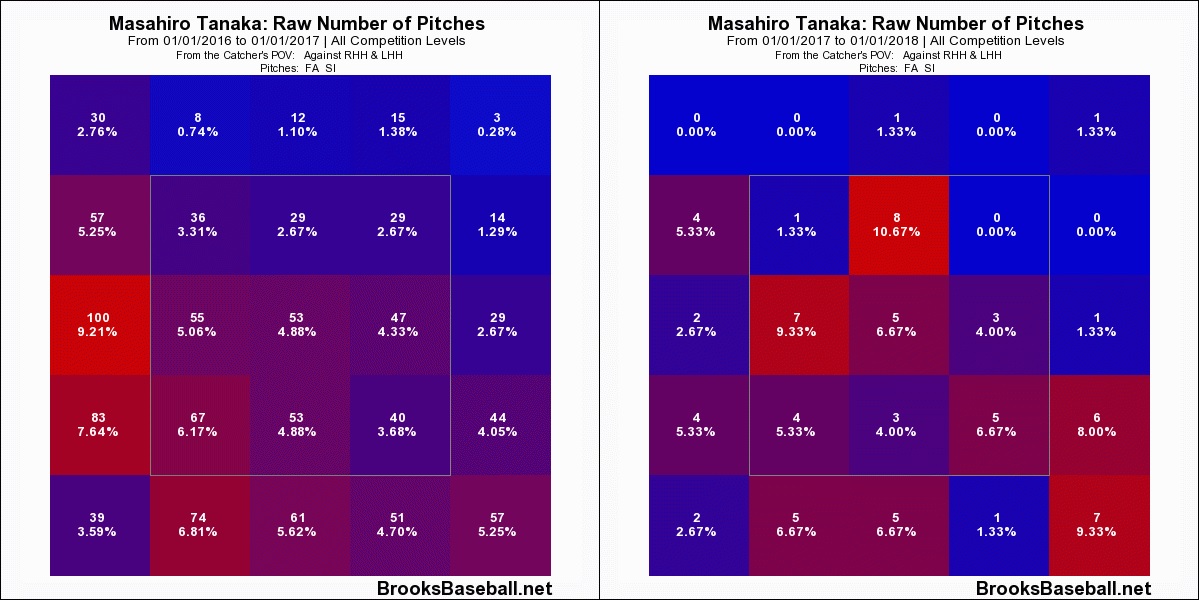 You can click the image for a larger view, which is probably a good idea. Anyway, that is 2016 on the left and 2017 on the right, and we're looking at Tanaka's fastball location from the catcher's point of view. Last year Tanaka lived down in the zone and to his arm side with his heater. This year he's over the plate and up in the zone more often, and he's paid dearly for some missed locations already.
Tanaka said all throughout Spring Training he wasn't right mechanically and I don't know about you, but I kinda brushed it off because he was dominating. Obviously that was a mistake. I know we're conditioned to think "Tanaka isn't pitching well oh no is his elbow hurt?" nowadays — isn't it awful? man it's awful — but there's no reason to think he's hurt. He's throwing as hard as he usually does and he's still going out there every fifth day. Sometimes pitchers fall out of whack mechanically and their location suffers. Tanaka is so darn good that I think it's only a matter of time until he gets back on track. We saw signs of it in his last start.
Point is, when Tanaka is your worst starting pitcher, even for a 12-game stretch early in the season, that means you must be getting some pretty good work from your other starters. And the Yankees have. Sabathia has been awesome so far, Pineda's last two outings were impressive, Montgomery showed some positive signs in his start, and Luis Severino has looked far better this year than he did any time as a starter last year. Severino's improvement and development is incredibly important to the Yankees long-term. He's part of the new young core.
For now, the starting pitchers are on a roll and have more or less carried the Yankees through this seven-game winning streak. We know it won't last forever. At some point someone will have a dud start, or the Yankees will need a sixth starter, something like that. That's baseball. The rotation was an easily identifiable weak spot coming into the season, though right now, there are indications this unit can be a strength, or at least not a glaring weakness.