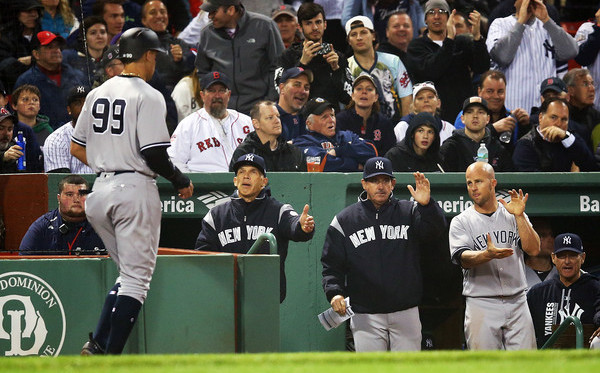 It's not often three runs are enough to beat the Red Sox at Fenway Park, but the Yankees managed to pull it off last night, thanks largely to Luis Severino's brilliance. He tossed seven shutout innings and got enough offensive support from Aaron Judge (two-run homer) and Greg Bird (run-scoring single). The kids. They're all right. Glad to see Bird contribute a bit. He needed that hit.
The three-run effort dropped New York's season average to a still healthy 5.00 runs scored per game. Their team 119 wRC+ remains the best in baseball. This is after averaging 4.20 runs per game with a team 92 wRC+ in 2016. The offense has been so much better early on and Judge has played a big role in that. So too have veterans like Starlin Castro and Chase Headley. They're off to monster starts.
The Yankees have only played 19 games, so there's plenty of season remaining, but already we've seen this year's offense do some things we didn't see much of last summer. And I'm not just talking about Judge's massive home runs either. Consider:
2016 Walk Rate: 7.8%
2017 Walk Rate: 10.9%
2016 Infield Hits: 5.5%
2017 Infield Hits: 10.1%
Through 19 games we've seen a much more patient team, and I don't think anyone will disagree. It's not just the walks either. Last season the Yankees averaged 3.83 pitches per plate appearance. This year that number is 3.97 pitches per plate appearance. I know that doesn't seem like a huge difference, but it is on a team-wide level, so it adds up. The Yankees are grinding out longer at-bats.
The infield hit rate thing is a bit of an anomaly — the highest single-season infield hit rate since batted ball data started being recorded in 2002 is 8.7% by the 2007 Mariners — and it will come down as the season progresses, though I also think it's reasonable to believe the 2017 Yankees are better equipped to beat out those infield  hits than the 2016 Yankees. Why? Because there's no more Brian McCann, Mark Teixeira, Alex Rodriguez, and Carlos Beltran. Love those guys! But they were slow. So, so slow.
So far we've seen the Yankees be more patient at the plate and grind out at-bats, and also beat out some more infield hits. They also seem to be better at capitalizing on their opponent's mistakes. Just last night Xander Bogaerts made a throwing error on a routine ground ball, allowing Castro to reach base. Judge, the next batter, sent a ball into the bullpen for a two-run homer. Perfect. Just perfect. That's how you want to follow up a botched play.
"Capitalizing on your opponent's mistakes" is not really something we can quantify. At least not fully. The Yankees have already scored eleven unearned runs this season — including one last night thanks to the Bogaerts error — after scoring only 33 last season, 17th most in MLB, so they're well ahead of last year's pace. Not all mistakes are errors, however. Sometimes it's throwing to the wrong base, or not paying attention to a runner, that sort of thing.
We saw an example of this in addition to the Bogaerts error last night. Judge turned an 0-2 count into a walk in the sixth inning — yay plate discipline! — then was able to advance to second base on Rick Porcello's wild pitch. That extra 90 feet allowed Judge to score on Bird's single to left field. Bogaerts gave the Yankees a baserunner with an error and Porcello gave them an extra base with a wild pitch. The Yankees took advantage both times.
I have no idea whether any of this will last. The infield singles almost certainly won't, but tough at-bats and capitalizing on mistakes? That's something we'd all love to see continue. Good offenses typically do those things. The Yankees have some power on the way in Didi Gregorius and Gary Sanchez, plus hopefully a rebounding Bird (and Matt Holliday), so maybe they won't need all these little things to succeed. Either way, it's happened already, and it has helped the Yankees get off to this nice 12-7 start.