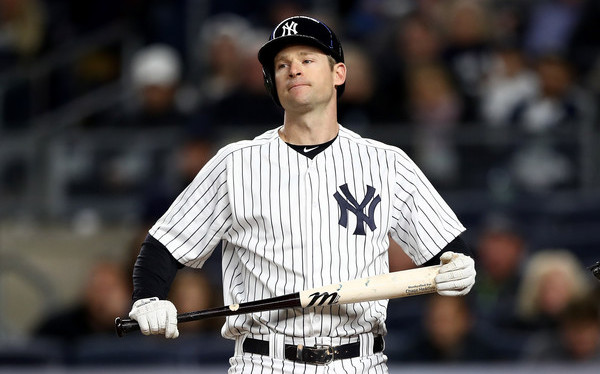 After two days on the bench, Chase Headley returned to the starting lineup yesterday afternoon in the series opener against the Orioles. He went 1-for-2 with a walk and is now 21-for-121 (.174) with a 28.9% strikeout rate over his last 31 games, dating back to the series against the Cardinals. Calling this a miserable slump would be an understatement.
Headley, as you know, was excellent to start the season. He was a big reason why the Yankees won eight straight games in the middle of April. Since then though, it's been all downhill. See?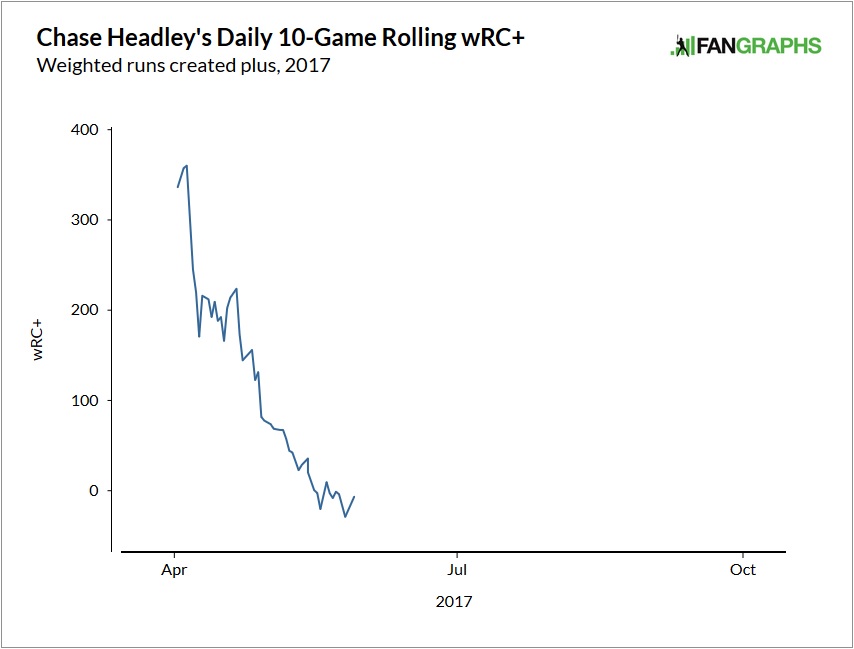 Yeesh. Headley has struggled on both sides of the ball too. He had a stretch a few weeks ago in which he committed seven errors in the span of 13 games. Headley has straightened things out defensively the last two weeks or so, but not with the bat. Maybe yesterday's game was a sign he's turning things around. I'm not buying it yet.
Coincidentally, or perhaps not, the Yankees promoted top prospect Gleyber Torres to Triple-A last week, and he played his first three games at the level at third base. (As well as his last two at Double-A.) The Yankees have been working to increase Gleyber's versatility this season and playing the hot corner is part of that.
Torres, who is going to spend this entire season at age 20, has gone 5-for-21 (.238) in six Triple-A games so far, and is hitting .275/.376/.472 (138 wRC+) overall in 2017. He's doing pretty much everything you'd want a top prospect his age to do at the upper levels of the minors. Plus he's doing it while playing relatively new positions in second and third bases.
Given Headley's awfulness, it's only natural to wonder when Torres will be called up to take over at third base. Why not now? He couldn't be worse. Specious logic aside, it is only a matter of time until Gleyber replaces Headley, partly because Didi Gregorius and Starlin Castro sure as heck aren't going anywhere. Third base is the obvious spot for Torres, at least in the short-term.
Fans want Torres to replace Headley right now and I imagine it's awfully tempting for the Yankees to make the change, especially since they're surprisingly atop the AL East. It would be pretty easy to justify the move. It would be one thing to bench Headley in favor of, say, Ruben Tejada, a journeyman having a good year in Triple-A. Doing it for a top prospect like Torres is another.
That said, the Yankees have to keep the big picture in mind here, and I do believe they will. We've already gone through something like once already this season, right? Gregorius went down with a shoulder injury during the World Baseball Classic and everyone and their mother wanted Torres to play shortstop in the meantime, especially since he was tearing the cover off the ball in Spring Training.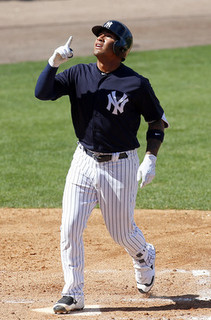 The Yankees didn't do that though. They had a development plan in place for Gleyber and they stuck to it. The same should be true now despite Headley's terrible play. Headley being bad doesn't make Torres more big league ready. (He is closer to MLB ready now than he was during the spring by virtue of playing Double-A and Triple-A games, of course.) The Yankees, despite being in first place, are still a team in transition, and Gleyber's long-term development has to be the priority, not a quick fix at third base.
"I'm not looking at Gleyber right now on the Major League side," said Brian Cashman to Dan Martin last week. "I'm just looking at Gleyber taking the next step at Triple-A. Just like when we were faced with, 'Are you going to bring Gleyber up because Didi is down?' The answer was, 'No, we aren't going to interrupt his player-development process.' And currently he's earned the right to go Triple-A."
Keep in mind the Yankees are moving Torres very quickly already. Prior to this season he'd never played above High Class-A. Thirty-two Double-A games later, he was in Triple-A. Not normal! Not for a 20-year-old, anyway. The Yankees clearly have Torres on an accelerated timetable, which means we could see him in the Bronx later this season. Players this talented have a way of shooting through the minors quicker than expected.
Two conditions have to be met when Torres is called up, in my opinion. One, the Yankees have to believe he's truly ready for the big leagues and not simply being rushed to patch a hole at the hot corner. And two, he has to play everyday. They can't call Gleyber up and play him once or twice a week. That would defeat the purpose. There is definitely something to be said for learning while on the big league bench, but Torres is too good to sit more often than not.
This is what I think will happen: the Yankees are going to stick with Headley for the time being, perhaps working in more Ronald Torreyes starts, to give Torres at least a month in Triple-A. That feels like the bare minimum. Keeping him there until the All-Star break wouldn't be a bad idea. Then, in a few weeks, they'll reevaluate things. See where Headley is at, see where Torres is at, and make a decision. Perhaps they won't have to do anything! Who knows?
In my mind, everyone from Double-A on up is eligible for consideration in the big league if we have any needs," said Cashman to Martin. "I check on what he's doing everyday like I do all our prospects, but not how he's going to fit on the big league club in the near-term. I'm not looking at that. Let him get baptized at Triple-A and let's see how that treats him."
Point is, the Yankees have to stick to their plan with Torres, whatever it is. Maybe their plan is to call him up in two weeks. I doubt it, but hey, stranger things have happened. The Yankees shouldn't alter the development plan of their top prospect — arguably the best prospect in all of baseball, at that — because of a slumping big leaguer. Gleyber is going arrive at some point, likely later this year. Headley's struggles shouldn't dictate his timetable though.