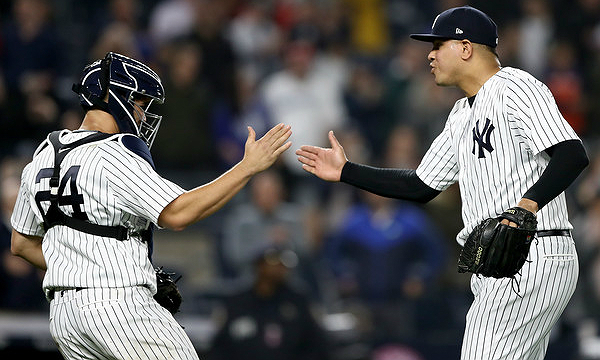 There are always certain phases of the major league season. The highs and lows, the streaks and skids, fluctuating from month to month and week to week.
Unlike last season, the Yankees began 2017 on fire. The start seemed reminiscent of 2010, when the team got off to a roaring start coming off a championship. The funny thing about that 2010 team is they didn't soar to a division title. They struggled. They blew their early division lead, gained it back and then lost it in the final weeks of the season, settling for a wild card.
I don't mean to make a straight side-by-side comparison between the 2010 Yankees and the current squad, but the lesson is important: There are going to be lulls in the season and the team can't let up, allowing a division rival to sneak ahead. This year, the Yankees likely won't be overcome by a pesky Rays squad, but the Orioles and Red Sox are enough to handle.
And in April, the Yankees handled them well enough. They split their six games with the O's and took both contests with the Sox. Considering they had to face AL Cy Young favorite Chris Sale and started 0-2 against the O's, that's a strong result.
It was all part of a magical month where everything seemed to go right. Aaron Judge, Starlin Castro, Chase Headley, among others, put up surprising numbers en route to a 15-8 record. The only thing perhaps more eye-catching was the rotation, which consistently worked deep into games despite most assuming it would be a liability going into the season.
That's the catch: It wasn't supposed to go that way. One would have assumed coming out of the spring that if the team caught fire early, it'd be on the backs of Gary Sanchez, Greg Bird and a knockout bullpen alongside Masahiro Tanaka as the ace. Well, Sanchez and Bird got hurt. Tanaka was off on Opening Day and despite a 5-3 record, hasn't looked quite right since. The bullpen was quite good, perhaps even better than expected, but it was overshadowed and not asked to perform many herculean tasks.
And now that we're late in May, phase two is well underway. The team is 6-8 in their last 14 dating back to May 8 and have seen some stinkers out of the rotation. Castro and Judge have looked more Earth-bound recently and Headley has crash landed. Early expectations have proved more prescient with the bullpen carrying a bigger load, Tuesday's blown lead notwithstanding. Sanchez has taken off and so has Brett Gardner, who seems to have found the hitting stroke that earned him an All-Star appearance just a few seasons to go.
Despite this sub-par stretch, the Yankees still hold a 2.5 game lead in the division over the Orioles, 3.5 on the Red Sox. That lead is actually their largest this season.
But the team has an upcoming stretch that could help define them. After this homestand with the Royals and Athletics wraps up, they play 13 straight games in division, including six with the O's and three with the Red Sox, all condensed into two weeks. You're not going to win the division with a good two weeks, nor are you going to lose it with a lousy fortnight.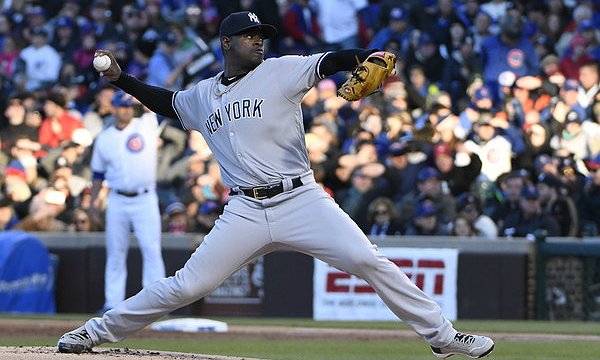 Yet this is the time when the Yankees need to begin figuring out who they are long-term, finding that second gear that can help carry them throughout the summer. The 11 wins by five or more runs have been nice and so have the standout starts from guys like Luis Severino and Michael Pineda, who would have castoffs this offseason if certain sections of the fan base had their way. But is this young crew really going to dominate all season? Is this team actually arrived ahead of schedule and not just showing glimpses of 2018 and beyond?
The team's diverse set of skills in the lineup serves them well if sustained success is indeed in the cards. If, let's say, Matt Holliday and Judge going into month-long slumps, the team can rely on hitters like Gardner or Didi Gregorius to carry them in a different way, not needing to pound home runs game-by-game.
It doesn't hurt to have that sturdy backbone of a bullpen, which may end up as the defining positive for this team. Even with Aroldis Chapman out, Dellin Betances, Tyler Clippard and co. are a force that can hold down most leads. With a few quality long relievers, the team can withstand a few 4-5 inning outings and keep the team within striking distance.
Or maybe the rotation with a rejuvenated Tanaka can lead the way. With Jordan Montgomery and CC Sabathia as strong back-end starters, perhaps Tanaka, Severino and Pineda can carry the team every five days and enable more winning streaks.
So that second gear doesn't necessarily have to look all that different from the first one. It can be a continuation. But in order for the Yankees to sustain their early success, they'll need to figure out just what makes this team special and utilize those defining characteristics in the crucial weeks ahead.