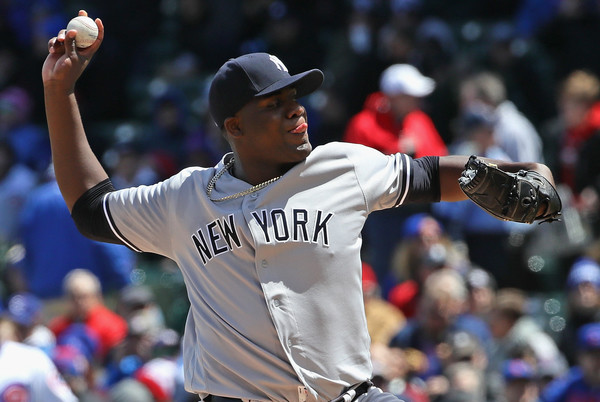 I will never forget the night the Yankees traded for Michael Pineda. It was January 2012 and my wife (then-very-recent-girlfriend) was due to meet my parents and sister for the first time. As luck would have it, while she was driving, the wheels were in motion on the Yankees making a big trade. Well, the wheels had already moved and everything was set; we were just hearing about it for the first time. In the end, the trade was announced just as she was pulling into the driveway and she had to deal with meeting my family and balancing our shock and initial disappointment that Jesus Montero–whom we'd all just watched crush it in September–would no longer be in the team's future plans.
Yankeedom for Michael Pineda has seen its ups and downs, peaks and valleys, highs and lows, and whatever other height cliches you wanna throw in there. Perhaps, given the times, its Aaron Judge moments and its Ronald Torreyes moments. Despite that, the Yankees (everyone all together now) won the trade, given that Pineda is pitching well–and pitching at all–while Jesus Montero is…somewhere in baseball. This year so far, Pineda has struck out over 31% of the batters he's faced, while walking only 3.6%. His ERA is at a solid 3.12, good for a 77 ERA-. The only weird thing is he's surrendered seven home runs, tied (with a bunch of other pitchers) for second most in the American League.
This isn't exactly shocking overall, given that Pineda has been slightly homer prone in the past. With everything else going so well, it seems homers are the only blemishes against him this year. When looking at his batted ball rates, everything seems to be in order. Low line drives. High ground balls. Decreased fly balls. However, the HR/FB% is sky high at 25.0%. For his career, it's never been over 17%, last season's mark. All three of his pitches this year have a higher HR(FB+LD) than any one pitch from last year. A quick note on the Brooks stuff: given the change over in systems, it looks like some stuff is missing, including the homer Pineda gave up to Kris Bryant in the first inning back on Friday. Adjusting for that would make one of those numbers look even worse. So, what gives?
I'm going to take the cop out answer and say that it's still early, even if Pineda has already made six starts and has given up a fair amount of homers in the past. The rate he's going at now is way more than what he did last year, his most homer-prone season. His HR/9 then was 1.38 (not good!) and currently sits at 1.82, almost a half a homer more per nine. Combine this with the spike in his overall HR/FB% and you can see the randomness pretty easily. As support, xRA from StatCorner suggests that Pineda's ERA ought to be even better at 2.38, given his batted ball profile.
It's unlikely that Pineda ever becomes stingy with the long ball. He's around the zone too much and when that happens, it's more likely something's going to get left in the wrong place and get sent on a long ride. Still, the homers should drop just slightly. In a perfect world–at least for Big Mike and not the batters–his walks would stay this far down and his strikeouts would stay this far up. The world is far from perfect, though, so I'll settle for a drop in dingers.