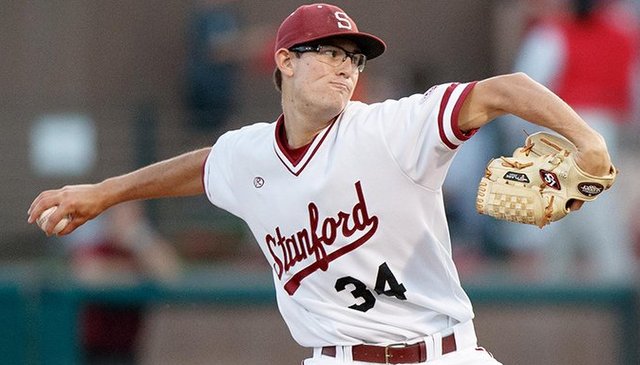 The 2017 draft is now in the books. All together 1,215 players heard their names called over the last three days, including 40 by the Yankees. You can see all of New York's picks here. The Yankees loaded up on pitchers on Day One and Day Two. On Day Three they grabbed plenty of organizational depth, but also selected several highly ranked prospects who slipped due to signability concerns. Will the Yankees get any to turn pro? That's the million dollar question. Let's review the Day Three haul.
The Top Dollar Prospects
When the draft resumed yesterday, three of Baseball America's top 41 prospects remained on the board. The Yankees selected two of them: Stanford RHP Tristan Beck (29th round) and Alabama HS RHP Tanner Burns (37th). Both were considered potential first round picks coming into this spring. Bonus demands caused Burns to slip. Bonus demands and injury caused Beck to slide.
Beck was one of the top pitchers in the country in 2016 — he joined Mike Mussina and Cal Quantrill (Paul's kid) as the only freshmen to start Opening Day in Stanford history — but he did not pitch at all this spring due to a stress reaction in his back. During that freshman season he had a 2.48 ERA with 76 strikeouts and 26 walks in 14 starts and 83.1 innings, and he did it with good stuff (low-90s fastball, above-average changeup, good breaking ball) and an excellent feel for pitching. Beck really knows what he's doing out on the mound.
In addition to being really good, Beck has added leverage as a draft-eligible sophomore. Man of the people
Chris Crawford
hears Beck wants anywhere from $2.5M to $4M to sign, and if true, there's basically no chance the Yankees can sign him. Maybe that's the opening ask and Beck is willing to settle for less? Either way, his options are take gobs of money from the Yankees, or go back to school and re-enter the draft next year as a potential top ten pick.
Burns, meanwhile, is a legitimate two-way prospect with a mid-90s fastball and an out pitch mid-80s slider on the mound, and a powerful right-handed bat with a keen eye at the plate. He is considered a better pro prospect on the mound. (The Yankees announced him as a pitcher.) Burns was not drafted on Day One (or Day Two) because he wants a lot of money to skip out on his commitment to Auburn, and teams weren't convinced they could get him to turn pro.
While Beck and Burns are the crown jewels of Day Three, the Yankees drafted several other high-end prospects with signability questions yesterday as well. Louisville RHP Riley Thompson (25th) is a rare draft-eligible freshman after having Tommy John surgery and taking a medical redshirt in 2016. He threw only 14.2 innings this spring between coming back from surgery and being buried on a deep pitching staff. When he did pitch, Thompson showed first round stuff with a mid-to-high-90s heater and a power low-80s curveball. He has a chance to come out as a first round pick next year.
Georgia HS OF Pat DeMarco (24th) grew up in New York before moving to Georgia in 2014, and he's an advanced all-around player with contact skills and good center field defense. Georgia HS C Steven Williams (35th) was one of the top high school catchers in the draft class, thanks mostly to his offense. He's got big power in his left-handed bat and a history of annihilating elite prep competition with wood bats in showcase events. Williams might not catch long-term, but his bat will play anywhere. He's committed to Auburn. DeMarco is committed to Vanderbilt.
And finally, Mississippi State OF Jake Mangum (30th) offers outstanding leadoff skills, including high contact rates from both sides of the plate, a patient approach, and top of the line speed. He also plays a mean center field. Mangum is an animal on the field who plays all out, all the time. People love watching him play. Mangum is a draft-eligible sophomore with plenty of negotiating leverage. He can either turn pro, or go back to school for a year and re-enter the draft next summer.
Based on talent, all six of these players should have been Day One or early Day Two picks. Two of them, Burns and Beck, have true first round ability. The Yankees selected all six of them because, well, why not? They could either continue to mine for hidden gems in the late rounds, or grab the most talented players on the board and try to convince them to sign. There's always a chance they'll change their minds and decide to turn pro, after all. Take the best players and figure out the rest later.
The Yankees hope to sign one of these players. That's the realistic goal. Get one to turn pro. Beck or Burns would be preferable, but Thompson, Williams, DeMarco, or Mangum would work just as well. The Yankees will take whatever draft pool savings they have from Days One and Two, shovel it in front of these guys, and force them to say no. In all likelihood, all six will wind up in school next year. That's usually how it goes. The fact the Yankees grabbed so many of these highly ranked players with signability questions increases their chances of getting one to turn pro, I think.
Balancing Out Days One & Two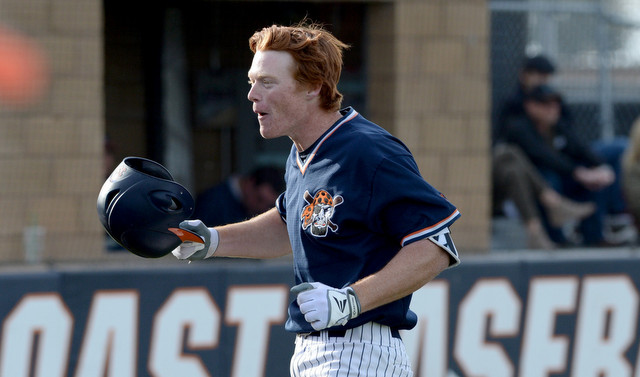 I don't think it was intentional, but the Yankees did select nine pitchers with their ten picks the first two days of the draft. That's probably just the way the board fell in the top ten rounds. But still, when you go that pitcher heavy early in the draft, you kinda have to balance it out with position players later. The minor league rosters still need to be filled out, after all. On Day Three, the Yankees skewed toward college bats.
The best position player prospect the Yankees selected yesterday, at least among the guys they have a realistic chance to sign, is probably Orange Coast 1B Eric Wagaman (13th). He's a right-handed hitter with big raw power and a knack for getting the bat on the ball despite a big long swing. Wagaman is a first baseman only defensively, so he's going to have to hit and hit big to climb the ladder.
Duke OF Jimmy Herron (31st) is a ridiculous runner and a slap hitter from the right side of the plate. He puts the ball in play and runs like hell, plus he'll draw walks and play good defense. There's the potential for something exciting here if Herron ever figures out how to get some power out of his 6-foot-1, 195 lb. frame. California HS SS Alika Williams (32nd) has tools but is so raw that he's probably best off going to college and developing there rather than against pro caliber competition.
Louisiana-Lafayette OF Steven Sensley (12th), Mount Olive SS Rickey Surum (16th), and Rhode Island 2B Chris Hess (17th) are all college performers without carrying tools. Surum can at least play shortstop, so he has position scarcity on his side. The Yankees drafted 40 players and only 12 are position players.
The Power Arms
When you get to Day Three of the draft, you're looking for pitchers with one of two things: stuff or command. The guys who have both are usually long gone. The Yankees have long preferred the guys with stuff, I guess because they consider that an unteachable skill. They think it's easier to teach someone to locate than it is to get him to throw harder or develop a better breaking ball. You don't have to agree with that, but that's what the Yankees seem to think, and they draft accordingly.
The best power arm the Yankees drafted on Day Three is Seattle RHP Janson Junk (22nd), who will inevitably be nicknamed "Junkballer" even though he is anything but. His heater will sit 95-96 mph in short relief outings and touch 98, and his best secondary pitch is a changeup with some fade. Junk has arm strength. Now he needs to refine either his changeup or breaking ball or give him a consistent second pitch, and allow him to climb the minor league ladder. Man can not live on fastball alone.
Maryland HS RHP Harold Cortijo (14th) made a name for himself in showcases last year by showing a low-to-mid-90s fastball with a promising curveball. Cortijo is a great athlete who also has some potential as a center fielder, and the hope is that athleticism will allow him to iron out his command and improve the quality of his secondary stuff. Slot money for every pick on Day Three is $125,000 — every penny over that counts towards the bonus pool — and it might take an over-slot bonus to convince Cortijo to turn pro.
Among the college pitchers taken on Day Three, New Orleans RHP Shawn Semple (11th) probably has the best chance to start long-term. His fastball is mostly low-90s and he has feel for both a breaking ball and a changeup, and he throws strikes. That's someone you can send out as a starter for a year or two, and if it's not working out, try him in relief. Delaware RHP Ron Marinaccio (19th) found new life after moving to the bullpen this spring and can miss some bats with a fastball and slider.
Norfolk State RHP Alex Mauricio (27th) used to throw very hard, up to 99 mph, but the wear of tear of college ball has him sitting mostly low-90s and touching 95 mph these days. He doesn't have much to offer besides his fastball, however. Ventura College LHP Andrew Nardi (39th) has a nice fastball/slider combination and he models his delivery after Clayton Kershaw, though throwing strikes is a problem.
The Bounceback Candidates
In Virginia Tech RHP Aaron McGarity (15th) and Alabama-Birmingham RHP Garrett Whitlock (18th), the Yankees selected two pitchers who showed Day Two stuff in the past, before getting hurt. McGarity was low-to-mid-90s with ease in the Cape Cod League in 2015 before breaking down. Whitlock was mid-90s with a nasty slider on the Cape last summer, then he came down with a back problem early this spring. When he returned, the fastball was mostly 90-92 mph and flat.
The thinking here is pretty obvious. The Yankees grabbed McGarity and Whitlock with late round picks hoping they'll regain their previous form as they get healthy and further away from their injuries. If it works, great! If not, you're only out a late pick, and who cares about that? Sometimes these broken late round guys turn into Brian Wilson. (Wilson was coming off Tommy John surgery and his stuff was way down when the Giants drafted him in the 24th round in 2003.)
Other Unsignables
Beyond the high-profile prospects highlighted at the beginning of this post, the Yankees did grab several high school prospects in the late rounds with some tools, but basically no chance to sign. Florida HS LHP Jordan Butler (34th) is the best prospect of the bunch. He's a side-armer with a low-90s sinker and a big sweepy slider that cuts across the entire width of the plate. The arm slot has most thinking he's destined for the bullpen. It's going to be tough to buy him away from Florida since he'll have an opportunity to play a prominent role for the Gators from the get-go.
Virginia HS LHP Andrew Abbott (36th) has three pitches, including an upper-80s fastball and a great curveball, though he is considered completely unsignable and will follow through on his commitment to Virginia. If Abbott adds velocity in college, he could come out as a potential Day One pick in three years. Louisiana HS SS Hayden Cantrelle (40th) has speed and good defense at shortstop. He's a legitimate football prospect as a quarterback and wide receiver, though he's committed to play baseball only at Louisiana-Lafayette. Never say never, but Butler, Abbott, and Cantrelle are all dead set on college and not expected to sign.
The Rest of the Class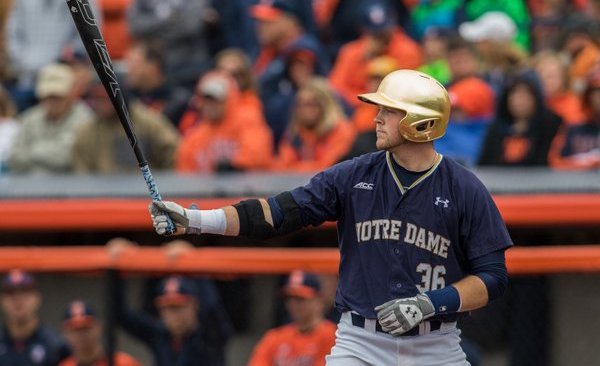 Notre Dame C Ryan Lidge (20th) is a catch-and-throw guy most notable for being Brad Lidge's cousin … Catawba College RHP Bryan Blanton (21st round) is a reliever with a breaking ball he throws an awful lot … Arizona HS RHP Colby Davis (23rd) can locate three pitches, though none of the three stand out as a potential put-away pitch … Lane College LHP Austin Crowson (26th) has a big 6-foot-5, 210 lb. frame and a low-90s heater. He's trying to figure out everything else … Florida HS RHP Shane Roberts (28th) is mostly upper-80s with the makings of an okay breaking ball. College might the best place for him going forward … Boston College RHP Jacob Stevens (33rd round) pitches at 88-89 mph and relies on a wide array of secondary pitches to get outs … Spartanburg Methodist RHP Brent Burgess (38th round) was a catcher in college who the Yankees want to try on the mound. The Rangers couldn't convince him to do the same in the 40th round last year.
* * *
The draft signing deadline is Friday, July 7th this year — doesn't the deadline seem to get a little closer each year? — and because of all those high-end prospects who fell into the Yankees lap on Day Three, the deadline could be exciting this year. I don't expect any of those guys to actually sign because those types of players never seem to sign, but hey, I'm open to being surprised. Maybe the Yankees saved enough bonus pool space on Days One and Two to get one of them turn pro.