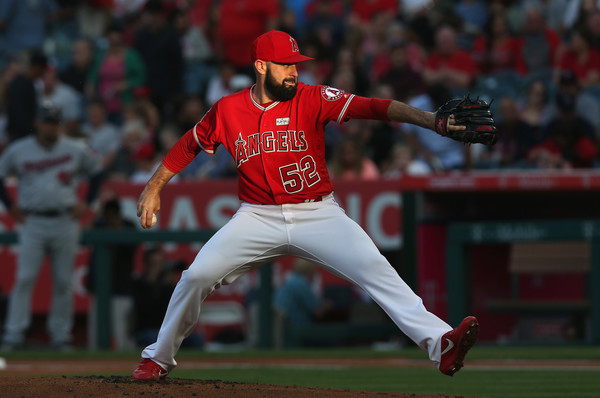 Ten days ago, it seemed as if the Yankees were in the midst of a swoon. They dropped two of three to the Orioles, split a four-game set with the Blue Jays, and lost the first game in a series against the Red Sox. That seems like so long ago, now that they've won five in a row by a combined score of 55 to 9 and taken a 4.0 game lead in the American League East. If you're a believer in momentum, now is as good a time as any to begin a dreadful seven-game trip to the West Coast. Their first stop is Anaheim (or "Los Angeles," if you want to be snarky).
The Last Time They Met
The Yankees visited Angel Stadium for a three-game series last August, winning two out of three. They outscored the Angels 12 to 3, as their pitchers came up big in all three games. Some interesting numbers include:
The starting pitchers – Masahiro Tanaka, Luis Cessa, and Chad Green – pitched to the following combined line: 19.2 IP, 13 H, 2 BB, 19 K, 0.46 ERA.
Game two of the series represented a sign of things to come for the Yankees. Luis Cessa made the first start of his career (six scoreless innings), Gary Sanchez hit a solo home run, and Aaron Judge drove in two runs.
Ronald Torreyes went 4-for-4 with three runs, a double, a home run, and two RBI in the first game. He saw a total of eight pitches in those at-bats.
Check out Katie's Yankeemetrics post for more fun facts.
Injury Report
It may not be a stretch to say that the Angels three best players are currently on the disabled list. Mike Trout is out until July as he recovers from surgery to repair a torn ligament in his right thumb, Garrett Richards has no timetable for return (he hit the 60-day DL on April 22 due to nerve irritation in his right arm), and Cam Bedrosian is out with a strained groin (and listed with a TBD return date). That's their best player (and the best player in baseball), their ace, and their closer. And that's not all, either – Andrew Bailey, Andrew Heaney, Tyler Skaggs, and Huston Street are also out, and none will return in time for this series. That's rough.
Their Story So Far
Even with the aforementioned injuries, the Angels are soldiering on. They currently sit at 33-33, and they just took two out of three from the red hot Houston Astros. And, for those in search of a hot take, they're 7-6 with a +14 run differential since Trout hit the disabled list. I've yet to encounter anyone suggesting that the Angels may be better without Trout, but I'm sure that those takes will come if they continue to keep their collective head above water. How have they done it? In short, by being average across the board over the last couple of weeks. Kole Calhoun, Yunel Escobar, and Andrelton Simmons have been tearing the cover off of the ball in that stretch, but no other players have really stood out. Well, other than Albert Pujols, albeit for the wrong reasons –  he's 6-for-36 since the calendar flipped to June, and his wRC+ on the season is an unsightly 84.
The Lineup We Might See
Manager Mike Scioscia has been forced to use a wide array of lineups this season, due to both injuries and poor performance. The only certainly right now seems to be that Calhoun and Pujols will bat second and third, respectively, with most everything else up in the air. Nevertheless, I expect that we'll see something along these lines:
Andrelton Simmons, SS
Kole Calhoun, RF
Albert Pujols, DH
Yunel Escobar, 3B
Luis Valbuena, 1B / C.J. Cron, 1B
Martin Maldonado, C
Ben Revere, LF
Eric Young, CF / Cameron Maybin, CF
Danny Espinosa, 2B
The Starting Pitchers We Will See
Monday (10:07 PM EST): RHP Masahiro Tanaka vs. RHP Alex Meyer
Meyer appeared on Baseball America's top-hundred list in back-to-back-to-back seasons, peaking at 45 on 2014's list. That's not terribly surprising, given that he's 6'9″ and 230-plus pounds, a 95-plus MPH fastball, and an absolutely wicked breaking ball. As is the case with most pitchers of his size, however, he has struggled with his mechanics and control throughout his professional career, while bouncing between the bullpen and the rotation. The Angels acquired him from the Twins in August, and now, at the age of 27, he's getting his first extended look in the majors.
That mid-90s fastball and hard breaking ball (a mid-80s offering that scouts call a slider, but PITCHf/x calls a curve) represent nearly 99% of Meyer's offerings. He throws a change-up in the upper-80s every so often, but he's basically a two-pitch guy.
Last Outing (vs. DET on 6/7) – 6.0 IP, 3 H, 1 R, 4 BB, 9 K
Tuesday (10:07 PM EST): LHP CC Sabathia vs. RHP J.C. Ramirez
The Angels are the seventh organization of Ramirez's twelve-year professional career, as the 28-year-old journeyman has struggled to get an extended look over the last five years or so. This season represents his first time starting since 2011, when he made 26 starts at Double-A, but it doesn't really show – he has been a league-average starter through 11 starts, with elite control (4.9 BB%) and solid groundball rates.
Ramirez works with a mid-90s fastball (mostly a two-seamer, but he'll mix in a straight fastball), a mid-80s slider, and an upper-70s curveball.
Last Outing (vs. DET on 6/8) – 5.0 IP, 10 H, 4 R, 1 BB, 4 K
Wednesday (10:07 PM EST): RHP Michael Pineda vs. RHP Matt Shoemaker
Shoemaker has quietly been a solid-average pitcher for the Angels over the last four seasons, posting a 102 ERA+ and averaging about 2.5 WAR per 180 IP. He was in the midst of a breakout last season, on the heels of reintroducing his splitter in mid-May, but a line drive to the head unfortunately ended his season on September 4. It was a scary incident, and Shoemaker suffered some severe injuries, including a skull fracture and hematoma, but he has thankfully made a complete recovery.
Shoemaker throws three fastballs – a low-90s four-seamer, a low-90s two-seamer, and a mid-80s splitter. The splitter is is best pitch, with a 21.8% whiff rate for his career. He also throws a low-80s slider, and, on occasion, a curve and change-up.
Last Outing (vs. HOU on 6/10) – 7.0 IP, 7 H, 4 R, 1 BB, 4K
The Bullpen
The Angels bullpen exemplifies how their season has gone thus far, as last year's closers (Street and Bailey) and this year's closer (Bedrosian) are all on the disabled list. In the interim, Bud Norris – yes, that Bud Norris – has stepped-up to the ninth inning role, where he has nailed down 11 of 13 save opportunities. He currently has a 2.43 ERA (174 ERA+) and 31.4 K% … you really can't predict baseball.
Despite the injuries, the Angels have a top-ten bullpen in baseball by most metrics – and it's not just because of Norris. Blake Parker – yes, that Blake Parker – Yusmeiro Petit, David Hernandez, and Keynan Middleton all have an ERA+ of 149 or above, and a K% of 27.7% or better. All five of those guys pitched yesterday, though, so their availability is up in the air for at least the first game of the series.
Yankees Connection
Blake Parker was claimed off of waivers by the Yankees last August, and tossed 16.1 uneventful innings down the stretch. He actually bounced around a bit this off-season, as well, going from the Yankees to the Angels to the Brewers … and then back to the Angels. He's the 6th best RP in baseball by fWAR, thanks to his 0.94 FIP in 28.2 IP.
Andrew Bailey (2014-2015) and Eric Young Jr. (2016) also spent time in the Yankees organization.
Who (Or What) To Watch
Alex Meyer has earned some comparisons to Dellin Betances in his career, due to his size, velocity, and breaking ball, and he has posted some impressive strikeout numbers in his young career. Few expect him to remain in the rotation long-term, but he has excellent stuff and age on his side.
And Andrelton Simmons' defense is almost always must-see TV.