Finally. The seven-game losing streak is over. This one was a nail-biter for five-and-a-half innings before the Yankees pulled away in the late innings. The final score was 8-4. A new winning streak has begun.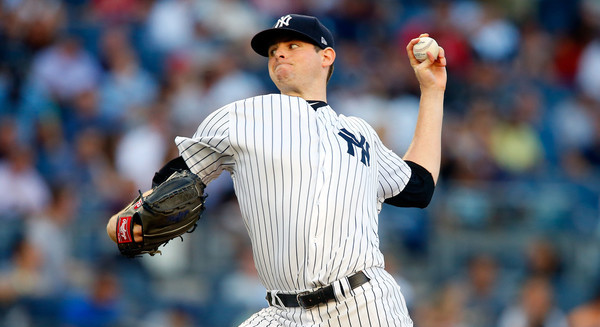 Montgomery's One Mistake
Angels right-hander Ricky Nolasco came into this game tied with Masahiro Tanaka for the MLB lead in home runs allowed (sob sob), and the Yankees wasted no time taking him out of the park. Gary Sanchez singled and Didi Gregorius hooked a hanging first pitch curveball into the second deck in right field for a quick 2-0 lead in the second inning. Nolasco throws a lot of first pitch curveballs and it look like Didi sat on it.
Given the way things have been going, it was easy to think Jordan Montgomery was going to have to make those two runs stand up, and the hand the ball directly to Dellin Betances. Montgomery pulled his Andy Pettitte act in the first (leadoff walk), second (one-out double), and third (leadoff single) innings, though he couldn't escape the jam in the fourth. An Andrelton Simmons single, a balk, and a Martin Maldonado two-run homer knotted things up. The home run came on a hanging slider that spun right into Maldonado's bat. 'Twas bad.
After the home run, Montgomery kinda sorta settled down and retired six of the final eight batters he faced. His night ended when Simmons pulled a little ground ball single under Gregorius' glove. Didi probably should have knocked it down, but with his momentum going toward third base and Simmons running, I don't think he would have gotten the out at first anyway. Chad Green came in to escape that jam and preserve the 3-2 lead.
All told, Montgomery finished the night with those two runs allowed on five hits and two walks in 5.2 innings. He threw 97 pitches and struck out five. The hanging slider to Maldonado was, rather easily, his worst pitch of the night. He pitched pretty well aside from that. A lot of routine fly balls and ground outs. Typical Montgomery start, basically. Kid is boringly reliable.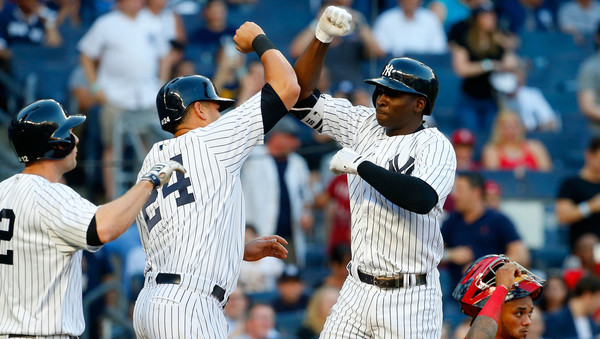 A Lead!
For all the attention the bullpen has received for the blown leads, the offense hasn't been tearing the cover off the ball either the last two or three games. The Yankees took a 3-2 lead on Matt Holliday's two-out opposite field home run in the fifth inning. It came immediately after a strike 'em out, throw 'em out double play. Hate that. Seems like the Yankees were trying too hard to make something happen. Sending the runner (Aaron Hicks) with a high strikeout hitter (Aaron Judge) at the plate? Gah.
Anyway, Holliday hit the homer, and the game went to the sixth inning. Montgomery got two quick outs, gave up the grounder single to Simmons, then gave way to Green. Green got the four biggest outs of the game. He struck out Maldonado to strand Simmons to end the sixth, then got all three outs in the seventh as well. Getting the ball from the starter to Betances has been a problem of late. Green was asked to do it Wednesday night and he did it well. Nice work, Chad.
Of course, the Yankees did score three insurance runs in the bottom of the sixth, so that helped. Austin Romine doubled in two runs after a Sanchez single and a Chase Headley walk. Romine's first at-bat: single served to right. Romine's second at-bat: single served to right. Romine's third at-bat: rocket double pulled into the left-center field gap. Nice night for the backup backstop. A Hicks infield single scored the third run of the sixth inning for a 6-2 lead.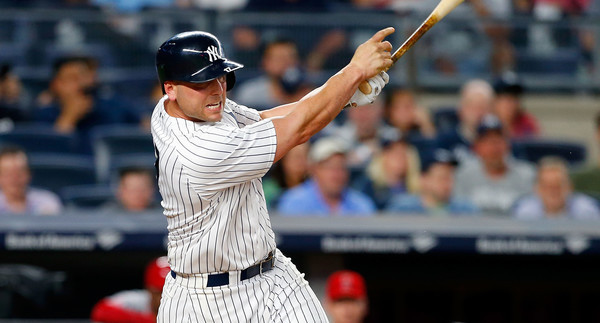 The Late Innings
Thankfully, the offense did not stop there. And, thankfully, Joe Girardi did not not use Betances. In fact, he had Betances warming in the bottom of the sixth. I'm pretty sure Dellin would have come in for the seventh and eighth had the Yankees not tacked on runs to turn that 3-2 lead into a 6-2 lead. Anyway, a Holliday double and a Starlin Castro single scored a run in the seventh, and Headley got in another run with a two-out single against the shift. The Yankees have done that an awful lot this year, tack on runs in the late innings. I love it.
Betances, who warmed up to Shook Ones, came on for the eighth and looked well-rested. Fourteen pitches, two strikeouts, and a weak ground ball to short. Vintage Dellin. He was sharp. You always kinda have to worry about his command disappearing after a long layoff. His command was there in this one. In the ninth, Girardi went to Tyler Clippard with an 8-2 lead in an effort to get him straightened out. A double and a homer later, he was out of the game. Clippard's six batters faced the two nights:
Home run
Double off the wall
Fly ball to the warning track
Triple off the wall
Double
Home run
Not great, Bob. Clippard was booed throughout his appearance and Girardi gave him a long talking to on the mound when he was pulled. Not scolding him or anything like that. It's almost like he was talking him down from the ledge. Clippard's confidence is shot. You can see it in his face. Aroldis Chapman came in and got the final three outs without incident. He looks like himself. Throwing free and easy. Not like before the shoulder injury.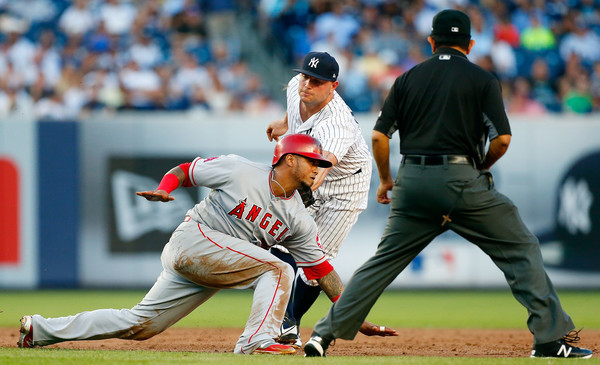 Leftovers
The 6-7-8-9 spots in the lineup: 7-for-14 with a double and two walks. Those four batters combined to drive in five of the team's eight runs. Romine led the charge with his three hits. Sanchez had two hits and Headley had a hit and two walks. The 1-2-3-4-5 hitters went 5-for-20 with three walks. The Yankees went 4-for-9 with runners in scoring position.
Clippard allowed both batters he faced to reach base and was charged with two runs. Green, Betances, and Chapman combined to retire ten of the eleven batters they faced, with five strikeouts. Green walked a batter and that's it. The bullpen has been pretty terrible the last week. It wasn't in this game. Not coincidentally, the good relievers pitched. Funny how that works.
And finally, Romine's fourth inning single was his 100th career hit. Considering his career was basically left for a dead a few years ago as guys like Sanchez and John Ryan Murphy passed him on the depth chart, getting to 100 big league hits is pretty cool. Congrats, Austin.
Box Score, WPA Graph & Standings
For the box score and updated standings, go to ESPN. For the video highlights, go to MLB.com. For our Bullpen Workload page, stay at RAB. Here's the win probability graph:

Source: FanGraphs
Up Next
The Yankees and Angels will wrap-up this three-game set Thursday night. Luis Severino and Jesse Chavez are the scheduled starting pitchers. RAB Tickets can get you into the ballpark in that game.