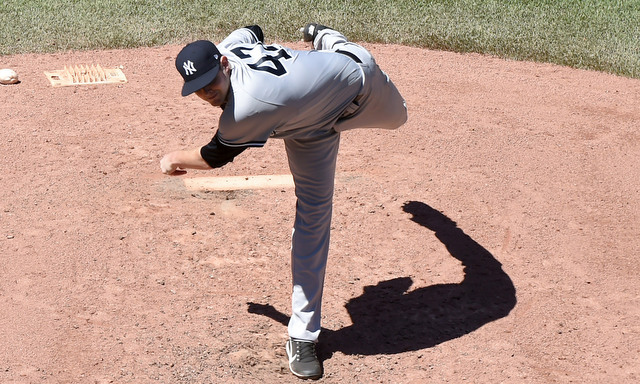 The Yankees won their last two games against the Red Sox, so tonight they have a chance to win three straight games for the first time in a month. Since winning six straight from May 2nd to May 8th. That winning streak ended during the series in Cincinnati. I didn't realize it had been that long since the Yankees won three straight. They won back-to-back games a bunch of times these last few weeks, but not back-to-back-to-back games. Huh.
Anyway, Jordan Montgomery is on the mound tonight and he is coming off his best (and first scoreless) big league start. The start before that, the Orioles worked him hard for three runs in 4.1 innings. He threw 100 pitches. Ouch. This will be Montgomery's third start against the O's already this season. The two sides are pretty familiar with each other by now. Whatever. Just win the series. Here is the Orioles' lineup and here is the Yankees' lineup:
LF Brett Gardner
CF Aaron Hicks
RF Aaron Judge
1B Matt Holliday
2B Starlin Castro
DH Gary Sanchez
SS Didi Gregorius
3B Chase Headley
C Austin Romine
LHP Jordan Montgomery
Lovely weather in New York today. Warm and sunny. The sky will continue to be clear tonight too. Tonight's series opener will begin at 7:35pm ET — there will be a large pregame youth sports parade on the field, hence the delayed start — and you can watch on YES locally and MLB Network nationally. Enjoy the game.
Rotation Update: The Yankees are indeed pushing Masahiro Tanaka's next start back. He'll now start Monday in Anaheim rather than Sunday against the Orioles. As an added bonus, the rest of the rotation gets an extra of rest too. Sunday's starter is not yet decided. Joe Girardi said it depends how the next few days play out. That's probably code for "it'll be Chad Green unless we need him in long relief tonight or tomorrow."
Injury Update: Aroldis Chapman (shoulder) is heading to Tampa and will throw a simulated inning tomorrow. They're going to see how he feels after that before determining how many rehab outings he needs. Chapman said he hopes to rejoin the Yankees at some point during the A's series next weekend.