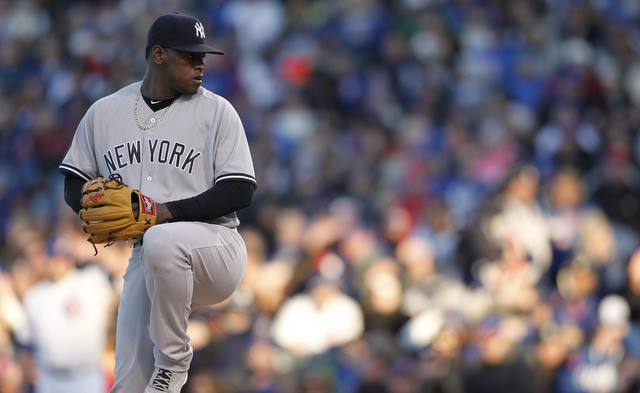 The Yankees have won their last three games and they're 6-5 in the first eleven games of this 13-game stretch against AL East opponents. Yeah, it would have been nice to grab a few more wins this last week and a half, but today's game is a chance to clinch a winning record during his 13-game streak, and that's pretty cool. Win the series. Keep winning series and things will be a-okay, especially since the Yankees are already in first place.
This afternoon the Yankees will have their best starting pitcher on the mound, or, at the very least, their best in the first two months of the season. Luis Severino owns a 2.90 ERA (3.16 FIP) in eleven starts and he looks basically nothing like the pitcher we saw last year. It's awesome. Severino has not just reverted back to his 2015 form. He's gotten better. Go Sevy. Here is the Orioles' lineup and here is the Yankees' lineup:
LF Brett Gardner
CF Aaron Hicks
RF Aaron Judge
DH Matt Holliday
2B Starlin Castro
C Gary Sanchez
SS Didi Gregorius
3B Chase Headley
1B Chris Carter
RHP Luis Severino
It's a beautiful day in the neighborhood. It's been sunny and warm all day and the sky will be clear tonight. Nice night for a ballgame. Tonight's game will begin at 7:15pm ET and FOX will have the broadcast. Not YES. Enjoy the game.
Rotation Update: The Yankees still have not named a starting pitcher for tomorrow's series finale, though Brendan Kuty reports it will be Domingo German. That's pretty cool. He's already on the the 40-man roster, and prior to this season, he'd ever pitched above High-A.
Injury Update: Aroldis Chapman (shoulder) threw 18 pitches in a simulated inning against minor leaguers at the complex in Tampa today. He struck out three and walked one. It was his first time facing hitters since going on the disabled list. He will pitch Tuesday for High-A Tampa and Friday for Double-A Trenton, then rejoin the Yankees in Oakland … Jacoby Ellsbury (concussion) won't travel with the Yankees to the West Coast. He's going to work out with Double-A Trenton, though he is not yet scheduled to play in any rehab games … There is still no firm timetable for Greg Bird (ankle) to rejoin the Yankees. They want him to continue getting at-bats.