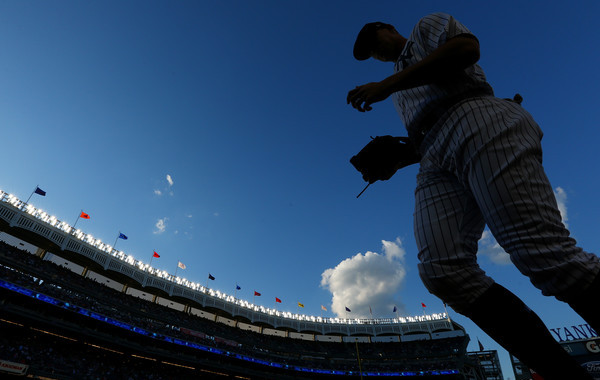 Thank goodness the Yankees are back home again. That road trip was a nightmare. Six losses in seven games and five injuries too, including two DL stints (CC Sabathia and Adam Warren) and one setback (Greg Bird), and not including one top prospect blowing out his damn elbow on a slide (Gleyber Torres). But that's baseball. A little adversity never hurt anyone.
On paper, the Yankees are set up well to bounce back this series. They're throwing their three best starting pitchers against the Angels, who are starting a pitcher acquired in a cash trade, the league leader in home runs allowed, and a converted reliever. Also, the Yankees are 22-9 at home and have outscored their opponents by 83 (!) runs. The Yankees have hit .285/.367/.524 at home this year. They're a lineup of Nelson Cruzes (.288/.369/.517) at Yankee Stadium. Here is the Angels' lineup and here is the Yankees' lineup:
LF Brett Gardner
CF Aaron Hicks (the Achilles is healthy)
RF Aaron Judge
DH Matt Holliday
2B Starlin Castro
C Gary Sanchez
SS Didi Gregorius
3B Chase Headley
1B Chris Carter
RHP Michael Pineda
Lovely day in New York today. The sky will be nice and clear tonight. Good night to snap a six-game losing streak. Tonight's game will begin at 7:05pm ET and you can watch on WPIX locally and MLB Network nationally. Enjoy the game.
Injury Updates: Jacoby Ellsbury (concussion) is feeling better and will take full batting practice with Double-A Trenton tomorrow. There is still no firm timetable for his return though … Warren (shoulder) saw the doctor today and has inflammation in his rotator cuff. No structural damage. They pumped him full of steroids and he'll rest for a bit before he resumes throwing … Bird (ankle) is seeing a specialist today.
All-Star Voting: According to MLB's latest update, Judge is still the AL's leading vote-getter for the All-Star Game. His 2,631,284 votes are nearly half-a-million more than second place Jose Altuve (2,185,035). Pretty awesome. Castro (second), Holliday (second), Gregorius (third), Sanchez (third), and Gardner (eighth) are all getting a bunch of support at their positions as well. Here's the All-Star ballot. Go vote.
Home Run Derby: Judge has been invited to the Home Run Derby, according to the Associated Press. Hooray! He has not yet decided whether to participate, however. Judge should do it. He should so do it.