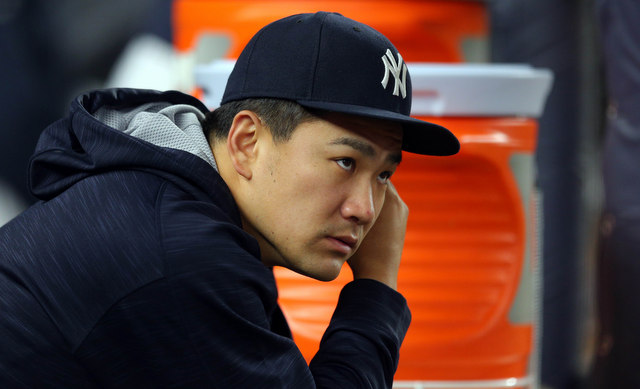 Okay, I'm sick of this losing business. It's been going on too long. Yeah, the Yankees won two days ago, but they let another winnable game slip away last night, and that's been happening far too often the last two weeks. The Yankees have been beating themselves too much. Last night it was the errors. Last week it was the bullpen. Stop it, dudes. You're better than this.
Anyway, Masahiro Tanaka is back on the mound tonight as the Yankees try to figure out why he's pitching like Javy Vazquez and not the Masahiro Tanaka we saw from 2014-16. I'll settle for "pitch well enough to win" tonight. Can Tanaka just do that, please? Man, I hope so. Here is the Rangers' lineup and here is the Yankees' lineup:
LF Brett Gardner
CF Aaron Hicks
RF Aaron Judge
DH Matt Holliday
2B Starlin Castro
C Gary Sanchez
SS Didi Gregorius
1B Chris Carter
3B Ronald Torreyes
RHP Masahiro Tanaka
It is cloudy and humid in New York, which usually means rain. The heaviest stuff isn't coming until early tomorrow morning. There are some showers on the way later tonight, though it doesn't look like it'll be anything heavy enough to delay the game. We'll see. Tonight's series opener will begin at 7:05pm ET and both YES and MLB Network will have the broadcast. Try to enjoy.
Injury Updates: Chase Headley (back) received an epidural and will be out a few days. Until then, Austin Romine is the backup infielder … Jacoby Ellsbury (concussion) passed the concussion protocol. He's been taking batting practice and the Yankees are planning his rehab assignment … CC Sabathia (hamstring) threw a bullpen session today for the first time since going on the disabled list … Adam Warren (shoulder) will begin throwing tomorrow.
Update (6:51pm ET): The game will not start on time. Stupid rain. The new start time is TBA.
Update (8:05pm ET): The game is scheduled to begin at 8:40pm ET, so says the Yankees.