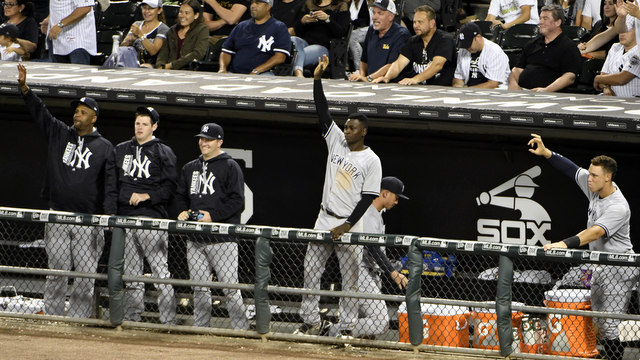 For the third straight day and ninth time this season overall, the Yankees will have a player make his MLB debut tonight. Outfield prospect Dustin Fowler has been called up and is in tonight's lineup. Tyler Wade on Tuesday, Miguel Andujar on Wednesday, and now Fowler on Thursday. Three days, three top 100-ish prospect debuts. Pretty cool.
Anyway, the Yankees have a chance to clinch the four-game series win tonight. They won two of the first three games, and they had a lead with one out to go in the other game. The Yankees were thisclose to coming into tonight riding a three-game winning streak. Alas. Just get the series win tonight. Here is the White Sox's lineup and here is the Yankees' lineup:
LF Brett Gardner
DH Aaron Judge
SS Didi Gregorius
C Gary Sanchez
CF Jacoby Ellsbury
RF Dustin Fowler
1B Austin Romine
2B Tyler Wade
3B Ronald Torreyes
RHP Luis Cessa
It is warm, humid, and cloudy in Chicago today. And there's rain in the forecast. Not as much as last night, but some. We'll see how it goes. Tonight's series finale will begin a bit after 8pm ET and you can watch on WPIX. Enjoy the game.
Injury Updates: CC Sabathia (hamstring) threw a three-inning simulated game and declared himself ready to return to the rotation. He doesn't get to make that call though. I'm guessing the Yankees will wait to see how Sabathia feels tomorrow before determining the next step … Tyler Austin (hamstring) has been placed on the 10-day DL with a "high grade" hamstring strain, the Yankees announced. He said he's been nursing the hammy for a few weeks now. Austin is going to Tampa for more tests.
Roster Moves: Welcome back, Chris Carter. He was brought back to the big league team today. I guess the Yankees want another first baseman with Austin hurt. Carter was designated for assignment last week and outrighted to Triple-A a few days ago … to clear 25-man roster space for Carter and Fowler, Austin was placed on the disabled list and Andujar was sent down. They want Andujar to play third base everyday. To clear 40-man roster space, Greg Bird (shoulder) was transferred to the 60-day DL and Mason Williams was designated for assignment. This is already Bird's 59th day on the DL. Going from the 10-day DL to the 60-day DL doesn't change anything. As for Williams, he loses his 40-man spot to Fowler, who is a younger and better version of Williams.
Update (9:12pm ET): The game is in a rain delay and there's no estimated start time. The White Sox say they hope to play the game "at some point" tonight.
Update (10:27pm ET): First pitch is tentatively scheduled for 11pm ET. Wheeee.