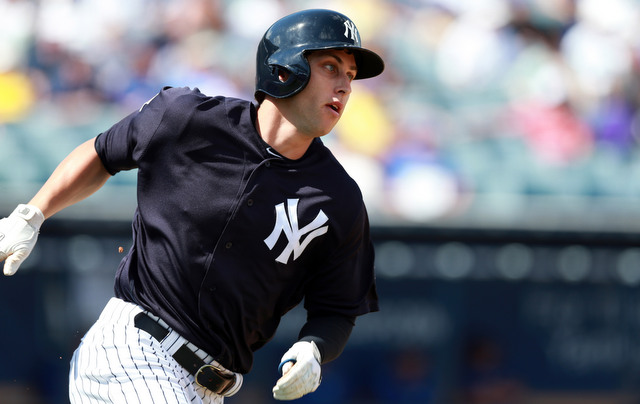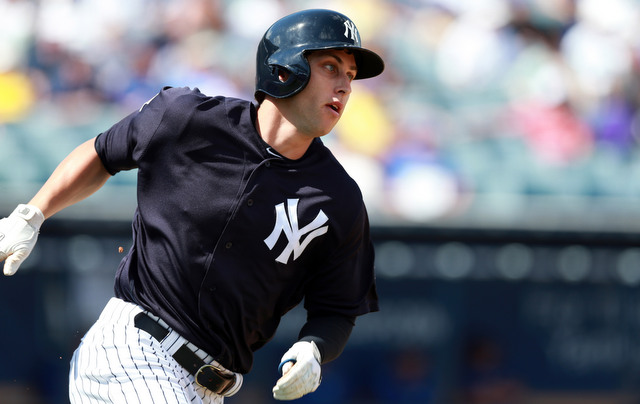 The Yankees routed the White Sox last night — did this team need a stress-free win or what? — and they did so thanks to Miguel Andujar. Andujar went 3-for-4 with a double and a walk, and became the first Yankee ever to drive in four runs in his MLB debut. Ever! The night before Tyler Wade made his MLB debut and drew a walk that sparked the go-ahead rally. Too bad the bullpen ruined it.
Tonight, another top Yankees prospect is set to make his big league debut. Outfielder Dustin Fowler is being called up, according to Josh Norris and Joel Sherman. The Yankees haven't officially announced the move, though I have no reason to doubt Norris and Sherman. My guess is Tyler Austin (hamstring) will be placed on the 10-day DL to clear a 25-man roster spot, and Greg Bird will be slid onto the 60-day DL to clear a 40-man spot. (Today is Bird's 59th day on the DL.)
Fowler, 22, did not play in Triple-A Scranton's doubleheader yesterday even though he is perfectly healthy — he took batting practice and was in the dugout during the two games — which was a pretty good indication the Yankees were considering a call-up. He's hitting .293/.329/.542 (132 wRC+) with 19 doubles, eight triples, 13 homers, and 13 steals in 70 games for the RailRiders this season. His 40 extra-base hits lead the farm system.
The Fowler call-up does a few things. One, it gives the Yankees another left-handed bat at a time when they could really use one. There are ten games remaining until the All-Star break and the Yankees are tentatively scheduled to face nine right-handed starting pitchers in those ten games. Two, the Yankees now have another true outfielder on the roster, allowing them to better rest Jacoby Ellsbury and especially Brett Gardner, who's played a ton the last few weeks.
And three, it gets the Yankees whole again. They are still playing with a three-man bench — eighth reliever Ronald Herrera hasn't pitched in eight days and has pitched once in the last 14 days, by the way — but it was effectively a two-man bench last night with Austin banged up. The Yankees played three games with Matt Holliday unavailable earlier this week. Playing shorthanded is never good. At least now the Yankees have a full complement of 12 healthy position players.
What the Fowler call-up does not do is address the first base situation. Austin Romine has played there the last two nights, though I'm not sure how much longer the Yankees want to use their backup catcher as their starting first baseman. I suspect we're going to see Chase Headley start a game at first with Andujar at third at some point soon. Maybe Rob Refsnyder gets a game at first. It won't be Fowler or any of the outfielders though.
Anyway, injuries have forced the Yankees' hand here. Wade was called up to replace Starlin Castro. Andujar was called up to replace Holliday. Fowler is presumably being called up to replace Austin. These moves were made to cover for injuries, and they show the depth of the Yankees' farm system. How many other teams could lose three regulars (three!) in three days and replace them all with prospects who, at the very least, deserve top 100 consideration? I don't think any. We haven't even seen Clint Frazier or (sobs) Gleyber Torres yet.
"We've kind of went to a little bit younger of a team, but we weren't expecting it to be (because of injuries)," said Joe Girardi to Meredith Marakovits prior to last night's game (video link). "But it's a great opportunity for the kids to get a chance to play at this level, learn what they have to do. I think about the adjustments an Aaron Judge made from last year to this year, and I think at times you have to get up here to find out what else you need to do to complete yourself as a ballplayer. So I think it's really good for them."
It's entirely possible Wade, Andujar, and Fowler are only here temporarily. Castro, Holliday, and Austin could be back relatively soon, and, to be fair, the Yankees are at their best with those guys in the lineup. The young players are helping the Yankees stay afloat for the time being, and that's what the team needs them to do. The bullpen wasted Wade's heroics Tuesday, though last night Andujar had a big impact. Now it's Fowler's turn.
The benefit of having a great farm system is not limited to the long-term outlook. It helps in the short-term too. Being able to call up talented and eager-to-impress youngsters like Wade and Andujar and Fowler rather than journeyman Quad-A types to cover for injuries is a big advantage. The injuries stink, but they are giving the Yankees a chance to show off their prospects, and so far the young players are the highlight of the season.