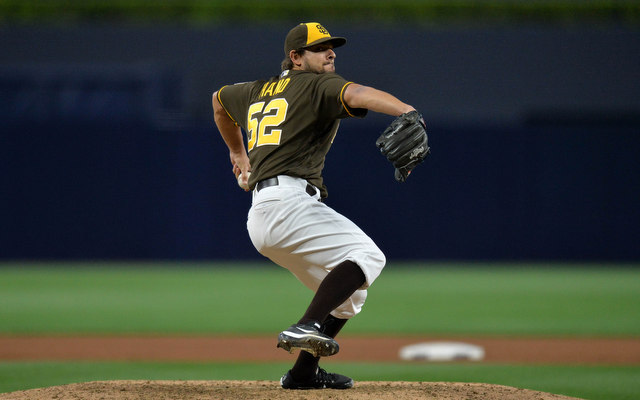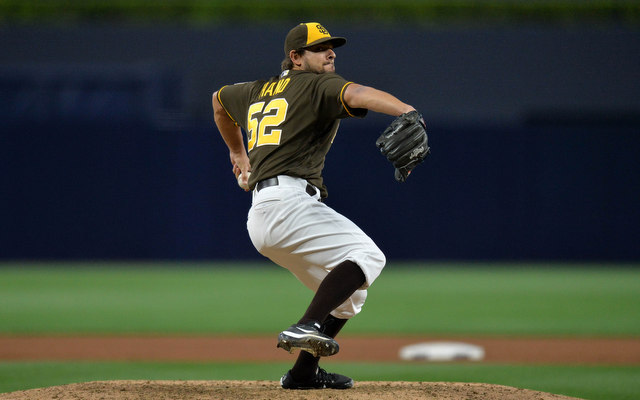 One thing has become clear in recent weeks: the Yankees need bullpen help. Aroldis Chapman and Dellin Betances are arguably the best closer/setup man tandem in baseball, though there are other innings that need to be pitched, and those other innings have cost the Yankees too many games of late. The middle relief is a major weakness.
The Yankees could try to address the middle relief from within, something I suspect they'll try at some point, though going outside the organization for help is always an option too. Trading for bullpen help can be tricky though. Relievers inherently work in small samples and weird things can happen in small samples. Your process can be sound and your evaluations correct, but a few hangers can cost you games and bloat an ERA.
One reliever who we absolutely know will be available this summer is Padres left-hander Brad Hand, a workhorse strikeout artist (30.6%) with a 2.72 ERA (3.17 FIP) in 39.2 innings this year. Since joining San Diego and moving into a short relief role last year, Hand has a 2.89 ERA (3.12 FIP) with 30.6% strikeouts, 9.2% walks, and 47.5% grounders. The Padres are terrible and in a deep rebuild, so Hand is available. There's no reason he shouldn't be. Does he makes sense for the Yankees? Let's look.
What's changed with his stuff?
Before joining the Padres last spring — as a waiver claim, I might add — Hand was a swingman with the Marlins. He came up from the minors as a starter and threw 288.2 innings with a 4.71 ERA (4.54 FIP) in 43 starts and 47 relief appearances with Miami from 2011-15. Now he's dominating. Look:
| | IP | ERA | FIP | K% | BB% | GB% | HR/9 | WAR |
| --- | --- | --- | --- | --- | --- | --- | --- | --- |
| with Marlins | 288.2 | 4.71 | 4.54 | 15.2% | 9.6% | 44.0% | 1.00 | +0.4 |
| with Padres | 127.2 | 2.89 | 3.12 | 30.6% | 9.2% | 47.5% | 0.85 | +2.7 |
Mediocre starter/swingman becomes dominant reliever. We've seen this movie before. More times than I care to count. Why is Hand dominant now? What changed? His role, yes, but that alone doesn't explain it. Usually the first time that comes to mind is velocity. The move into short relief allows the pitcher to air it out, he adds some oomph to his fastball, and it makes a big difference. That's usually how this works. That isn't the case with Hand, however. From Brooks Baseball: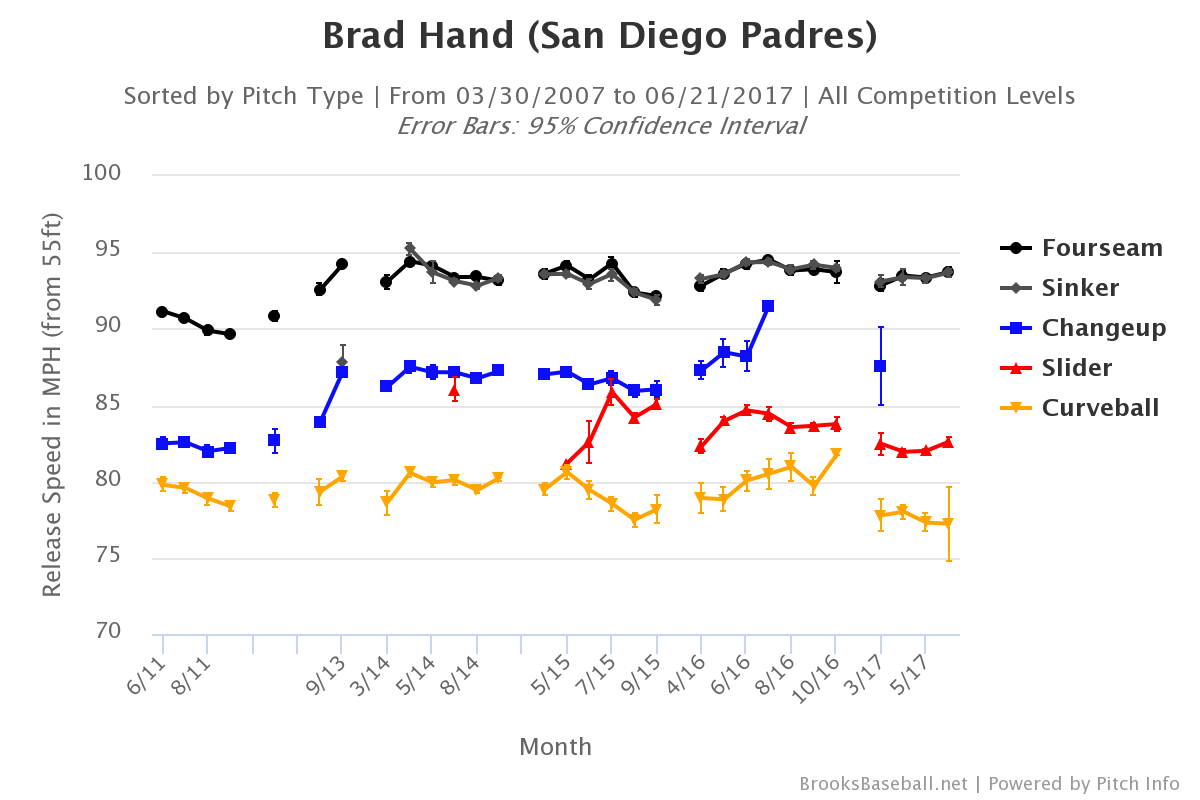 Same average velocity! Weird. Same max velocity too. It's not like Hand suddenly has 98-99 in his back pocket. He doesn't. I guess this means he's one of those rare pitchers whose stuff doesn't tick up in the bullpen. Weird.
What has changed is Hand's pitch selection. He's shortened his repertoire as a one-inning reliever. As a starter and swingman, he threw everything. Fastball, slider, curveball, changeup, the works. Now he's primarily fastball-slider with a few show-me curveballs. The changeup is gone. Here are Hand's pitch selection rates, via Brooks Baseball: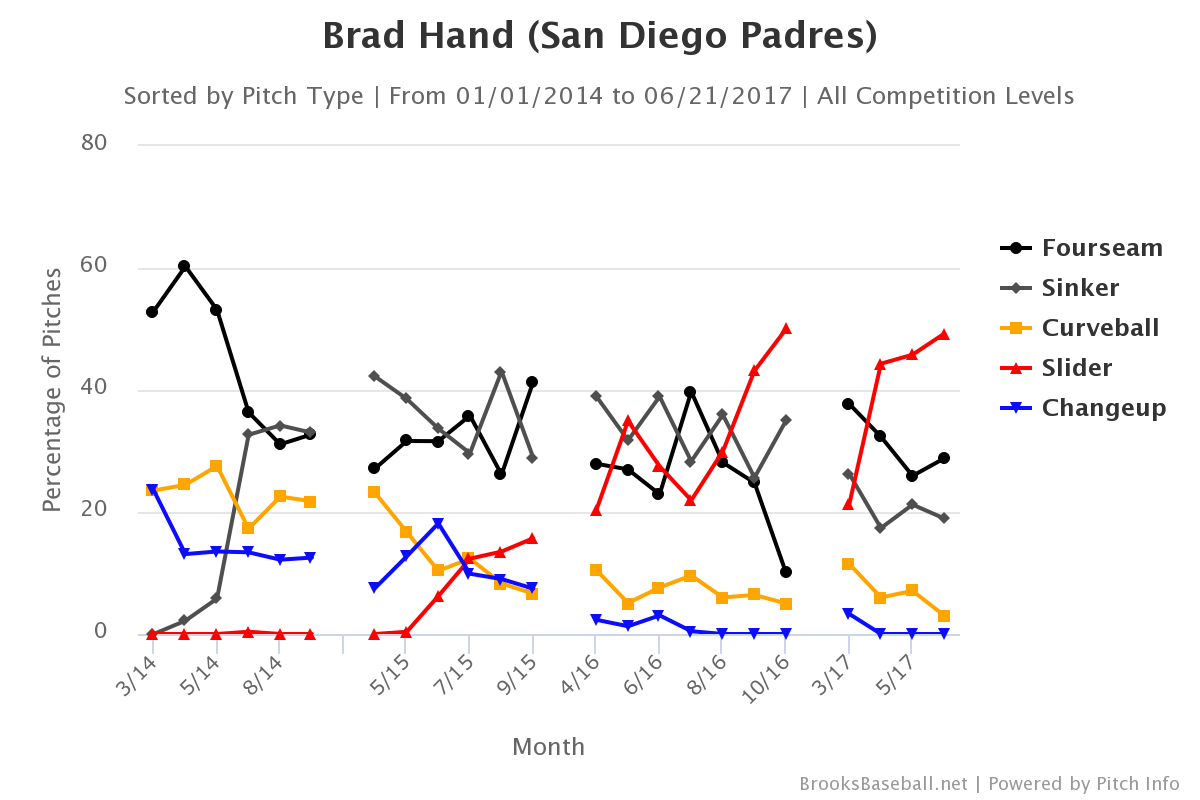 Hand is throwing a lot of sliders now. A lot. Almost exactly half the time this season (49.2%). It almost makes you wonder whether Hand is throwing the slider too much. Yeah, it's working, but how long can this last before his elbow says "okay, stop you jerk"? Heavy doses of breaking balls and healthy elbows usually don't mix. Then again, maybe Hand is the left-handed Luke Gregerson, throwing slider after slider and staying healthy.
The change in pitch selection and heavy emphasis on sliders explains Hand's success with the Padres, even without a velocity spike. Hand has a great slider. Check it out:
Throw that slider as much as Hand and you're going to get a lot of outs. Strikeouts and weak contact. It helps the fastball play up too because the hitter has that slider in the back of his mind at all times. No more crummy changeups, fewer mediocre curveballs, and many more sliders. Lots and lots of sliders. It's not an Andrew Miller slider, but it is pretty damn good.
Thanks to that quality slider, Hand has basically no platoon split. He's held left-handed hitters to a .145/.249/.255 (.228 wOBA) batting line with 31.8% strikeouts, 11.1% walks, and 40.0% grounders since the start of last season. Righties, meanwhile, have hit .226/.299/.355 (.284 wOBA) with 29.9% strikeouts, 8.2% walks, and 51.5% grounders. Okay, so Hand does have a platoon split. But he's quite good against righties!
Point is, Hand can get out batters on both sides of the plate. He annihilates lefties and more than holds his own against righties. He's someone his manager can use for a full inning. Limit him to left-on-left matchup work and you're doing it wrong. Hand is a capable late-inning reliever who happens to be left-handed. His stuff has not necessarily changed with the move into short relief. He's just throwing his best pitch much more often.
Injury history
Hand has been on the disabled list once in his career, for an ankle sprain in 2014. He missed a month. It was a phantom DL stint though. As Clark Spencer explains, the Marlins put Hand on the DL because he's out of minor league options and they didn't want to expose him on waivers in order to send him to the minors. The fake injury bought the team some time to get their roster figured out.
Aside from that, Hand has never been on the DL or injured. Not even in the minors. Completely healthy throughout his career. He's a big dude (listed 6-foot-3 and 228 lbs.) with a strong frame that allowed him to make 82 appearances and throw 89.1 innings last season, most among all full-time relievers. Hand has thrown 39.2 innings so far this season, which has him in the top ten among all relievers. He's healthy and he throws a ton of innings.
Contract situation
Over the winter Hand went through the arbitration process for the first time. He'll make $1.375M this year and remain under team control as an arbitration-eligible player in both 2018 and 2019 as well. And because he's a non-closer, Hand's arbitration salaries won't be too big. He's looking at $3M or so next year and $5M or so the year after, even at this level of performance. Hand is out of minor league options, however. He can't go to the minors without being placed on waivers, and that ain't happening. Then again, if you trade for Hand and have to think about sending him to the minors at some point, something has gone wrong.
What's it going to cost?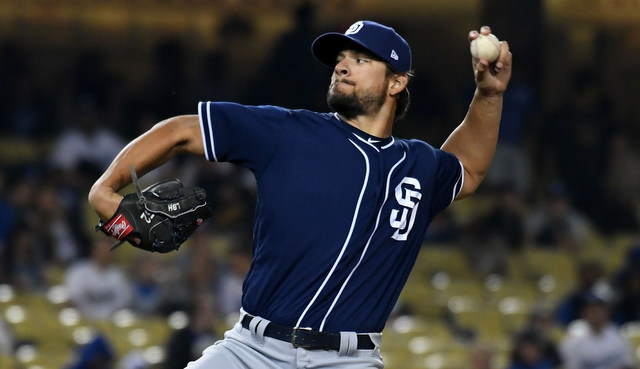 You know, with Zach Britton on the disabled list, you could argue Hand is the second best left-handed reliever in baseball behind Miller. Well, Chapman is back, so third best. It's either Hand or Felipe Rivero. Maybe Jake McGee. Hand is in the conversation though. I'm sure the Padres would love to get a Miller package for Hand, but that's not happening. Miller was better and had thrived in a big market.
Ken Rosenthal recently reported the Padres want a "Will Smith-type return" for Hand, which is certainly more reasonable than an "Andrew Miller-type return." At the time of the trade, Smith had a 2.95 ERA (2.94 FIP) in 85.1 innings from 2015-16. On par with Hand, though in way fewer innings. Also, Smith came with three-and-a-half seasons of control. Hand comes with two-and-a-half. That extra year is big. Here's what the Giants sent to the Brewers in the Smith trade at last year's deadline:
RHP Phil Bickford: Baseball America ranked Bickford, San Francisco's first round pick in 2015, as the 50th best prospect in baseball in their midseason top 100 prospects list a few weeks before the trade. He had a 2.71 ERA (2.95 FIP) in 17 starts and 93 innings before the trade, all in Single-A.
C Andrew Susac: Post-hype prospect who snuck onto a few top 100 lists in 2015. Susac hit .240/.309/.407 (104 wRC+) in 243 big league plate appearances and .282/.355/.469 (119 wRC+) in 299 Triple-A plate appearances from 2015-16 before the trade. He was blocked by Buster Posey.
Sad trade is sad. Smith allowed six runs in 18.1 innings for the Giants last year before blowing out his elbow this spring and needing Tommy John surgery. Bickford has not pitched this season because he's serving a suspension for a second positive test for a drug of abuse. Susac is hitting .146/.196/.292 (18 wRC+) in Triple-A. That trade has no winners.
Anyway, if that's what the Padres want for Hand, I suppose the Yankees equivalent would be something like Justus Sheffield (mid-top 100 guy like Bickford) and maybe Tyler Austin (former fringe top 100 guy with no MLB spot)? The Yankees don't really have a Susac. A spare quality young player at a hard-to-fill position. Give me Susac last year over Austin this year eight days a week and twice on Sunday.
The general theme here is the Padres want two players for Hand: one top 100 prospect and an MLB ready young player. If they're using the Smith trade as a benchmark, that's the package. That's a lot! But gosh, Hand is really good, and adding another great reliever to the bullpen sure would be a big help. And he's not a rental either.
Does he make sense for the Yankees?
In terms of adding Hand to the bullpen, yes, clearly. He'd improve literally every bullpen in baseball. At that cost though? Eh, that's up for debate. I do worry about Hand's limited track record — again, this guy was on waivers last spring — and how well he'll hold up while throwing so many sliders. Relievers are really risky. Even the good ones. And the more you give up to get them, the more risk you assume.
Although Hand would improve the bullpen, my guess is the Yankees do not want to trade top prospects for a reliever, even a great one. They were reportedly hesitant to trade their best youngsters for a starting pitcher in the offseason, remember. Now they're going to turn around and deal young players for a reliever? Eh. Can't see. I mean, they could always have a change of heart, but yeah. I don't see this happening.
The last few times the Yankees traded for a reliever, it was either a buy low trade (Chapman, Tyler Clippard) or a perfect "my strength matches your weakness" trade (Justin Wilson). The Yankees are more likely to look for the next Brad Hand, that interesting swingman who could thrive in short relief, than trade prospects for the actual Brad Hand. The Padres will have no shortage of suitors for Hand and I don't see the Yankees getting involved in a bidding war.