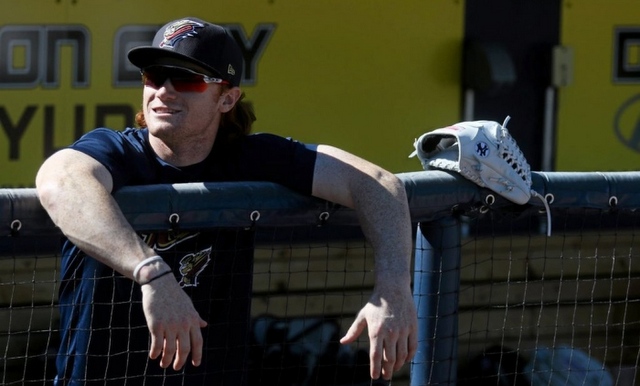 The losses are starting to pile up. Not just in the standings either. The Yankees have lost ten of their last 12 games, and they've also lost several players to injuries during that time as well. Yesterday Aaron Hicks went down with a right oblique issue. He's expected to go on the disabled list and miss 3-4 weeks. Yuck. Hicks as been great this year overall. Losing him is no good.
If there's a silver lining to the Hicks injury, it's the timing. Jacoby Ellsbury played two minor league rehab games over the weekend and there's a chance the Yankees will activate him today to replace Hicks. The Yankees would love to have both guys healthy, but that's not an option. Having one is better than having none, and it sure seems like Ellsbury will be back very soon.
Replacing Hicks with Ellsbury would be the easiest move. Hicks goes on the disabled list and Ellsbury takes his place on the roster, in center field, and in the second spot in the lineup. Three birds, one stone. It's so straightforward that that's what I think will happen. That said, even with Ellsbury back, the Hicks injury creates an opportunity for the Yankees to turn to Dustin Fowler or Clint Frazier, their top Triple-A outfield prospects. Let me explain.
1. Ellsbury and Gardner could use rest going forward. Ellsbury is going to be coming back from a concussion and, for his own good, easing him back into things would be a smart move. You don't want to push him too hard coming off a brain injury. Brett Gardner, the team's other veteran outfielder, could also use a more rest going forward. He's played a ton these last few weeks with Ellsbury out. Gardner has started 27 of 28 games since Ellsbury went on the disabled list, and he came off the bench the one game he didn't start. Yeah.
Think about this way: what was the plan when Ellsbury came back before Hicks got hurt? The Yankees were going to go back to rotating Hicks around the outfield. There's basically no chance the Yankees and Joe Girardi would outright bench one of their outfielders and relegate someone to true fourth outfielder duty. And, really, none of them deserve to sit full-time. The Yankees are at their best when all four outfielders are getting rest and staying involved.
Calling up one of the Triple-A outfielders, either Fowler or Frazier, would allow the Yankees to do the same thing. Rotate the young outfielder around like they would have Hicks. You don't want to call up one of those guys and have him sit on the bench day after day. You want him to play. This would be a way to get their feet in the big leagues without overwhelming them, without counting on them to have an impact, and without cutting someone else's playing time drastically.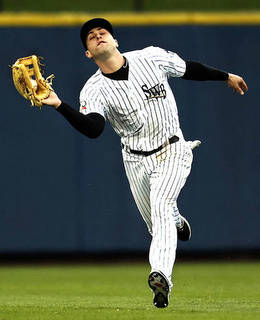 2. The Yankees really need to upgrade the bench. The Yankees effectively went into yesterday's game with a one-man bench. Matt Holliday wasn't feeling well and Starlin Castro was unavailable after receiving a cortisone shot in his wrist. Their only bench player was Austin Romine, and he went into the game when Hicks got hurt. That meant the Yankees had no one to pinch-hit for Tyler Austin or Romine in the late-innings of a one-run game. Yuck.
On days everyone is feeling well, the regular three-man bench is Romine, Ronald Torreyes, and Mason Williams. That's … not great. I love Torreyes as much as the next day, but realistically, you're not going to use him as a pinch-hitter late in the game. He can pinch-run and be a defensive replacement. That's about it. The same is true with Williams. Romine? He's the backup catcher and those guys rarely get used strategically in the late innings.
The Yankees are handcuffing themselves with an eight-man bullpen. I get that they're worried about running out of arms, especially with Masahiro Tanaka struggling all year and Michael Pineda struggling recently, and Luis Cessa in the rotation. Eight relievers still feels like overkill when you have a multi-inning guy like Chad Green and true long man like Domingo German in the bullpen. And you know what? If you do blow out your bullpen due to a short start or extra innings, you make a roster move or two after the game. They do that anyway, even with eight relievers.
Dropping the eighth reliever for a fourth bench player would give Girardi more bench options so he could pinch-hit for Austin, or pinch-run for Holliday, or replace Castro for defense. Whatever. The Yankees can't do that now. The three bench players are there purely to back up each position. They're not weapons that can be used strategically, for matchups or whatever. Adding Fowler or Frazier creates more options. Remember, even on days they play, one of the veterans will be on the bench resting.
3. The Yankees could use a spark. Like I said, the Yankees have lost ten of their last 12 games. That's not good! And prior to yesterday's late comeback attempt, the offense has looked pretty flat for a good week or so. Remember late last year, when the Yankees called up Gary Sanchez and Aaron Judge, and it seemed to energize the entire team? They gave the entire roster a nice shot in the arm and the Yankees played well in August and September. Calling up Fowler or Frazier could provide a similar spark. And if it doesn't, well, no big deal. The Yankees are right where they started.
* * *
Okay, so now comes the obvious question: who should the Yankees call up, Fowler or Frazier? Fowler (.294/.331/.542, 137 wRC+) is outhitting Frazier (.251/.343/.482, 124 wRC+), though not by so much that it's an obvious choice. Both Erik Boland and Josh Norris have heard from scouts that Fowler is the more MLB ready player, and I don't disagree. The issue there is that you're adding another speedy left-handed hitter to the roster when you already have two in Gardner and Ellsbury. Kinda redundant. Frazier would give the Yankees more balance as a righty bat. But, if he's not ready, he's not ready.
The 40-man roster is not a deciding factor here either. Neither Fowler nor Frazier is on the 40-man — the Yankees still have an open spot after designating Chris Carter for assignment — but they both have to be added after the season to avoid Rule 5 Draft exposure, and of course that's going to happen. Calling them up now would only be getting a head start on things. I'd be more worried about burning a minor league option when Hicks returns than tying up a 40-man spot for a few weeks.
Assuming Ellsbury comes back to replace Hicks — that's going to happen at some point no matter what — these are the other moves I'd like to see made:
Send down the eighth reliever. Tyler Clippard isn't going anywhere, so that means Tyler Webb.
Send down Williams. Sorry dude, but there are better outfielders waiting.
Call up Fowler. I like Frazier! But if the pros say Fowler is more MLB ready, I believe 'em.
Call up Rob Refsnyder. He's not great, but he's more useful than an eighth reliever.
Because Refsnyder was just sent down Thursday, the Yankees would have to bring him back as the injury replacement for Hicks. That's the only way around the ten-day rule. Ellsbury and Fowler would then technically replace Williams and Webb. Fowler gets regular at-bats by rotating in with the other outfielders a la Hicks, and you're back to a four-man bench with a serviceable righty platoon bat in Refsnyder.
Keep in mind several players who are on the active roster aren't 100% right now. Castro had the cortisone shot over the weekend. Chase Headley received an epidural last week. Sanchez had the abductor problem last week and doesn't seem be running full speed yet. Ellsbury is coming back from the concussion. The Yankees have hamstrung themselves for a while now with a short bench. Continuing to do it with all those guys banged up is asking for trouble.
The Yankees are, amazingly, still in first place despite this recent 2-10 stretch. They won't be in first place much longer unless things improve. Losing Hicks takes a bite out of the offense, and while getting Ellsbury back will help, there's more the Yankees can. Fowler or Frazier would add another potentially potent bat (plus speed!) and getting back to a four-man bench gives Girardi more options. Contending is hard enough. Contending while essentially playing shorthanded on the position player side makes it even more difficult, and the Yankees shouldn't do that voluntarily.