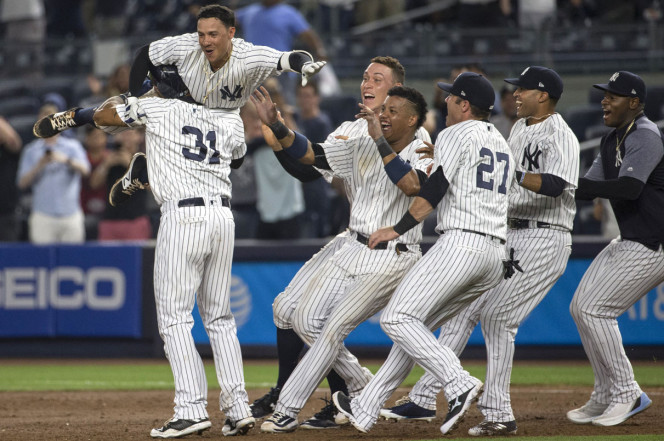 Torre-YES!
The comeback kids aren't dead yet. After gutting through eight innings of a historically great pitchers duel, the Yankee bats finally broke through and notched yet another dramatic overtime win, 2-1, on Friday night.
Masahiro Tanaka and Yu Darvish were absolutely brilliant, throwing a combined 15 scoreless innings while allowing only five hits and striking out 19 batters. This was just the second game in major-league history that each starter allowed no runs, gave up three-or-fewer hits, and struck out at least nine batters.
The only other instance came on August 26, 1968 in a game between the Washington Senators and Minnesota Twins; the dueling pitchers in that game were Jim Perry (Twins) and Frank Bertaina (Senators).
The key to Tanaka's dominance was getting ahead of batters and then unleashing his devastating offspeed pitches to put away hitters. He threw first-pitch strikes to 25 of 27 batters faced (92.6%), the highest rate of his career and the second-best mark by any starter in a game this season (Michael Fulmer was 23-for-23 against Twins on April 12). The Rangers went 0-for-14 when reaching a two-strike count against Tanaka.
The most encouraging number to come out of Tanaka's outing, however, might be zero: the number of home runs he allowed. In fact, he was excellent in avoiding hard contact all night. Of the 23 batted balls recorded by Statcast, none were charted as "barrels" or "solid contact" – the two categories (out of five) that produce the highest quality of contact and the most damage. Here's what that looks like in a cool radial chart via baseballsavant.mlb.com: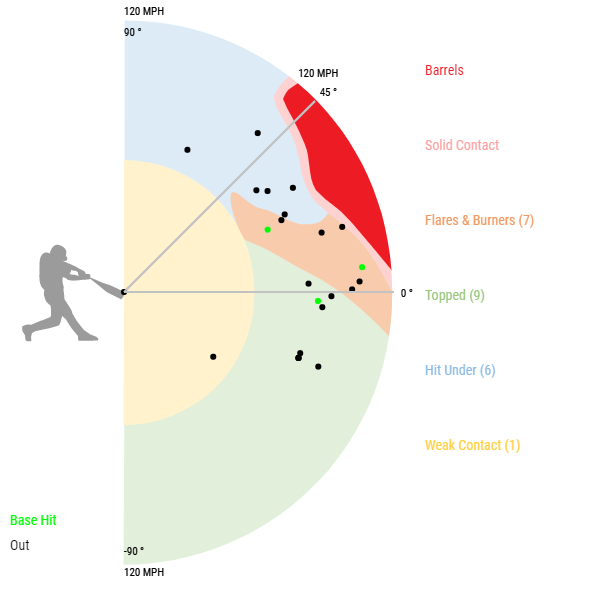 The Yankees were on the verge of wasting Tanaka's gem until Brett Gardner – the "little ball of muscle" – saved the day with a game-tying homer in the ninth inning. He drilled a 98-mph fastball into the right field seats, the fastest pitch he's ever hit for a home run in his career.
It was just the second hit in 21 ninth-inning at-bats for Gardner this season. The other one? A three-run homer to beat the Cubs on May 5. Good timing? Sure!
One inning later, Ronald Torreyes capped the comeback with a two-out, game-winning single, his first career walk-off RBI. Torreyes' heroics give us a chance to unleash some #FunFacts:
The 5'8" Torreyes (height as listed on baseball-reference.com) is the shortest Yankee with a walk-off hit since Mike Gallego on July 27, 1994 against the Red Sox (hat tip to Friend of Yankeemetrics, Mark Simon).
Big Toe is also the first Yankee third baseman with a two-out, walk-off hit since A-Rod's memorable walk-off solo homer in the 15th inning against the Red Sox on August 7, 2009.
And our Obscure Yankeemetric of the Series: Torreyes is the second Yankee No. 9 batter with a two-out, walk-off RBI against the Rangers. He joins Gene Michael, who hit a walk-off single to score Thurman Munson in a 3-2 win on August 8, 1973.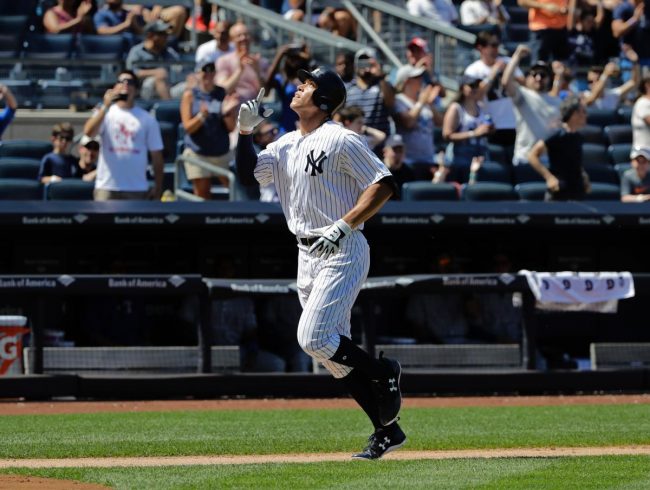 Please help Mr. Judge
Any positive momentum generated from Friday's thrilling victory came to a screeching halt the next day in a lackluster 8-1 loss on Saturday afternoon.
The game was closer than the final score indicates, because the human blowtorch – aka, Tyler Clippard – was put to work in the ninth inning. Three outs later, after giving up four runs on three hits (including two doubles), Clippard again found himself on the wrong side of history. He became the first Yankee ever to allow multiple runs and multiple extra-base hits in three straight appearances of one inning pitched or fewer.
In his last three games, spanning 1? innings, Clippard has allowed nine runs … or one more than Dellin Betances (4) and Chasen Shreve (4) have combined for in their 44 innings pitched this season.
The Yankees avoided being shut out thanks only to a solo homer in the sixth inning by The Animal. It's still June, and the only Yankee rookie to hit more homers than Aaron Judge is Joe DiMaggio (29) in 1936.
Forget rookie or any age records, the all-around excellence of Judge's first half is unprecedented in the long and storied history of this franchise. Since the first All-Star game in 1933, no Yankee had ever compiled as many homers (26), doubles (11), triples (3) and steals (6) before the break than Judge did this year.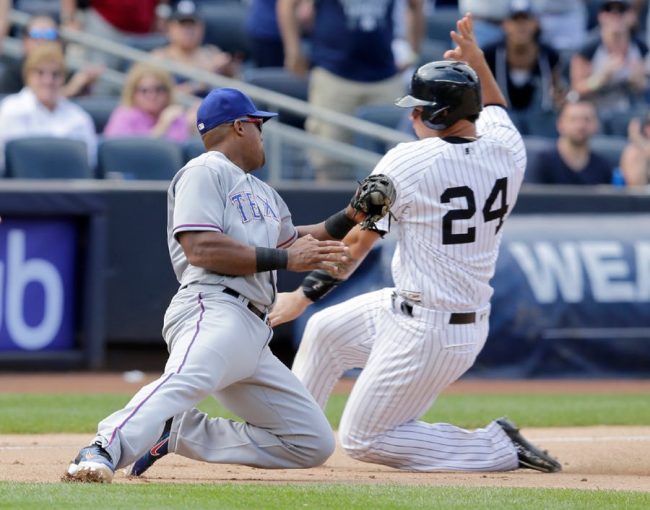 Fighting Spirit not enough
An early seven-run deficit was one run too many for the Comeback Kids to overcome on Sunday afternoon. Trailing 7-0 entering the fifth, the Yankees staged an improbable rally to get within a run, but fell just short in yet another crushing loss, 7-6.
It was the Yankees 13th one-run loss this season, one more than they suffered in all of 2016. The calendar on my computer tells me its still June.
The loss also extended their inexplicable struggles against AL West teams. They fell to 6-14 against the division, while going 34-19 against everyone else. The only MLB team this season that has played more than one series vs. the AL West and has a worse record than the Yankees is the Tigers (7-17).
Michael Pineda wore the goat's horns in this game, allowing seven runs — thanks to three dingers — in four innings. It's the first time in his career he's coughed up than many runs and that many homers while getting before the fifth inning.
A couple Baby Bombers did their best to erase Pineda's dreadful performance, as Gary Sanchez clobbered a three-run homer into Monument Park and Judge went 2-for-3 with two walks and an RBI.
For Sanchez, it was his 33rd career homer in his 100th career game. He tied Rudy York for the second-most homers in a player's first 100 big-league games, trailing only Mark McGwire (37).
Judge's stellar day at the plate extended his on-base streak to 27 games, the longest active streak in the American League. Over the last 50 years, just one other Yankee age 25 or younger has reached base safely in 27-plus straight games within a season: Derek Jeter (1999).