With the world of baseball enjoying the All-Star break, this week is as good a time as any to look back and review the first half of the Yankees' 2017 season. It was a really interesting first half, wasn't it? Let's begin today with the two catchers.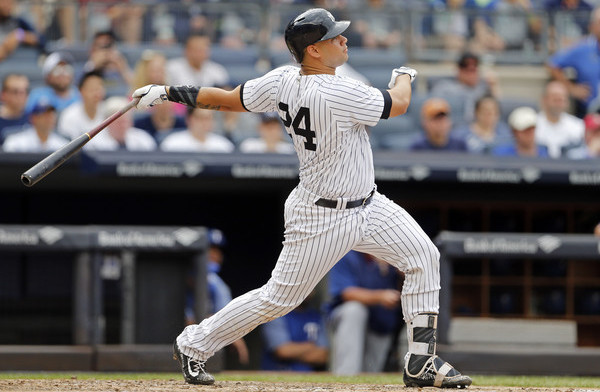 The history of the Yankees is littered with excellent offensive catchers. Back in the day there was Bill Dickey, then Yogi Berra, then Elston Howard, then Thurman Munson, then Jorge Posada. Now the Yankees have Gary Sanchez, a homegrown 24-year-old All-Star in his first full season as the starting catcher. He gives the Yankees yet another excellent offensive catcher to anchor the lineup. His backup, Austin Romine, is homegrown too. Let's review the first half of their season.
Gary Sanchez: Nearly repeating 2016 in 2017
What Sanchez did last year, smashing 20 home runs in 53 games en route to being named AL Rookie of the Year runner-up, made it impossible to estimate his true talent level coming into the 2017 season. Expecting him to sustain a 60-homer pace was unrealistic. The question is how much would his production fall?
Turns out, not much. At least not until Sanchez hit the skids a bit the final week before the All-Star break. His numbers through the same number of plate appearances as last year are freakishly similar:
| | PA | AVG/OBP/SLG | wRC+ | HR | K% | BB% | BABIP |
| --- | --- | --- | --- | --- | --- | --- | --- |
| 2016 | 229 | .299/.376/.657 | 171 | 20 | 24.9% | 10.5% | .317 |
| 2017 | 229 | .289/.376/.517 | 139 | 13 | 23.1% | 10.0% | .333 |
Sanchez has gone 1-for-13 since his 229th plate appearance to drag his overall season batting line down to .276/.360/.591 (127 wRC+), which is still pretty awesome. Only Salvador Perez has more home runs among all catchers. (He has 18.) Among the 24 catchers with at least 200 plate appearances, only Alex Avila (156) and Buster Posey (142) have been more productive overall in terms of wRC+.
As for the straight 229 plate appearances comparison, it's kinda freaky, no? The AVG, OBP, BABIP, strikeout rate, and walk rate are nearly identical to last year. The difference falls within the error bars of baseball randomness. The similarities go beyond those numbers too. Sanchez's hard contact rate (41.8% vs. 37.2%) and pull rate (54.1% vs. 52.6%) are nearly identical. So is his chase rate (32.9% vs. 30.8%) and contact rate in pitches in the zone (83.7% vs. 85.0%).
This season Sanchez is hitting fewer ground balls (49.3% vs. 42.6%), which is a good thing! You want him hitting the ball in the air. At the same time, his HR/FB rate has dropped from 40.0% to 26.0%. That was to be expected though. No one can hit two out of every five fly balls out of the park. That was never going to last. The fewer grounders is good though. The more Gary hits the ball in the air, the more damage he'll do. He's not hitting at a 60-homer pace anymore. It's more like a 35-homer pace. And that is pretty cool.
One thing I think everyone has noticed about Sanchez's season to date is that he's had an awful lot of hard-hit outs. I mean, he hits the ball hard a lot, so it's bound to happen, but it seems like Gary has had more line drives find gloves than any one player reasonably should. Here are the numbers:
| | % Batted Balls at 100+ mph | AVG on 100+ mph balls | BABIP on 100+ mph balls |
| --- | --- | --- | --- |
| Sanchez | 36.6% | .561 | .432 |
| MLB AVG | 19.4% | .650 | .564 |
Okay, so we're not imagining things. Sanchez has had an inordinate number of hard-hit batted balls — I used 100 mph exit velocity as my cutoff because humans are obsessed with round numbers — for whatever reason. Part of it is probably his pull rate, right? Sanchez pulls the ball a lot so teams shift their defenses to that side. Some of it is probably plain ol' bad luck too. Hopefully that luck pendulum swings back in Gary's favor in the second half.
On the defensive side, Sanchez has had a bit of a rocky season, I'd say. He's especially had trouble blocking pitches in the dirt. We saw Joe Girardi pull him aside in Chicago after he failed to block a Masahiro Tanaka splitter two weeks ago. The catcher defense stats at Baseball Prospectus say Sanchez was 1.4 runs below average blocking balls in 316 innings last year. This year he's at 0.5 runs below average in 400.2 innings. Hmmm.
The numbers say Sanchez has been a bit better this year blocking balls but still below average overall. The eye test tells me he's been worse this year, but who knows. Your eyes lie. Perhaps I was too distracted by all those glorious dingers last season to notice his blocking deficiencies. Point is, blocking pitches has been an issue for Sanchez this year and it's something he needs to improve going forward.
In terms of throwing, Gary has been great. He's thrown out eleven of 30 would be basestealers, or 37%, well above the 27% league average. Last year he had a 41% caught stealing rate, so he's not too far off that mark. Not enough to be a red flag. Baseball Prospectus rates his pitch-framing as a tick above average too (+1.7 runs). The same was true last year (+1.6 runs). Not great, not awful. Good enough.
Aside from the biceps injury, which thankfully has not lingered, Sanchez's sophomore season has gone about as well as we could have hoped. His power numbers have taken an expected step back but he's still a force at the plate. Add that to average-ish defense (above-average throwing, average framing, below-average blocking) and you've got one of the top catchers in the league and a deserving All-Star. Sanchez's sophomore season has been pretty awesome.
Austin Romine: A competent backup who shined in April
In the fifth game of the season, Sanchez felt a tug in his biceps taking a swing and had to be placed on the disabled list. The Yankees were 1-4 at the time and their star offensive player — this was before Aaron Judge's ridiculousness — just suffered an injury that would require a month's rest. Not ideal! Especially when that guy is your starting catcher and your options to replace him are fairly limited.
With Sanchez sidelined, the Yankees turned to Romine as their starting catcher because they really didn't have much of a choice, and holy cow did he deliver. The 28-year-old Romine hit .316/.349/.456 (111 wRC+) with two doubles and two homers in 63 plate appearances while Sanchez was out, including going 4-for-6 with two walks and no strikeouts with runners in scoring position. Hot damn!
Not even the biggest Austin Romine fan expected him to do that when Sanchez's injury pressed him into everyday duty. The pitching staff performed well that month as well and Romine received a lot of credit. (Probably too much.) Sanchez is the clear No. 1 catcher for the Yankees and he took over as the starter as soon as he returned from the disabled list, as he should have. Romine did an incredible job filling in those four weeks though.
Since returning to backup duty, Romine has hit a weak .183/.245/.215 (23 wRC+) overall, dragging his overall season batting line down to .231/.284/.306 (57 wRC+). He's also played some first base, including starting three straight games at the position two weeks ago. Romine has handled first base well defensively — he's made a few plays look a little more difficult than they actually were, though he made them, and that's what counts — and he's even gone out of his way to help tutor Sanchez with his blocking.
Romine is what he is at this point. He's a hard-working backup who does his best work behind the plate and will occasionally surprise you with a clutch hit. When the Yankees needed him to step up during Sanchez's injury, he did it in a huge way. The Yankees wouldn't be hanging around the postseason race without him. Romine is a role player now and going forward. His 2017 season is already a success thanks to April.