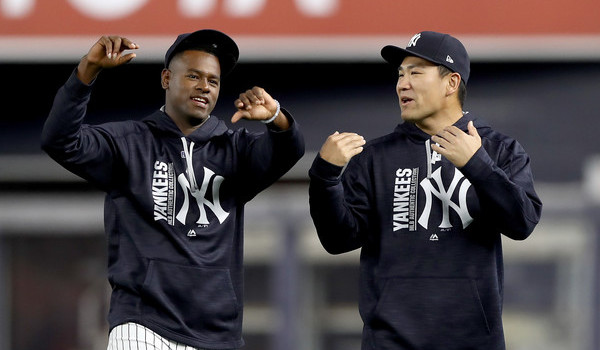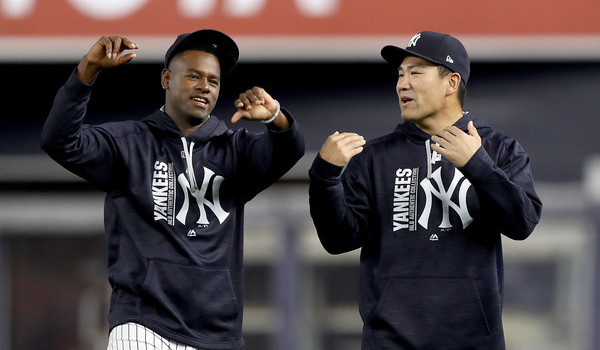 Coming into Spring Training and the 2017 season, the starting rotation was pretty clearly the biggest concern for the Yankees. They had three veterans to anchor the rotation in Masahiro Tanaka, Michael Pineda, and CC Sabathia, yet all three came with some questions. Tanaka's elbow hangs over every pitch he throws, Sabathia is nearing the end of his career, and Pineda is, well, Pineda.
The final two rotation spots were wide open going into camp. I always though Luis Severino had a leg up on a spot — I definitely wrote that a few times — and sure enough, he landed one in Spring Training. The Yankees had four candidates for the fifth starter's spot (Adam Warren, Bryan Mitchell, Chad Green, Luis Cessa) and none of them won it. Jordan Montgomery snuck up and beat everyone out. Time to review the rotation.
Masahiro Tanaka: The Return of the Dingers
Last season Tanaka was, legitimately, one of the best starters in the league. He threw 199.2 innings with a 3.07 ERA (3.51 FIP) and strong strikeout (20.5%) and walk (4.5%) numbers. If you're into WHIP, his 1.077 WHIP was fifth lowest among AL qualified starters. Tanaka was excellent.
This season Tanaka has been one of the worst starters in the league. There are 74 pitchers with enough innings to qualify for the ERA title and Tanaka ranks 69th in ERA (5.47) and 59th in FIP (5.03). He's also 71st in home run rate (2.03 HR/9), which is his biggest problem. Tanaka has not been able to keep the ball in the park, especially of late. We're talking 20 homers in his last 13 starts, and that includes a three-start stretch with no homers.
Why is Tanaka allowing so many more homers? Well, the answer is kinda obvious. He's been leaving too many pitches out over the plate, and because he's not overpowering (and because balls are flying out of every park this year), Tanaka has paid dearly for his mistakes. The question is why is he making more mistakes? Why have more fastballs run back over the plate, and why haven't his splitter and slider had the same bite for long stretches of time?
The Yankees and Tanaka are still looking for that answer. It looked like he found something these last few weeks, in which he fired 31.2 innings with a 2.56 ERA (3.21 FIP) across five starts. Then Tanaka got bombed Sunday, in the final game before the All-Star break. One step forward, one step back. Hopefully that game was just a blip and Tanaka goes back to dominating again like he did in four of his previous five starts. That would be swell.
Whatever is wrong with Tanaka — injury, bad mechanics, lack of confidence, etc. — it is the single biggest problem for the Yankees right now. Even moreso than the bullpen, I think. I think Dellin Betances and Aroldis Chapman will figure it out and be fine. Given how long Tanaka has struggled — basically since Opening Day — his struggles concern me more. It's hard to imagine the Yankees getting to the postseason if Tanaka continues pitching like this.
Luis Severino: The Emerging Ace
Aside from Aaron Judge, who is on a completely different level than everyone else right now, there has been no better short and long-term development for the Yankees this season than Severino. He came up and pitched very well in the second half of 2015, struggled mightily as a starter in 2016, and now he's pitching at a near ace level (3.54 ERA and 3.16 FIP) through 17 starts and 106.2 innings. His ranks among the 74 qualified starters:
Strikeout Rate: 28.4% (8th)
Walk Rate: 6.2% (17th)
K/BB ratio: 4.59 (8th)
Ground Ball Rate: 52.4% (8th)
Severino and Lance McCullers Jr. are the only pitchers who rank in the top ten in both strikeout rate and ground ball rate, and they're both deserving All-Stars. By Game Score, the 23-year-old Severino — he spent most of the season as the youngest player on the roster before the recent Tyler Wade and Clint Frazier call-ups — is responsible for four of the nine best and five of the eleven best games pitched by a Yankee this season.
What has been different about Severino this year? A few things. For starters, he seems to be much more aggressive with his fastball. I really believe the stint in the bullpen last season taught Severino that yes, he can throw his heater by big league hitters, and that gave him the confidence to do it this year. He's no longer trying to paint the corner. He's just letting it fly and letting the pitch's natural life and velocity do the rest. (At 97.5 mph, Severino has the highest average fastball velocity among all starters in 2017. Carlos Martinez is second at 96.8 mph.)
Two, Severino seems to have much more confidence in his changeup. He's not necessarily throwing it more often — he threw the pitch 14.1% of the time in 2015, 9.4% of the time in 2016, and 11.4% of the time in 2017 — but he is throwing better quality changeups and he's throwing it with more conviction. Last year Severino admitted he lost confidence in his changeup and he basically stopped throwing it by the end of the season. The changeup is still his third pitch, but Severino uses it and he now seems to trust it again.
And three, he's locating his slider so much better this year. So, so much better. Last season he left way too many sliders up in the zone and hitters either fouled it off or put it in play rather than swing and miss. This year's he's burying the pitch down and getting those whiffs. That impressive — and elite! — combination of strikeouts and ground balls is no accident. Severino pairs a big fastball with a better located wipeout slider and an improved changeup.
I'm curious to see how the Yankees will handle Severino's workload in the second half because he is on pace to throw 201 innings, and I can't imagine they'll let a 23-year-old kid throw 200+ innings. Or maybe they will. Who knows? My guess is the Yankees find a way to give Severino some extra rest between starts down the stretch. We'll see. Whatever they do, the most important thing is that Severino looks like a top of the rotation starter, and gosh do the Yankees need one of those going forward.
CC Sabathia: The Veteran Innings Guy
Aside from a rough four-start stretch spanning late-April and early-May in which he allowed 22 runs in 20.2 innings, Sabathia has been steady and reliable for the Yankees this year. He reinvented himself as a cutter pitcher last year and he's stuck with that approach this year. Sabathia in 2016: 3.91 ERA and 4.28 FIP. Sabathia in 2017: 3.81 ERA and 4.19 FIP. Yup.
Sabathia did miss three weeks with a hamstring injury and his first start back was pretty bad (four runs in 2.2 innings), and, in hindsight, the Yankees shoulda sent him out on a minor league rehab assignment rather than have him make one start — one start on a 75-80 pitch count, no less — before the All-Star break. Either way, Sabathia's days as an ace are over, but so are his days as a below-average pitcher, which he was from 2013-15. The big man made some adjustments last year, they worked, he's stuck with them, and they're still working. That's pretty much all there is to say about him. Go CC.
Michael Pineda: Same Ol' Michael Pineda
Groan. Do we really have to review Pineda's season? He's the same guy he was last year and the year before that. The difference this year is that Pineda started very well and had more than a few folks, myself included, thinking he had turned the corner. But no, it was just one of his patented "did he figure it out???" streaks at the start of the season. To the monthly splits:
April: 3.14 ERA (3.25 FIP)
May: 3.48 ERA (4.76 FIP)
June: 5.35 ERA (4.69 FIP)
July: 15.00 ERA (16.48 FIP) in one start
Overall, Pineda has a 4.39 ERA (4.64 FIP) in 96.1 innings this year. He had a 4.60 ERA (3.58 FIP) in 336.1 innings the last two seasons. The biggest difference this year is the home runs, though that's not unique to Pineda. Almost every pitcher in the league is allowing more homers this year. Pineda had a 1.28 HR/9 from 2015-16. It's 1.87 HR/9 this year, hence the massive spike in FIP.
One thing Pineda does deserve credit for is his improved performance with two strikes. Remember all those annoying two-strike hits last season? Check it out:
2016 with two strikes: .187/.246/.286 (104 OPS+)
2017 with two strikes: .162/.212/.242 (71 OPS+)
I know a .187/.246/.286 batting line against seems great, but in two-strike counts, it was actually 4% worse than average last year. That shouldn't happen to a guy with Pineda's slider. This year he's been much better with two strikes. He's gone from 4% below-average to 29% above-average. And, to be fair, last season is the outlier for Pineda. He has a career 42 OPS+ allowed in two-strike counts. Usually he excels in those spots. Last season he didn't for whatever reason.
In all likelihood Pineda is entering his final few months as a Yankee, and maybe even his final few weeks. If the team continues to fall in the standings, they could ship Pineda to a pitching needy contender at the trade deadline. He's a free agent after the season and he's not a qualifying offer candidate. Not when the potential return is a pick after the fourth round. Not worth the risk. Pineda started this season pretty well. But with each passing start, it's becoming more and more clear he's the same guy he's always been.
Jordan Montgomery: The Reliable Rookie
I thought it was inevitable we would see Montgomery in the big leagues at some point this season. He came into 2017 as New York's best big league ready pitching prospect and by a pretty decent margin. I just didn't think he'd win a rotation spot out of Spring Training. Montgomery outpitched everyone else in camp, the Yankees decided he was their best option, and he's been a rotation mainstay ever since.
Through 16 big league starts the 24-year-old Montgomery has a 3.65 ERA (4.05 FIP) in 91.1 innings. He's completed six innings in eight of those 16 starts and at least five innings in 13 of those 16 starts. Joe Girardi has had a quick hook with the rookie at times, which is fine. For the most part Montgomery has been a consistent source of quality innings. Three things stand out about his first half.
1. His lack of ground balls is starting to catch up to him. Montgomery is a big man (6-foot-6) with an extreme over-the-top arm angle, and because of that, he can have a tough time getting his pitches down at the knees and below the strike zone. The result has been a 41.6% ground ball rate, which ranks 50th among those 74 qualified starters. And lately, more and more of those fly balls are turning into home runs: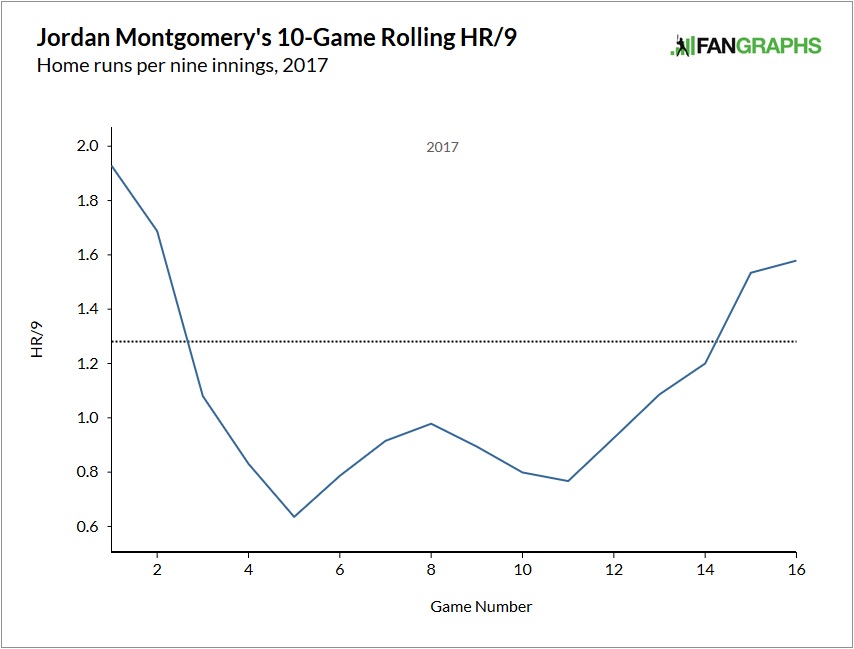 Home runs are being hit at a higher rate than at any other point in baseball history and Montgomery's home ballpark is homer happy Yankee Stadium. Given how fly ball prone he's been so far this season, it was only a matter of time until the home runs came. Hopefully more grounders will follow.
2. He's great at getting hitters to chase out of the zone. Montgomery is a polished young pitcher with a five-pitch arsenal. He's got both a straight four-seamer and a sinker, plus a slider, a changeup, and a curveball. His least used pitch is his slider. He's thrown it 13.0% of the time this year, which is pretty darn often for a fifth pitch. Because of his deep arsenal, Montgomery has excelled at getting hitters to swing out of the zone. Here is the chase rate leaderboard:
Masahiro Tanaka: 39.8%
Zack Greinke: 38.6%
Jordan Montgomery: 38.3%
Chris Sale: 38.3%
Clayton Kershaw: 37.6%
Max Scherzer (37.2%) is sixth. McCullers (36.9%) is seventh. Corey Kluber (36.8%) is eighth. The top of the chase rate leaderboard is basically the seven best pitchers in baseball and Jordan Montgomery. Getting hitters to expand the zone is a very valuable skill. Swings on pitches out of the strike zone often result in swings and misses or weak contact. You don't see those pitches squared up very often. That chase rate ability is a big reason why Montgomery has had so much success early in his MLB career.
3. Montgomery is not afraid to pitch inside. Especially to righties, which he needs to do to have success. He's not going to blow anyone away with the sheer quality of his stuff. Here's a heat map of his fastball and slider locations against right-handed batters, via Baseball Savant: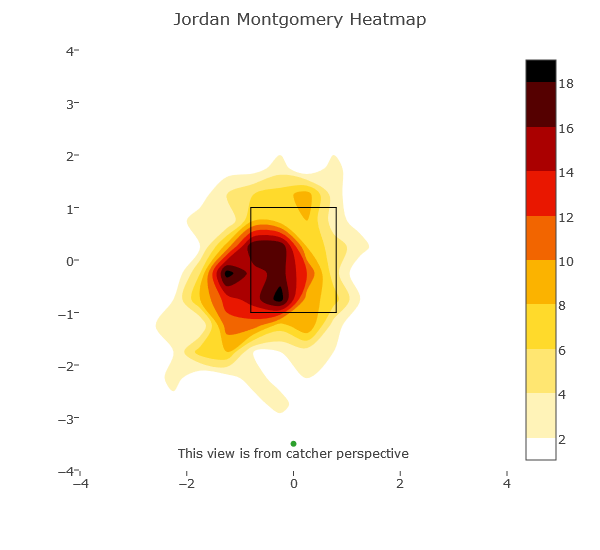 Yep. Montgomery lives on the inner half of the plate with those pitches against righties. He uses them to set up changeups and curveballs away, and he's been successful doing that. Montgomery has held righties to a .249/.307/.403 (.306 wOBA) batting line. He's not dominating them by any means, but he is holding his own, and that's important as a starting pitcher. Pitching inside allows him to have that success.
Montgomery right now looks very much like a long-term keeper. He's poised and he seems fearless on the mound, even when things are going haywire. Add in the fact he throws five pitches regularly and has pretty good command, and the ingredients are there to stick in the rotation going forward. The Yankees needed to find some starting pitchers this year and they've found one in Montgomery.
* * *
Tanaka, Severino, Sabathia, Pineda, and Montgomery have combined to start 82 of 86 games for the Yankees this season. Cessa started three and Green started one while Sabathia was sidelined with his hamstring injury. Otherwise the Yankees have been pretty fortunate injury-wise. That's not to say the good health will continue all year, but it happened in the first half, and that's all that matters right now.
Believe it or not, the rotation ranks tenth in ERA (4.26) and eighth in FIP (4.21) among the 30 teams, which surprised me. It still feels like there's room for improvement, mostly with Tanaka but also with Pineda given his recent performance. The Yankees now have two rotation building blocks in Severino and Montgomery whereas four months ago they had none, and Sabathia sure looks like a new pitcher too. I still expect the Yankees to be in on just about every high-end starter at the trade deadline because hey, there's no such thing as too much pitching. The current rotation has been good enough to get the Yankees to the All-Star break in postseason position.