Things just keep getting worse. Friday night's series opener with the Brewers was competitive for about six innings. Then the Yankees' bullpen did its thing, and that was that. The final score was 9-4. The Yankees are 6-17 in their last 23 games and are now tied for the second wildcard spot. What a midseason collapse.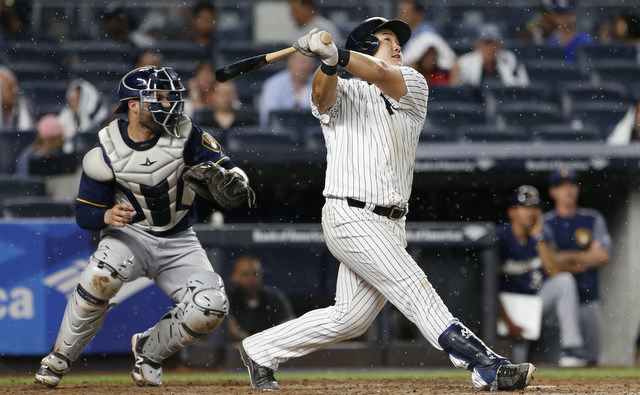 Drunk In The Field
Wow are the Brewers bad defensively. They rank statistically near the bottom of the league defensively and it showed in the first four innings. Five errors in four innings! Two of them contributed to three runs. Didi Gregorius ripped a one-out single to right field in the second that Domingo Santana played into a triple. He misplayed the hop, the ball got by him, and Gregorius made it to third. Clint Frazier drove in him with a sac fly for a quick 1-0 lead.
Then, in the fourth, Gregorius reached when Jonathan Villar bobbled a ground ball to second base. Ji-Man Choi made Villar and the Brewers pay with a two-run home run two batters later. In between the Frazier sac fly and the Choi homer, Santana committed another error when he got turned around on Austin Romine's fly ball, and Villar was also charged with an error because he was unable to knock down Aaron Judge's liner up the middle. Lots and lots of free baserunners. Only three runs as a result of the errors, however.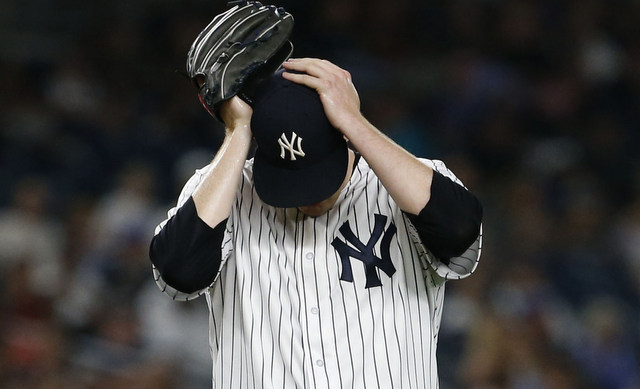 Monty In The Rain
I was a bit surprised Joe Girardi brought Jordan Montgomery back out for the fifth inning after a 51-minute rain delay. I'm sure Montgomery was throwing down in the batting cage and whatever, but it just seemed like enough time had passed, and he wouldn't pushed a young pitcher like that. Then again, the bullpen has been so bad lately, I don't blame Girardi for wanting to squeeze as many outs from his start as possible.
Montgomery did his "wiggle in and out of jams" act in the first few innings, though, to his credit, not too many of the seven hits he allowed were hard-hit. His two biggest mistakes came in the same inning. Montgomery left a pitch up to Ryan Braun leading off the fourth, which Braun hammered into the left-center field gap for a double. Then, two batters later, Montgomery lost an eight-pitch battle to Jesus Aguilar when he left a slider up, a pitch Aguilar promptly depositing into the short porch for a two-run home run and 2-1 Brewers lead.
After the rain delay, Montgomery lasted three batters. A diving catch by Frazier and two singles later, Montgomery was out of the game. He went back out to face three batters and throw 12 pitchers. Tyler Webb came out of the bullpen to escape that jam with a line drive double play. Montgomery's final line: 4.1 IP, 7 H, 2 R, 2 ER, 0 BB, 4 K and 74 pitches. This was only his second walk-less outing in 16 starts.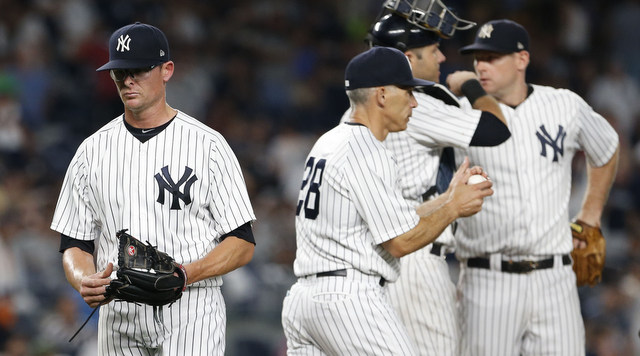 A Lopsided Battle Of The Bullpens
One team brought their strikeout heavy top pitching prospect out of the bullpen. The other tried to squeeze two innings from Tyler Clippard. That's the story of the game right there. One team has the best arms in the organization on the big league roster and the other is putzing around with journeymen and fringe prospects. The bullpen has been a disaster for weeks now and yet the same personnel remains.
In the sixth, Webb and Clippard teamed up to blow the 4-2 lead. Webb allowed a walk and a double to put runners on second and third, and Clippard allowed both runners to score on a wild pitch and a sac fly. The game got out of hand in the seventh. Clippard remained in the game and the inning went fly out, walk, walk, fly out, intentional walk, grand slam. Amazing. Aguilar already had a homer and a long sac fly in the game. Girardi intentionally walked the bases loaded so a fatigued Clippard to could face him, and Aguilar hit the grand slam. Bad pitching, bad decisions.
The final line on the bullpen: 4.2 IP, 7 H, 7 R, 7 ER, 5 BB, 1 K. Webb, Clippard, Chasen Shreve, Luis Cessa. Josh Hader, the aforementioned top pitching prospect the Brewers brought out of the bullpen, struck out seven in three innings. He allowed one run on one hit and two walks. The run came on an Judge solo homer. That has more to do with Judge being awesome than Hader being bad. Hader blew the Yankees away. It's too bad the Yankees don't have any young arms who might be able to do that.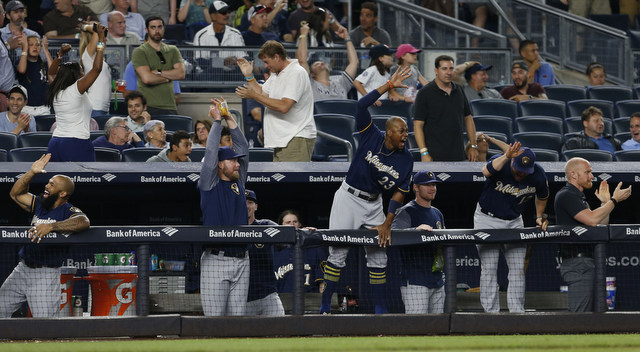 Leftovers
How about some good news? Judge's home run was his 30th (31st*) of the season, the most ever by a Yankees rookie. The most ever! Do you know who's played for this franchise? There are still 78 games to play this year too. Judge is only the second rookie in baseball history to hit 30 home runs before the All-Star break. Mark McGwire hit 33 before the break in 1987. He set the rookie record with 49 homers that season.
Now, the bad stuff: Chase Headley went 0-for-4 with two strikeouts, a walk, and a double play hitting second in front of Judge. Not Girardi's finest lineup decision. Just let Judge hit second. I know he doesn't fit the typical No. 2 hitter profile, but the alternative is squeezing a bad hitter between him and Brett Gardner. No. Just no. Gardner drew four walks in the game, by the way. Would have been cool to have Judge hitting right behind him.
Four total hits for the offense: Judge's homer, Choi's homer, Didi's single, and a Frazier triple. Frazier is still looking for his first big league single. He has a double, a triple, and a homer already. Choi and Headley each drew one walk and Gardner had four. Those are all the baserunners.
And finally, Choi is the first player to go deep in each of his first two games with the Yankees since … Judge last year. Between Triple-A and MLB, Choi has hit eight home runs in his last 13 games. He hit two homers in his first 45 games of the season.
Box Score, WPA Graph & Standings
For the box score and updated standings, go to ESPN. MLB.com has the video highlights and we have a Bullpen Workload page. Here's the loss probability graph:

Source: FanGraphs
Up Next
The Yankees and Brewers will continue this three-game series with the middle game Saturday afternoon. That's a 1pm ET start. All-Star Luis Severino and non-All-Star Brent Suter are the scheduled starting pitchers. The Yankees won't be home until July 25th after this weekend, so if you want to catch a game before the All-Star break and long road trip, RAB Tickets can get you into the ballpark.