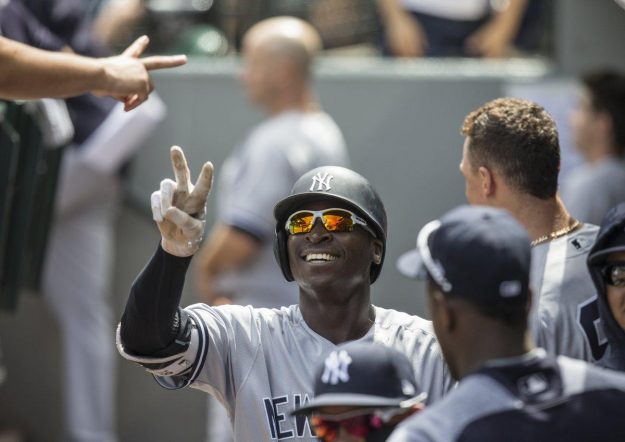 There are few players in baseball who make it as easy to root for them as Didi Gregorius does. Rare is the time when he doesn't have a smile on his face; his post-Aaron Judge home run antics with Ronald Torreyes are (almost) just as fun as the prodigious homers; his post-victory tweets are must-see material after a Yankee win. To top that all off, he's become a great player on the field, having a career year after he just had one last year. Didi is on pace to post career highs in pretty much everything at the plate and has maintained great defense at short, even after missing the first month of the season.
A big part of Didi's offensive emergence in the last two seasons has been the home run. Last year, he hit 20. This year, he's already at 16 and all three projection systems at his FanGraphs page see him hitting seven more this year, which would leave him with 23, a new career high. This, like the rest of his game since arriving in the Bronx, really, is a justification for the trade that brought him here. He's a lefty swinger who showed brief flashes of power in the minors and majors, which seems like a perfect fit for Yankee Stadium. For all the reasons listed above–both on-field and off–Didi's proven that right.
For the last two years, Didi has had an average home run distance of 373 feet. This year, that is the fourth shortest homer distance among players with at least 190 batted ball events. Last year, that mark was in the bottom 10 of the league with the same qualifier. Using HitTracker, 14 of Didi's home runs between 2016 and 2017 have been labeled as just enough or lucky. Didi's ISO at home the last two years is .199, compared to .166 Those signs seem to point to a guy taking advantage of a short porch in his home field. However if we dive a little deeper, we see that isn't quite the case.
Of the seven just enough/lucky homers of 2017, only two of them have taken place at Yankee Stadium. He had, similarly, seven just enough/lucky homers in 2016. Again, just two of them took place in Yankee Stadium. Since this power surge started last year, Didi has 36 home runs split evenly between home games and away games, 18 apiece. While there's a bit of a power boost at home–as evidenced by the ISO difference–it's only partially fueled by the home runs.
Whatever Didi has been doing the last two years is working. He's emerged as a top shortstop in the American League and that has made the trade to bring him here look more and more like a great steal with each passing day. A player like him is an absolute blessing to have on the team and I look forward to rooting for him for the rest of his time in pinstripes, which is hopefully a long, long time.