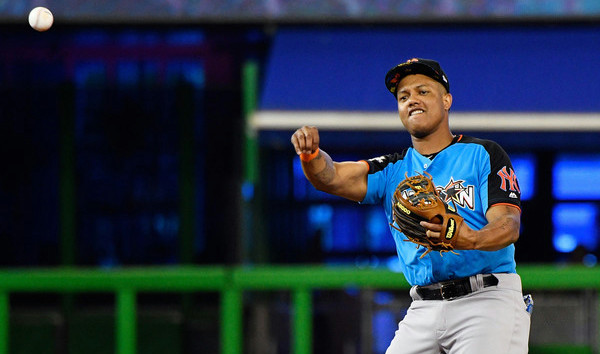 The month-long slide officially has the Yankees in third place. The Rays beat the Angels late last night out on the West Coast, so the Yankees are now 4.5 games back of the Red Sox and one game back of the Rays in the AL East. Remember when they were four games up? Good times. They've won seven times in 26 games since.
Last night's loss was more of the same. The bullpen blew it and you could see it coming a mile away. It didn't help that the offense went to sleep in the late innings, but still, hand a lead to your $86M closer and you expect to win. It didn't happen. Now the Yankees will try to rebound today against Chris Sale. They beat him once already this year. Doing it again would be cool. Here is the Red Sox's lineup and here is the Yankees' lineup:
CF Brett Gardner
C Gary Sanchez
RF Aaron Judge
DH Matt Holliday
2B Starlin Castro
3B Chase Headley
LF Clint Frazier
1B Garrett Cooper
SS Ronald Torreyes
RHP Luis Severino
Now the bad news: there's rain in the forecast this afternoon. Or maybe that's the good news? It doesn't seem like it'll be anything super heavy though, so maybe they'll play through it. We'll see. This afternoon's game will begin shortly after 4pm ET and you can watch on YES locally or FOX Sports 1 nationally. Try to enjoy the game.
Roster Move: As you can see from the lineup, Castro is back. He was activated off the disabled list today, the Yankees announced. Tyler Wade was sent down to clear a roster spot.