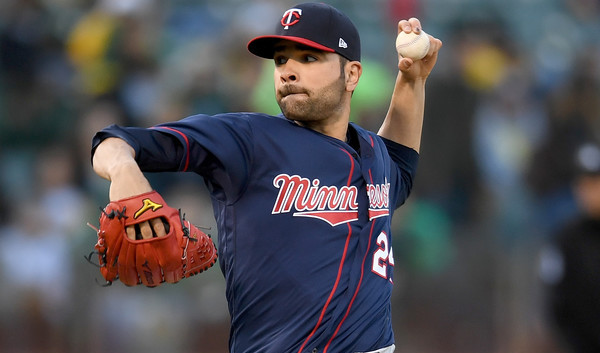 9:34am ET: The Yankees have announced the trade, so it's a done deal. Officially official. The press release says the deal happened last night. Anyway, the trade is as reported. Garcia and cash for Littell and Enns.
8:56am ET: The Yankees have landed their new fifth starter. Jon Heyman and Joel Sherman report the Yankees have an agreement in place to acquire lefty Jaime Garcia from the Twins for pitching prospects Zack Littell and Dietrich Enns. Littell was scratched from his scheduled Double-A start last night, which was a pretty good indication something was up. Mark Feinsand says the Twins will eat a big chunk of the remainder of Garcia's $12M salary. The Yankees are only responsible for the pro-rated portion of the league minimum.
Interestingly enough, both Ken Rosenthal and Jeff Passan say the Garcia trade does not end the pursuit of Sonny Gray. The Yankees still want him, though now they don't need to pursue him with as much urgency. Garcia has some bullpen experience and even though they've yet to admit it, the Yankees are going to have to watch Luis Severino's and Jordan Montgomery's workloads down the stretch. Getting two starters would make that much easier.
Garcia, 31, was just traded from the Braves to the Twins last week. Minnesota has lost four of their five games since the trade to continue to slip out of the postseason race, so they decided to flip the rental Garcia. That doesn't happen too often. Garcia allowed three runs in 6.2 innings in his one start with the Twins on Friday. He has a 4.29 ERA (4.04 FIP) in 19 starts and 119.2 total innings this year. Here's my Scouting The Market post on Garcia.
The 21-year-old Littell came over from the Mariners in the James Pazos trade last year. He has a 1.87 ERA (2.87 FIP) overall this season, including a 2.05 ERA (2.31 FIP) in seven starts and 44 innings with Double-A Trenton. The numbers are undeniably great. Littell is a command pitcher without blow-you-away stuff and the consensus is he's a future back-end starter, and hey, that's not nothing. You'd rather develop your own fifth starter than pay $10M for one in free agency.
Enns, 26, has a 2.29 ERA (2.73 FIP) in 39.1 Triple-A innings this season. He missed more than two months with a shoulder strain. Enns has been unreal since coming back from Tommy John surgery in 2015, throwing 239 total innings with a 1.51 ERA (2.92 FIP). Enns is another command pitcher, though he's several years older than Littell and has an injury history. Littell ranked 29th in my lasted prospect rankings. Enns was unranked.
Last week the Twins traded righty 19-year-old rookie ball right-hander Huascar Ynoa to get Garcia from the Braves. He's having a poor year statistically (5.26 ERA and 4.40 FIP in 25.2 innings) though he offers power stuff and is a similarly ranked prospect as Littell. A back-end of a team's top 30 list prospect. Ynoa offers more ceiling and Littell more probability. That's a very Twins thing to do. Trade ceiling for probability. Enns is pretty much a throw in.
It's also worth nothing there are 40-man roster considerations here. Littell will be Rule 5 Draft eligible this coming offseason and he would have been very much on the 40-man roster bubble for the Yankees. I think they would have found a way to squeeze him onto the roster, though it wasn't a lock. Also, the Yankees were going to have to clear a 40-man spot for Garcia, and Enns figured to be near the front of the DFA line.
The Yankees desperately needed a new fifth starter in the wake of Michael Pineda's elbow injury — heck, you could argue they needed another starter even before Pineda got hurt — and now they have one in Garcia. Ground ball heavy lefties are always good to have in Yankee Stadium. If the Yankees can manage to reel in Gray in addition to Garcia, suddenly the rotation looks mighty strong the rest of the way. Getting one starter was crucial though, and the Yankees have done that.