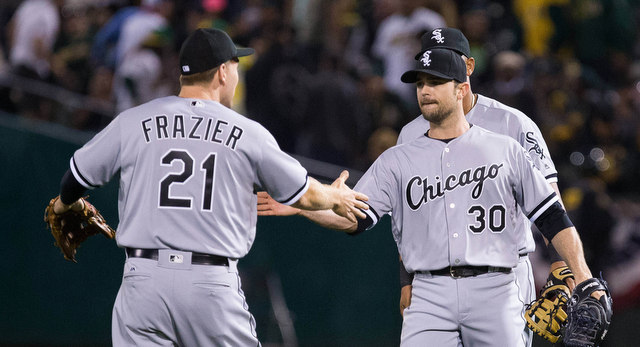 Any question about whether the Yankees would be buyers or sellers has been answered. Tuesday night the Yankees swung their largest trade deadline deal in several years, finalizing a seven-player trade with the White Sox that brings Todd Frazier, Tommy Kahnle, and David Robertson to New York. Tyler Clippard, Blake Rutherford, Ian Clarkin, and Tito Polo are going the other way. Both teams have announced the trade. It's a done deal. Officially official.
"Those are all guys who can help us accomplish what we're trying to," said Brett Gardner, who texted Robertson after the trade, to Bryan Hoch following Tuesday's game. The Yankees are assuming the remainder of Robertson's contract, which isn't bad by any means. He's owed the balance of his $12M salary this year plus $13M next year. Frazier is a rental and Kahnle will remain under team control through 2020 as an arbitration-eligible player.
Frazier, 31, is hitting .207/.328/.432 (103 wRC+) with 16 home runs in 81 games this season, and while that doesn't sound exciting, it's a massive upgrade over what the Yankees have been getting from first base this year. Joe Girardi confirmed Frazier will play both first and third bases, and I'm sure he'll be in the lineup everyday. Also, Frazier is an A+ clubhouse dude. He's great with young players and in general. The Yankees value that.
Robertson and Kahnle will help a bullpen that has been way too shaky this season. Kahnle, 27, was originally selected in the fifth round by the Yankees in the 2010 draft. They lost him to the Rockies in the 2013 Rule 5 Draft and he eventually made his way to the White Sox. Kahnle has been unreal this season. Dude has a 2.50 ERA (1.47 FIP) with 42.6% strikeouts and 5.0% walks in 36 innings. He's been better than Robertson.
The 32-year-old Robertson has a 2.70 ERA (3.05 FIP) in 33.1 innings with 35.6% strikeouts and 8.3% walks, so typical David Robertson stuff. Welcome home, D-Rob. He and Kahnle are going to give the bullpen a huge shot in the arm. The Yankees are — and this isn't hyperbole — replacing one of the worst relievers in baseball this season (Clippard) with one of the best (Kahnle). And then getting Robertson on top of that.
The big piece going to the White Sox in the trade is Rutherford, New York's first round pick in last year's draft. The 20-year-old outfielder is hitting .281/.342/.391 (112 wRC+) with two home runs in 71 Low Class-A games this season. That's pretty good for a 20-year-old kid in full season ball, though maybe not quite what everyone hoped coming into the season. Either way, Rutherford remains an excellent prospect.
Polo and Clarkin, both 22, are decent prospects and nothing more at this point. Clarkin was one of the Yankees' three first round picks in 2013, so once upon a time he was a pretty big deal, but he hasn't really been the same since missing the entire 2015 season with an elbow issue. Polo came over from the Pirates in last year's Ivan Nova trade and projects as a fourth outfielder. He's very likely to play in MLB at some point.
Clippard was thrown into the trade as a way to offset some salary, and also clear a 40-man roster spot. (The Yankees still have to clear two more 40-man spots.) Clippard started the season in the Circle of Trust™, but he's been getting bombed the last few weeks, forcing the Yankees to use him in lower leverage spots whenever possible. He has a 4.95 ERA (4.98 FIP) in 36.1 innings this year. Yuck. Addition by subtraction.
Now that it's crystal clear the Yankees are going to add pieces at the trade deadline, they figure to buckle down and look for a starting pitcher. Michael Pineda is done for the season and running guys like Bryan Mitchell and Luis Cessa out there every fifth day isn't a good idea. I don't think the Yankees will trade top prospects for a someone like Sonny Gray, necessarily, but I do expect them to search around for a veteran innings guy.