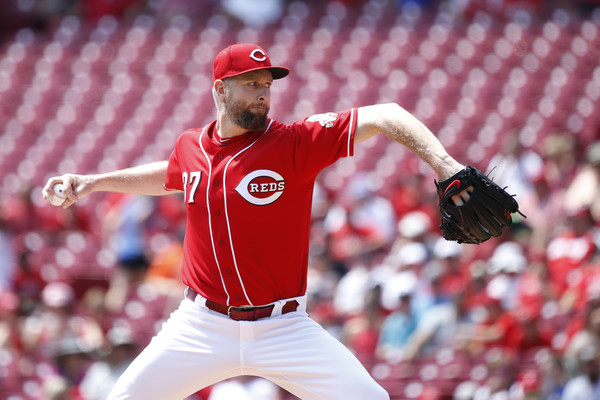 Starting pitching is the Yankees most obvious need at the moment, and they have given every indication that they will be buyers in the coming days. With Sonny Gray as the only true game-changing pitcher on the market, the focus has shifted somewhat to innings eaters.
Enter Scott Feldman.
It is worth noting, above all else, that Feldman is currently on the disabled list with a right knee injury. He's eligible to return on August 2, though, and he threw a bullpen session last week; the expectation is that he will be activated as soon as possible. It is the Yankees dire need for a starting pitcher that has us looking at someone that isn't full healthy at the moment – though, it isn't unprecedented for a team in the midst of a playoff race to trade for someone on the DL.
Current Performance
Feldman spent 2016 pitching primarily out of the bullpen. He made forty appearances (five starts) for the Astros and Blue Jays, pitching to a 3.97 ERA (100 ERA+) in 77.0 IP. That was the first full-season that he spent in the bullpen since 2007, though, so the Reds brought him on-board to fill-out their rotation on a cheap one-year deal ($2.3 MM).
Despite his injury, Feldman has done more than provide a warm body in the Reds beleaguered rotation. The 34-year-old has pitched to the following line this year: 19 GS, 103.2 IP, 102 H, 34 BB, 86 K, 4.34 ERA (103 ERA+). He has pitched into the 7th inning in 8 of his starts, and was averaging just shy of 6 IP per start before he left his last start early due to the aforementioned injury.
Feldman's strikeout (19.8%), walk (7.8%), and groundball (43.8%) rates are right around league-average, which is something of a turnaround for him. In years past, his walk and groundball rates were well above-average, while his strikeout rates were subpar. He has had success both ways, so it may not something to be terribly concerned with – but it's something to keep in mind.
A potential issue is that Feldman's platoon splits have been a bit start this year – he has held RHH to a .317 wOBA, but lefties have hit .266/.338/.464 (.342 wOBA) against him; he had similar issues in 2016, though that came in the bullpen and in a much smaller sample size. That's not a good sign for someone that could be making half of his starts in Yankee Stadium. However, that does come in stark contrast to the rest of his career, as Feldman has a slight reverse platoon split (.322 wOBA vs. LHH, .329 vs. RHH) for his career.
Current Stuff
Feldman is essentially a three-pitch pitcher, with nearly 95% of his offerings coming in the form of his sinker, cutter, and curveball. He has never been a particularly hard-thrower, and his velocity has remained steadily around the low-90s for the better part of a decade. You can see his current velocity below: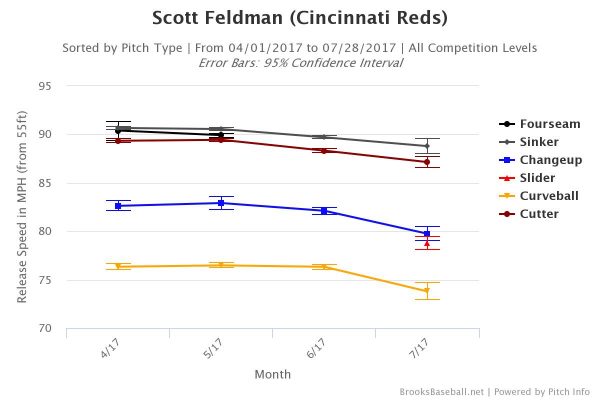 The dip in velocity in late-June into July has been attributed to his wonky knee, which is understandable; he was throwing 85 MPH sinkers in his last start prior to being pulled. Feldman is probably something of a junk-baller, to be sure, but he isn't a soft-tosser, and all of his pitches move. Hopefully, the drop in velocity is due to his aching knee, and nothing else.
Feldman's best pitch is his curveball, which has generated a 12% whiff rate, and sports a paltry .138 BAA. He locates it quite well, too, burying it at or below the bottom of the strikezone, and generating both swing-and-misses and weak contact. You can see that here: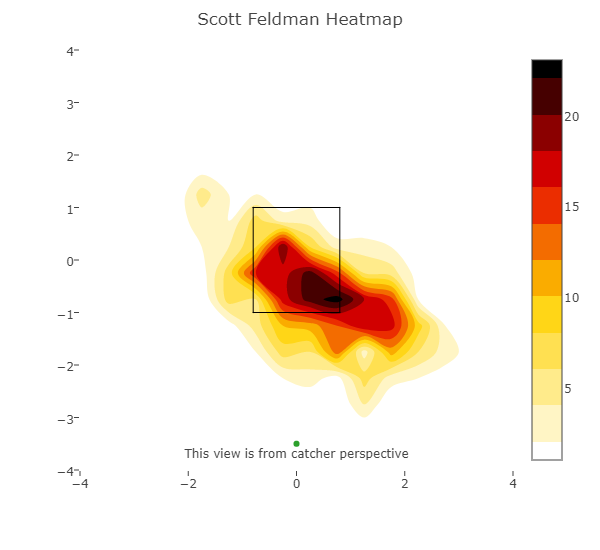 (Statcast)
Injury History
Feldman's injury history is magnified due to his current injury, which is a bit more foreboding than the usual knee injury would suggest. He needed microfracture surgery for an injury to the same knee back in 2011, and he missed over 100 games as a result. There has been no indication that this current injury is related in any way, or that its severity could have been exacerbated as a result of the prior surgery – but it's something that happened, and it's the same body part.
Arm-wise, Feldman has been mostly healthy since having Tommy John Surgery back in 2003. He missed three starts in 2014 with biceps tendinitis, but that's about it.
Contract Status
Feldman will be a free agent after this year, and is owed around $1 MM for the remainder of the season.
What Would It Take?
Mike laid out the expected cost for an average-ish rental when he discussed Jaime Garcia, and that's worth checking out. The short version is a solid prospect or two, but nothing that'll leave the fans up in arms.
That being said, Feldman is a special case due to his injury issue. There are already rumors swirling that he'll end up being dealt before the waiver trade deadline instead, as teams wait for him to get healthy and prove that he can still contribute. Were the Yankees (or another team) to pounce now, throwing a bit of caution to the wind, the price would ostensibly be lower. Whether or not the Reds would make the deal now is another question entirely.
Does He Make Sense for the Yankees?
Scott Feldman is a risk, and there's no way to argue otherwise. He's hurt, and will still be on the DL when the deadline comes and goes. The Dodgers took that risk with Rich Hill last year, and it was both good and bad – he wasn't able to pitch for his first three weeks in the organization, but when he did, he was awesome. Feldman is not Hill, of course, but that is the sort of risk vs. reward analysis that has to be weighed.
Given his injury, I suspect that Feldman could be had for quite cheap right now; and, given the record of returns for similarly-skilled healthy pitchers, I don't think he would've cost all that much to begin with. So what we have is a pitcher that has a track record of eating innings at a league-average-ish rate with a bit more risk than usual. And I think that risk is worth taking.
The Yankees may have to deal with innings limits for Jordan Montgomery and Luis Severino, and their fifth starter is currently the personification of a shrug. Feldman offers insurance for those three spots, potentially, and shouldn't cost all that much. Moreover, given his recent experience as a swingman/long-reliever, his acquisition could be made in conjunction with another trade, with Feldman transitioning back into the bullpen unless (or until) a need arises.
Feldman's injury cannot be ignored, but if the cost is as low as history suggests, it's a risk that's well worth taking – I'd just hope that it went hand-in-hand with another acquisition.