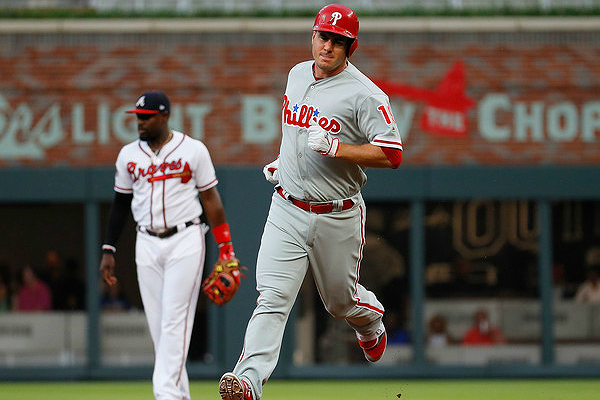 If the Yankees are going to be buyers at the deadline, they're more likely to go for a temporary replacement at first base rather than a long-term solution. Despite comments from an anonymous person in the front office, there's still belief that Greg Bird can be the first baseman of the future.
Assuming the Yankees go that route, Domenic covered the options pretty well already. However, I'd like to throw out a name of a player that's under long-term control and could fill the short-term need as well.
Phillies first baseman Tommy Joseph is in just his second MLB season and isn't arbitration eligible until 2020. This isn't a rental. But with first base prospect Rhys Hoskins knocking on the door of the major leagues, the team has made Joseph available.
Does he fit the Yankees? Let's take a look:
Current performance
Joseph has been in the major leagues for nearly a year and a half now. He was called up last May. Initially, he was primarily a platoon bat alongside Ryan Howard. However, his early power earned him everyday playing time last summer before Howard surged in the second half.
This year, he has been the starting first baseman all season. He put together an abominable April (.179/.222./.254 in 19 games) before killing the ball in May to the tune of a .300/.373/.600 line with seven home runs. He's hit well since then. In total, he's hit .252/.313/.466 (102 wRC+), below the average first baseman's line. Still, it's better than anything out of a Yankees' first baseman this season. For what it's worth, he's hitting .273/.339/.529 (125 wRC+) since May 1.
Diving further into his stats, Joseph has one significant tool: Power. 32 of his 74 hits have gone for extra bases, including 15 home runs. He hit 21 home runs in just 347 plate appearances last year. That power has been his calling card at every level. Through 670 MLB PAs, he has 36 home runs and 31 doubles to go with a .233 ISO.
He struggles to command the strike zone. His walk rate is up from 6.3 to 7.7 percent this year, but his strikeout rate also climbed from 21.6 to 23.5. Hoskins, who will likely take his job soon, has drawn plenty of walks in the minors, which Joseph never did.
Joseph, who turns 26 on July 16, was drafted by the Giants as a catcher, but concussions moved him out from behind the plate. He's a well below-average first baseman. Better than Howard, but not by much. He makes the routine plays better than Chris Carter but his lack of range limits his ability to make any tough plays.
He's also a negative on the base paths. His 25.7 ft/s sprint speed according to Statcast would make him the slowest player on the Yankees and he's tied for third in baseball in double plays grounded into with 15, just two behind teammate Maikel Franco and Matt Kemp for first place. He often pulls the ball on the ground, though he hits the ball to all fields in the air. He's still primarily a pull hitter, as you'll see below.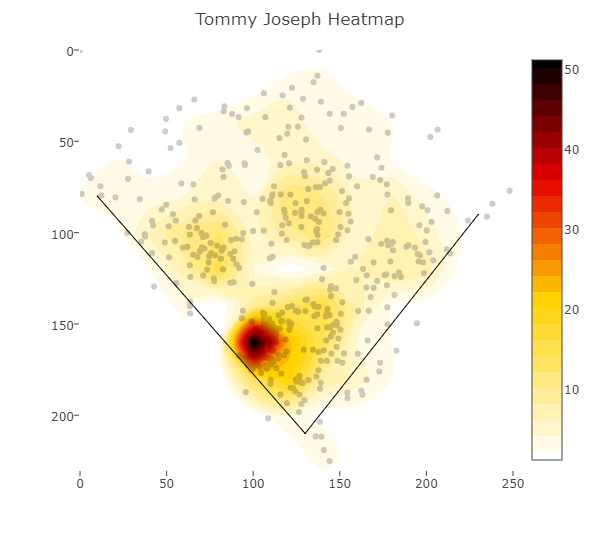 He's produced 0.2 bWAR (0.0 fWAR) this year after 0.5 bWAR (0.9fWAR) as part-time player last year. The Phillies have the third worst bWAR at first base, only one spot ahead of Yankees. That's largely because of Joseph's fielding and nearly zero production from the Phillies' backups.
Contract and injury situation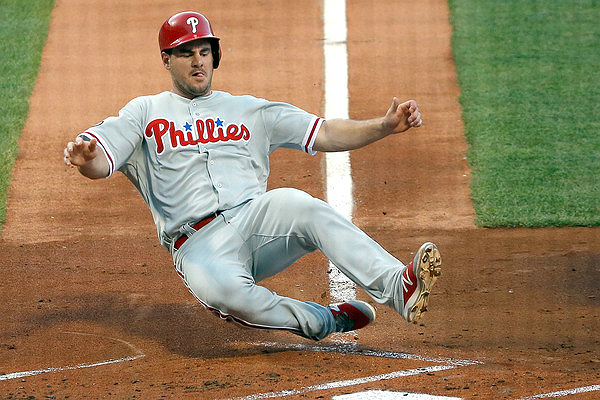 Joseph is very cheap when it comes to first base options on the market. He won't be a free agent until 2023 and won't make above the minimum until 2020. He's been barely above replacement level thus far, but his contract gives him value, especially for a team that has received below replacement value at first this year. He still has options left as well.
As for injuries, Joseph has had a clean bill of health in the majors. His concussions issues have subsided in the last two years and that led to his resurgence as a prospect and, ultimately, his call-up to the majors. He's been able to handle first base consistently without breaking down this season.
While he's under control, the Phillies aren't in a spot to demand much. Most teams don't have a need for a no-glove first baseman with some power as most teams already have someone who at least fits that. The Yankees are one of a few teams that have an opening and could make sense.
Teams also know that the Phillies need to dispatch Joseph to give Hoskins an opportunity in the majors. Neither has the range to play the outfield and they're both RHBs, so one has to go. Acquiring him shouldn't cost too much more than a secondary or tertiary prospect or so.
Does he make sense for the Yankees?
Joseph would be an immediate improvement for the Yankees at first in the lineup, adding some power towards the end of the lineup. Realistically, he could do what Carter was expected to do. He'd make sense in a platoon with Ji-Man Choi for the time being as Joseph was solid in that role last season.
If you're going to acquire a first baseman with this much control, you need to be certain that he fits into your long-term plans. And it doesn't seem like he fits in New York beyond this season. In the case Bird comes back healthy, Joseph becomes a platoon bat at best. Expendable or optionable like he is for the Phillies at worst. If Bird isn't healthy, the Yankees would likely acquire a veteran free agent to start in his place.
Joseph could be a serviceable placeholder with the requisite power to play first. The 25-year-old is not someone to acquire for significant assets, but he's a useful depth piece in the short term. If the Yankees are intrigued by Pat Neshek, a package deal could work. Ultimately though, it's tough to see where Joseph gets playing time beyond 2017 in New York.