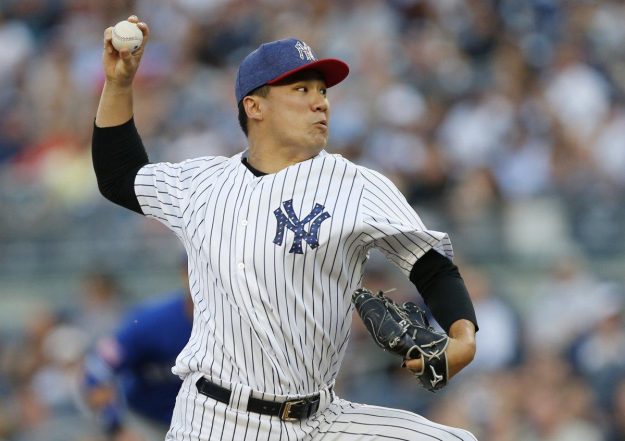 Return of The Ace
Is he back? That was the burning question in the Bronx after the Yankees returned home and notched a 6-3 win over the Blue Jays in the series opener, a game featured a third straight strong outing by Masahiro Tanaka.
Tanaka was brilliant, going seven innings while allowing one run with eight strikeouts – and no home runs. He has a 1.29 ERA with 22 strikeouts in 21 innings and a .495 OPS allowed over his last three starts; a massive improvement from his first 14 starts (6.34 ERA and .910 OPS allowed).
One of the biggest keys for Tanaka during this excellent stretch of back-to-back-to-back outings has been his ability to keep the ball on the ground and limit hard-hit balls. His groundball rate has jumped from 47 percent in the first two and a half months to 61 percent in his last three games, while his rate of hard contact has been cut from 35 percent to 19.6 percent.
When he was at his worst – during those first 14 starts – he allowed an average airball exit velocity of 93.8 mph, the worst mark through June 22 in the majors (min. 100 batted balls). He's lowered that number by nearly 10 mph since June 23, to a stellar 84.2 mph that ranks fifth-best in MLB over the last two weeks (min. 15 batted balls).
Digging deeper, we can see that Tanaka has been much more precise with his off-speed stuff, locating his slider and splitter consistently at the knees and below the zone: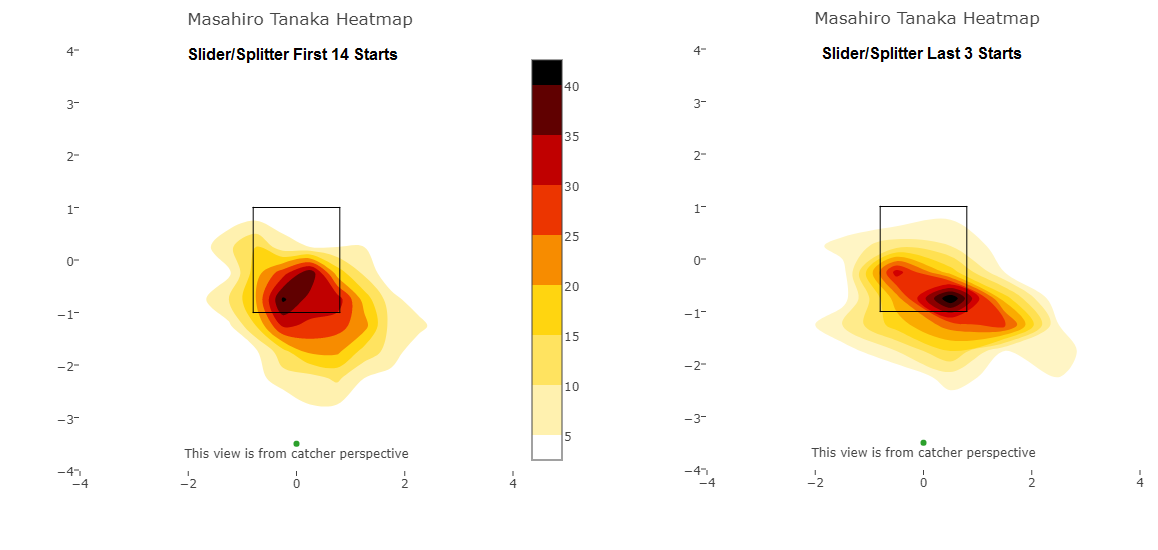 The depth on those pitches is also significantly better, with his slider showing nearly an inch more downward movement and his splitter dropping a half-inch more over his last three starts. All of that has resulted in opponents slugging .146 in 40 at-bats ending in his splitter or slider over his last three starts, compared to .469 in his first 14 starts.
While Tanaka's gem and return to ace form were the biggest stories of the game, let's put the spotlight on another player that's quietly produced one of the best all-around first-halves by any Yankee.
Brett Gardner hit his 15th double of the season, giving him these numbers as we near the mid-summer classic: 15 doubles, 15 homers, 10 steals, 56 runs and 35 walks – power, pop, speed, patience and scoring. The only other Yankee to reach each of those totals before the All-Star break (since 1933) is Rickey Henderson in 1986.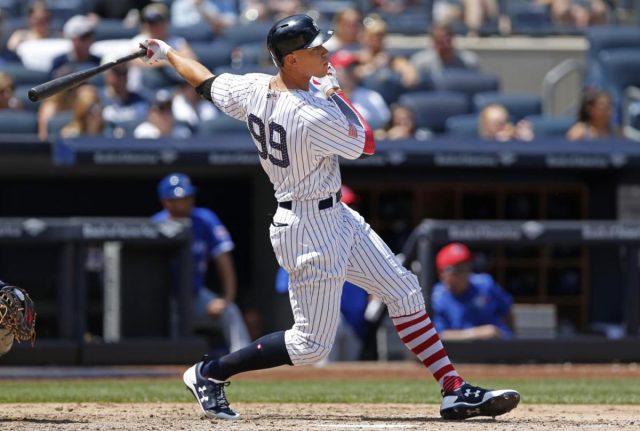 Yankee Doodle Dud
July 4th is a storied day in Yankees history – Lou Gehrig's 'Luckiest Man' speech, George Steinbrenner's birthday, Dave Righetti's no-hitter, John Sterling's birthday – but this year there would be no indelible moments, no joyous celebration, no fireworks at Yankee Stadium. Instead, they followed up Monday's encouraging win with another dull loss, 4-1, on Tuesday afternoon.
The last time the Yankees won back-to-back games was June 11-12, a string of 21 games during which they've gone 5-16. This is just the third time in the last two decades the Yankees have gone 20-or-more games without a win streak; the other droughts came in July/August 2013 (24 games) and August/September 2012 (25 games).
CC Sabathia, making his first start since a three-week stint on the disabled list, retired the first eight batters he faced but then didn't get another out, getting pulled after giving up four runs in the inning. Those four earned runs allowed in the third frame matched the same number he had surrendered over a combined 36 1/3 innings in his previous six starts.
Aaron Judge saved the day from being a disaster when he homered in the fourth inning. Judge's 28th longball of the season was a sizzling shot that went 456 feet and left his bat with an exit velocity of 118.4 mph. It was the fourth time he's hit a homer that hard … and in related news, the rest of MLB has combined for ZERO home runs with an exit velocity of 118-plus mph this season.
Following the game, Chris Carter was designated for assignment for the second time in two weeks. If this is finally the end of the Chris Carter Experiment, he'll have earned himself an inglorious place in the franchise record books: Carter would be the first Yankee ever to get at least 200 plate appearances in a season and finish with twice as many strikeouts (76) as hits (37).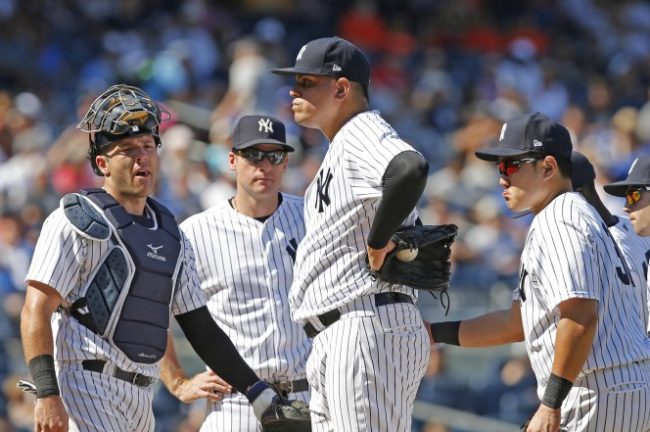 Another collapse, send help
And the mind-numbing tailspin continues in the Bronx. The Yankees dropped the rubber game of the series, 7-6, suffering another crushing defeat in which they battled back from five runs down to take the lead only to have the bullpen self-destruct yet again.
Let's update those ugly bullpen-implosion numbers from the last Yankeemetrics:
Stat
Notes
16 Blown Saves
– Through 83 games last year, they had only six (in three fewer save opportunities);
– The same total they had the entire 2016 season
17 One-Run Losses
– Five more than all of last year;
– 11 of them since June 1, the most of any team in that span
11 losses when scoring at least five runs
– The same number they had all of last year;
– Through 83 games in 2016, they had six such losses;
– 8 of them have come since June 1, the most in MLB
Chad Green ignited the meltdown when he coughed up the game-tying homer in the seventh, and then Dellin Betances put grease on the fire when he walked in the go-ahead run in the eighth.
Betances simply can't find the strike zone now. His total lack of command has been really acute in his last four games, during which he has walked 10 of the 20 batters he's faced and thrown only 41 of his 97 pitches for strikes.
Wednesday marked just the second time he's ever walked four guys in an outing – the other instance was his first career big-league appearance on Sept. 22, 2011. Betances also joined Edwar Ramirez (July 20, 2007) as the only Yankees in the last quarter-century to give out at least four free passes and get one or fewer outs in a game.
For the season, he's now at 8.56 walks per nine innings and a 21.1 percent walk rate, both of which would be the worst marks by any Yankee with at least 25 innings pitched since Ryne Duren in 1960 (9.0, 21.4%).
The beginning of the game was just as horrible to watch as the ending, with Michael Pineda getting shelled by the Toronto lineup. They crushed three homers off him, the second time in his last two home games he's given up at least three dingers. The only other Yankee pitchers to allow at least three longballs in back-to-back games at Yankee Stadium were Kei Igawa (2007) and Red Ruffing (1941) – but neither of those two guys only pitched four innings or fewer in both games, like Pineda did.
The bullpen blowtorch erased what had been a rousing comeback, one that was sparked by Aaron Judge. The pinstriped cyborg drove in the first two runs of the game with his 29th home run of the season, matching Joe DiMaggio for the Yankee rookie record … with 79 games remaining on the schedule.
Perhaps more incredible is this stat, which illustrates his rare and legendary combination of power and patience: Three Yankees have compiled at least 200 total bases and 50-plus walks before the All-Star break – Judge, Mickey Mantle (1956) and Lou Gehrig (1936).