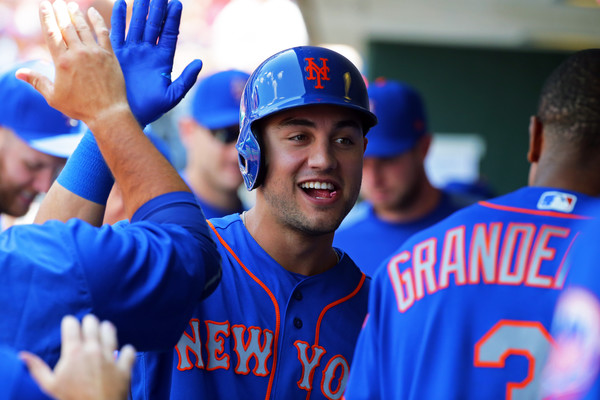 This may technically be two separate series, as it is a home-and-home affair. The Yankees will host the Mets tonight and tomorrow, and then travel to Queens on Wednesday and Thursday. I want to say something about facing a reeling/selling team like the Mets being just what the Yankees need – but the Mets have actually been slightly better this month, with one more win (5-7 to 4-8) and eleven more runs scored. Ugh.
The Last Time They Met
The Subway Series was a similar arrangement last year, as the Yankees visited Citi Field on August 1 and August 2, then played host to the Mets on August 3 and 4. They split each two-game set, and the series as a whole. Some notes:
This was the Yankees first series after last year's trade deadline, with the first game occurring hours after they dealt Carlos Beltran and Ivan Nova to complete the sell-off. They dealt Andrew Miller the day before, and Aroldis Chapman a week prior.
The Yankees starters were hit hard in all four games, surrendering 22 runs (21 ER), 38 base-runners, and 7 homers  in 22.2 IP. The bullpen, however, was quite good, holding the Mets to just 2 runs (1 ER) in 13.1 IP.
Jacoby Ellsbury, Starlin Castro, and Didi Gregorius all reached base safely in all four games.
Check out Katie's Yankeemetrics post for more fun fact.
Injury Report
I wanted to put a snarky joke here about everyone being hurt, but that's too easy (and hits too close to home, to boot).
Jeurys Familia, Matt Harvey, T.J. Rivera, Noah Syndergaard, Zack Wheeler, and David Wright are all on the disabled list, with no return date as of yet. I wouldn't be shocked if all six were shut down at some point, given that the Mets are basically just playing out the string at this point. Robert Gsellman is close to returning, having made four rehab starts already, but he won't be back this series. And Jacob deGrom left his last start early with a triceps bruise after getting hit by a line drive, but he's slated to start tomorrow.
Their Story So Far
The Mets are 53-62 with a -54 run differential, and they have been selling off assets since late July. Lucas Duda and Addison Reed were sent packing just before the deadline, and Jay Bruce and Neil Walker were dealt over the last week. Of course, Yankees fans are well-aware of these moves, as the Mets seemingly refused to deal with the Yankees, even if it meant a much better return.
As has been the case for what seems like forever, the Mets hopes have been torpedoed by injuries this year. Yoenis Cespedes missed more than 40 games, Syndergaard hasn't pitched since April, Familia hasn't pitched since May, and three other starting pitchers have spent at least a month on the disabled list. And that ignores the nagging injuries that have kept several other players out for a few weeks at a time.
The Lineup We Might See
Manager Terry Collins has a reputation for being stubbornly adherent to old school lineup configurations and overly loyal to veterans, but he has been flexible with his lineup construction for the majority of the season. One could argue that his hand has been forced by injuries and non-performance, but Mets fans are pleased to see Michael Conforto hitting at or near the top of the order, and top prospects Amed Rosario and Dominic Smith getting playing time. Here's the lineup that we'll probably see in the Bronx:
Curtis Granderson, RF/DH
Asdrubal Cabrera, 2B
Yoenis Cespedes, DH/LF
Michael Conforto, CF
Wilmer Flores, 3B
Dominic Smith, 1B
Travis d'Arnaud, C
Brandon Nimmo, LF/RF
Amed Rosario, SS
And here's what we should see in Queens:
Curtis Granderson, RF
Asdrubal Cabrera, 2B
Yoenis Cespedes, LF
Michael Conforto, CF
Wilmer Flores, 3B
Dominic Smith, 1B
Travis d'Arnaud, C
Amed Rosario, SS
[pitcher]
The Starting Pitchers We Will See
Monday (7:05 PM EST): RHP Luis Cessa vs. RHP Rafael Montero
Four years ago, Montero was a consensus top-100 prospect as a 23-year-old on the verge of reaching the majors. And four days ago, when asked about Montero's future in the rotation, Collins said "We don't have a lot of options right now. And if we can't come up with an option, he's going to go back out." Such is life when you're sitting on a career 5.58 ERA (71 ERA+) and 12.3 BB%.
Montero throws four pitches – a mid-90s four-seamer, a low-80s sinker, an upper-80s change-up, and a mid-80s slider. His stuff is quite good when taken at face value, but he struggles to locate his offerings, and is often hit hard when he nibbles with his fastball.
Last Outing (vs. TEX on 8/9) – 3.0 IP, 5 H, 4 R, 3 BB, 5 K
Tuesday (7:05 PM EST): RHP Sonny Gray vs. RHP Jacob deGrom
The 29-year-old deGrom came out of nowhere to win Rookie of the Year in 2014, when he pitched to the following line – 140.1 IP, 117 H, 43 BB, 144 K, 2.69 ERA (128 ERA+), 2.67 FIP. Many expected him to drop-off the following season, due to his lack of prospect hype and suddenly and almost inexplicably improved stuff, but he has gotten even better since then. deGrom is currently fourth in the NL in IP, fifth in bWAR, and 10th in ERA+. At this point, the argument isn't about regression; it's whether or not he's an ace.
deGrom is a true five-pitch pitcher. He throws a mid-90s four-seamer, a mid-80s sinker, an upper-80s slider, an upper-80s change-up, and a low-80s curve, and he can throw all five for strikes.
Last Outing (vs. PHI on 8/10) – 6.2 IP, 4 H, 0 R, 0 BB, 9 K
Wednesday (7:10 PM EST): LHP Jaime Garcia vs. RHP Seth Lugo
There is a good chance that you know of Seth Lugo solely because of Statcast's infatuation with his curveball. For those of you who aren't aware, Lugo's curveball has the highest spin rate in the game, and it is a heck of a pitch to see live. It would be a more impressive feat if he was better, though; Lugo currently has a 4.85 ERA (88 ERA+), and his 17.4 K% is well below the league-average of 21.6%. Having a scale-breaking pitch is cool, but it hasn't led to success just yet.
In addition to that big-breaking mid-70s curveball, Lugo also throws a low-90s fastball, a mid-80s change-up, and a mid-80s slider.
Last Outing (vs. PHI on 8/11) – 5.1 IP, 8 H, 5 R, 4 BB, 8 K
Thursday (7:10 PM EST): RHP Luis Severino vs. LHP Steven Matz
Matz has had an arduous journey since being drafted, to say the least. He was drafted in 2009, but did not make his professional debut until 2012 due to Tommy John surgery and several complications therefrom. He was relatively healthy for the next four years, but he missed time with shoulder soreness last year, and needed surgery to remove bone spurs from that same elbow in the off-season. Matz has missed ten starts this season due to elbow and shoulder soreness, and has not looked good (5.54 ERA, 4.91 FIP) when healthy.
Matz is basically a three-pitch pitcher, utilizing a low-to-mid 90s sinker, a low-to-mid 80s change-up, and an upper-70s curve. He'll also throw a mid-80s slider, but he has shelved that of late (perhaps due to the injuries).
Last Outing (vs. PHI on 8/12) – 5.2 IP, 4 H, 2 R, 2 BB, 1 K
The Bullpen
The Mets have one of the worst bullpens in baseball by some measures, including park-adjusted ERA (28th in the majors), WPA (26th), and walk rate (28th). And those numbers include Reed, who was the team's best reliever by a significant margin, and now pitches for the Red Sox.
A.J. Ramos (recently acquired from the Marlins) is the team's closer for the time being, and he has a track record of success in that role. Jerry Blevins is a quality LOOGY (lefties are batting .181/.230/.191 against him this year), but he's extremely limited against righties. Paul Sewald, a 27-year-old rookie, handles the set-up duties (3.99 ERA, 3.20 FIP, 28.0 K%, 7.3 BB%), and he has been decent in that role. Erik Goeddel and Josh Smoker handle the middle innings.
Blevins, Sewald, and Ramos all tossed an inning apiece last night, so their availability tonight may be questionable.
Yankees Connection
Granderson played for the Yankees from 2010 through 2013, batting .245/.335/.495 (122 wRC+) with 115 HR and 55 SB in 512 games (2148 PA). The Yankees essentially let him walk in favor of Jacoby Ellsbury in the 2013-14 off-season, and that hasn't worked out too well.
Who (Or What) To Watch
I'm most excited for the Gray vs. deGrom match-up on Tuesday, as I'm a sucker for a pitchers' duel. Of course, I'd rather not see deGrom shut the Yankees offense down – but this has the makings of a terrific match-up.
Shortstop Amed Rosario and first baseman Dominic Smith bear watching, as well. Both have been top-100 prospects for three years running (with Rosario cracking the top-10 this year), and both are getting an opportunity to secure a starting gig at the highest level. And, even with the injury to Gleyber Torres, "Rosario or Torres" will likely be a New York baseball fan debate for the next half-decade or so.