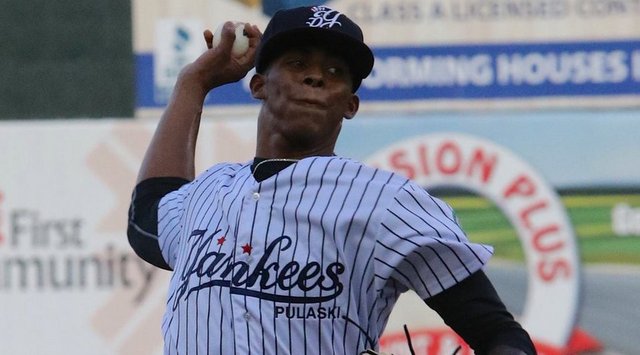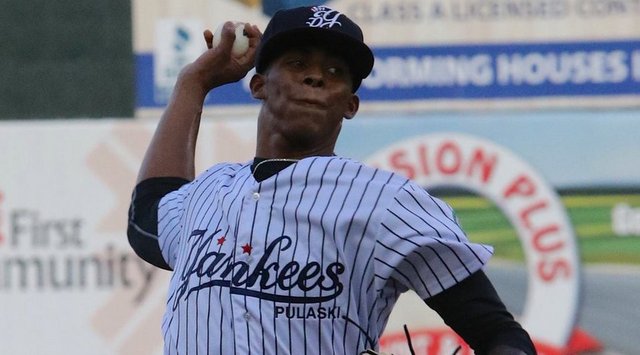 For years the Yankees built their farm system through international free agency. They haven't had access to top of the draft talent in more than two decades now, but they were able to spend freely internationally, so they made up for the lack of high draft picks that way. That's how the Yankees landed Chien-Ming Wang, Robinson Cano, Gary Sanchez, and Luis Severino, among others.
The rules have changed, however. MLB implemented a soft spending cap for international players six years ago and a hard cap this year. The Yankees are no longer free to wield their financial might internationally. This year they were held to a $4.75M hard cap, which is nothing. They gave Sanchez a $3M bonus back in 2009. Three years ago the Yankees blew their soft cap out of the water and spent $30M between taxes and bonuses, and once other teams followed suit, MLB pushed for the hard cap, so here we are.
Anyway, as a result of that $30M spending spree during he 2014-15 signing period, the Yankees could not sign a player for more than $300,000 during the 2015-16 and 2016-17 international signing periods. That took them out of the running for the top talent. When other teams could offer millions and you're limited to $300,000, it's a huge disadvantage. It figured to be tough for the Yankees to attract top players, and it was. C'est la vie.
The Yankees, however, have become very adept at finding under-the-radar international talent, and turning smaller bonus players into top prospects. Severino, for example, signed for $225,000 as an amateur. Jorge Mateo signed for $250,000. Top outfield prospect Estevan Florial signed for $200,000. The big seven-figure bonuses like $3M for Sanchez get all the attention, but it's those small bonus signings that make a big difference in the long run.
The Yankees have Donny Rowland, who returning to the organization in 2007 and has been their director of international scouting since 2014, and his army of scouts in Latin America to thank for that. Despite being limited to $300,000 bonuses during the 2015-16 and 2016-17 signing periods, the Yankees landed several interesting power arms who make up their next wave of pitching prospects. A partial list:
RHP Roansy Contreras: Signed for $300,000 in July 2016.
RHP Deivi Garcia: Signed for $100,000 in July 2015.
RHP Rony Garcia: Signed for an undisclosed bonus in July 2015. (Had to be $300,000 or less.)
RHP Luis Medina: Signed for $280,000 in July 2015.
All four of those pitchers have received quite a bit of attention recently. Contreras was considered the top pitching prospect in the Dominican Republic during the 2016-17 signing period. Jim Callis said Medina has the highest ceiling of any pitching prospect in the system. Both Deivi ("One of the Yankees' brightest low-level arms") and Rony ("(He) shouldn't be anonymous for long") Garcia received glowing reports from Baseball America recently.
Also, the Yankees have traded for several lower level Latin American arms within the last year, most notably RHP Albert Abreu and RHP Jorge Guzman, both of whom came over in the Brian McCann trade. Also, RHP Juan De Paula was part of the Ben Gamel trade. De Paula and especially Guzman have seen their stock rise considerably this year, and I have no doubt Rowland and his staff were consulted during trade talks. The international scouting department had eyes on these guys long before the Yankees traded for them.
This group doesn't include RHP Domingo Acevedo ($7,500 bonus in October 2012) or RHP Freicer Perez ($10,000 bonus in December 2014), both of whom received small bonuses, but not while the Yankees were held to the $300,000 bonus maximum. Both are among the better pitching prospects in the system — Acevedo figures to make his MLB debut at some point next season — and both signed for relative peanuts. They're just two more examples of how well the Yankees identify under-the-radar international talent.
It would be unwise and unfair to expect any of these pitchers to turn into another Severino. Severino has been a top ten pitcher in baseball this season and, as long as he stays healthy, he has the ability to remain a top ten pitcher for several years. It's hard to expect that from any prospect, no matter how good. The hope is several of these Latin American arms will turn into useful big leaguers or trade chips. These days teams take lower level prospects back as the headliners in trades more than ever before. It might not be long before the Yankees cash these guys in.
The Yankees were limited to $300,000 bonuses internationally from July 2015 through July 2017, and they knew they would be following the 2014-15 spending spree. That was part of the plan. They still managed to land several pitching prospects who are already drawing rave reviews, with Medina and the Garcias in particular becoming hard to ignore. Contreras, who signed just last year, is next in line. The Yankees have graduated a lot of prospects and traded a lot of prospects recently. Now the next wave is in place, despite those international spending limits.