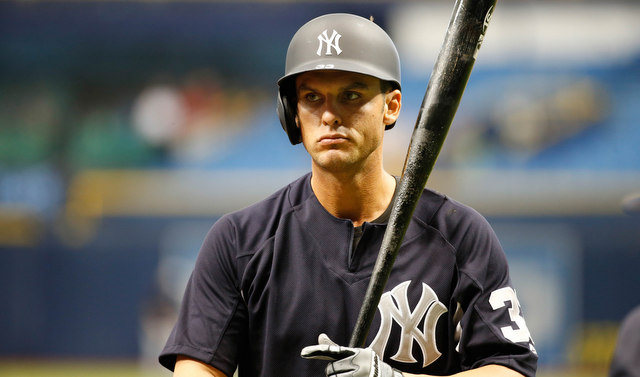 Like any full baseball season worth its salt, the second half for the Yankees has been an unpredictable series of ups and downs. At times, they've looked as dominant as they did in the early season; at other times, they've looked as hapless as they did in June. Overall, though, they're holding the line and keeping their first wildcard position with some room to spare. The division is also in reach, but they're gonna need a boost to catch the Red Sox. Enter Starlin Castro, Matt Holliday, and Greg Bird. All three are on rehab assignments right now and are the cavalry to the Yankees' main fighting force.
All three players are returning from varying circumstances. Castro is in the midst of an All-Star season, just injury riddled. Holliday is hoping to recover from a mid-season crash after a solid start. And Bird is hoping to take off, finally, after a disastrous and frustrating stretch of bad health. Despite those different paths to this spot, the 'destination' is clear: give the Yankee lineup a much wanted and much needed spark to help push them over the edge. The challenge for the Yankees, then, is to incorporate these guys into a lineup that has been molded and established without them.
Let's not worry about arrival times for the moment and just take a look at what the lineup may look like when all three are back in action.
Though Holliday was hitting there during his hot times early on and Bird was slotted for there at the beginning of 2017, neither should bat at the top of the lineup right now. The top five, really, should look about the same as it has recently:
Brett Gardner OF
Aaron Hicks OF
Aaron Judge RF
Gary Sanchez C
Didi Gregorius SS
Now comes the part where we might expect Bird to hit, but I'd imagine Joe Girardi would want to break up the lefties. He can do so in two ways, by either inserting Holliday in the six spot, or keep Chase Headley there, who's had a solid, if powerless, season. Also, given Bird's presence in the lineup, this shifts Headley back to third and Todd Frazier to a bench role (I imagine he'll play against LHP to ease Bird's transition). The other wrinkle here is Castro. Given the year he's had, I think he'd get preference to bat sixth, bumping Headley down to seventh. The ripple effect here, of course, is it pushes the veteran Holliday to eighth and Bird to ninth.
6. Castro 2B
7. Headley 3B
8. Holliday DH
9. Bird 1B
That lineup is…really friggin' good. It has the potential to absolutely mash. Best laid plans and all, but that lineup, with Frazier, Ronald Torreyes, Jacoby Ellsbury, and Austin Romine on the bench is just fierce. Even if Girardi gives deference to Castro and Holliday as veterans and moves them around towards the top, the bottom loses nothing with Gregorius and/or Hicks moving down.
Is this a bit of rosterbating? Sure, but why not? This year has been better than any of us could've imagined and I'm feeling positive right now. That lineup, combined with a rotation of Luis Severino, Sonny Gray, Masahiro Tanaka, and CC Sabathia in the playoffs, backed up by a dominant bullpen, is a recipe for playoff success. Get there, Yanks, and you'll do some damage.