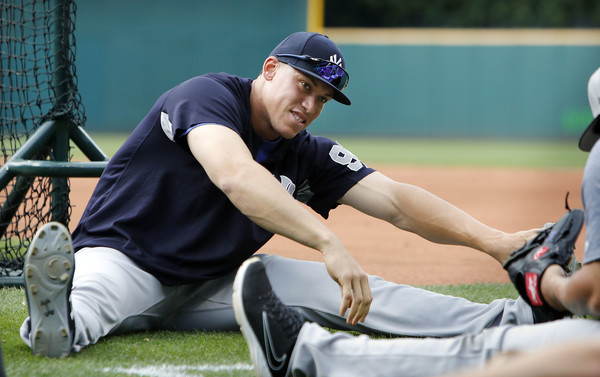 The 2017 season is now two-thirds of the way complete. The Yankees begin the final third of the season tonight three games back in the AL East and 1.5 games up on a wildcard spot, which isn't a bad place to be. Could be better, could be worse. Beats being several games out like the last few years.
Now the Yankees just need to offense to snap back into shape. They've scored six runs in their last four games, all losses, and three of those four games were started by Anibal Sanchez, Jordan Zimmermann, and Trevor Bauer. Yuck. Struggling to score against those guys would be understandable in, like, 2013. Not 2017. End the losing streak, fellas. Here is the Indians' lineup and here is the Yankees' lineup:
LF Brett Gardner
3B Chase Headley
RF Aaron Judge
SS Didi Gregorius
DH Gary Sanchez
CF Jacoby Ellsbury
3B Todd Frazier
2B Ronald Torreyes
C Austin Romine
LHP Jordan Montgomery
It is cool and partly cloudy in Cleveland this evening. Not a bad night for baseball, aside from the fact it's Saturday. Weekend night games are the worst. Anyway, tonight's game will begin at 7:10pm ET and you'll be able to watch on YES locally and MLB Network nationally. Enjoy the game.
Injury Update: Matt Holliday tweaked his lower back taking a swing last night and could be placed on the disabled list. I look forward to the Yankees played shorthanded for three or four days before putting Holliday on the disabled list, then rushing Aaron Hicks back from his rehab assignment to fill the roster spot.