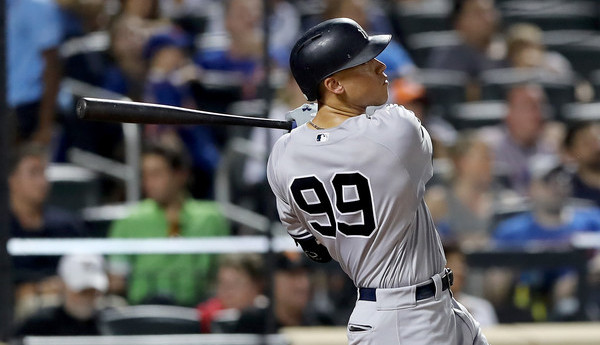 The Subway Series has been pretty enjoyable so far this season, has it not? The games have been close and exciting, and of course the Yankees have won all three, so that's fun. The Mets swept all four Subway Series games back in 2013, remember. Time to return the favor. Here is the Mets' lineup and here is the Yankees' lineup:
LF Brett Gardner
CF Aaron Hicks
RF Aaron Judge
C Gary Sanchez
SS Didi Gregorius
3B Todd Frazier
1B Tyler Austin
2B Ronald Torreyes
RHP Luis Severino
Very nice weather in New York today, and it'll continue tonight. The rain isn't coming until early tomorrow morning. Tonight's Subway Series finale will begin at 7:10pm ET, and you'll be able to watch on YES and WPIX locally, and MLB Network nationally. Enjoy the ballgame.
Injury Updates: Garrett Cooper was placed on the 10-day DL with left hamstring tendinitis, the Yankees announced. That's why Austin is back and in the lineup … Aroldis Chapman (hamstring) threw a bullpen session today and everything went well. He won't be available tonight. The hope is he'll be available tomorrow … Matt Holliday (back) and Starlin Castro (hamstring) will both begin rehab assignments tomorrow. Castro is going to Triple-A Scranton and Holliday is going to High-A Tampa.