Best win of the season? Best win of the season. If not the best, then certainly the biggest. Led by Aaron Hicks and his healthy oblique, the Yankees mounted a remarkable eighth inning comeback against the Red Sox to earn a 5-4 win Friday night. See? Baseball is actually extremely good.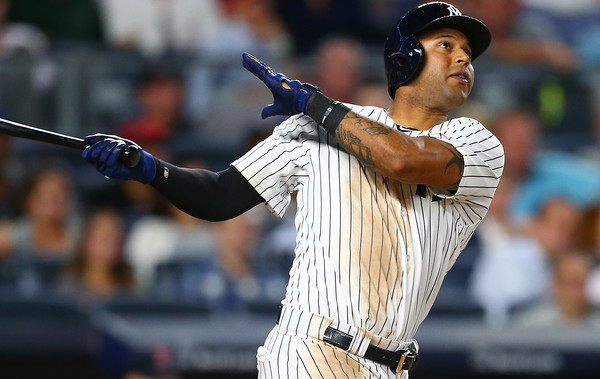 Five In The Eighth
For the first seven innings Friday night, the offense was completely lifeless. They couldn't muster much of anything against Eduardo Rodriguez through his six innings. The Yankees scattered three walks and two doubles through the first seven innings of the game. That's all. Their best chance to score came right in the first inning, when Gary Sanchez and Aaron Judge drew one out walks. Two fly outs later, the inning was over.
Everything changed in the eighth inning. The Red Sox went to trade deadline pickup and new Eighth Inning Guy™ Addison Reed to protect what was then a 3-0 lead. Six straight Yankees reached base to start the inning and eventually that 3-0 deficit turned into a 5-3 lead. He really Mets'd it up. A lot happened that inning, so let's annotate the play-by-play: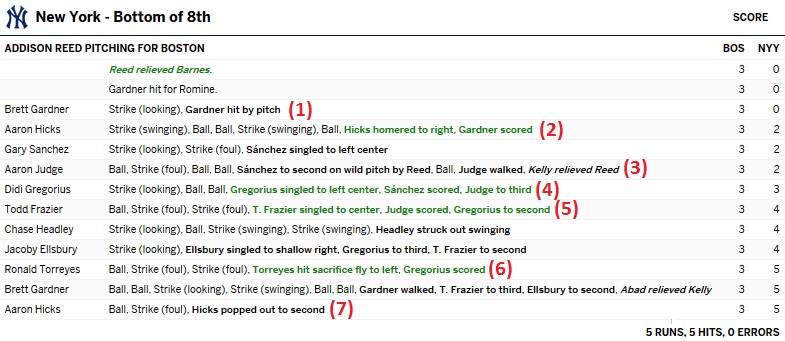 (1) It all started with a hit-by-pitch. Reed nicked Brett Gardner in the toe, and because home plate umpire Fieldin Culbreth missed it, the Yankees had to challenge. The review took about 15 seconds and that was that. The Yankees were in business with a leadoff baserunner. That was Reed's first hit batsman since Opening Day 2014, if you can believe that. He'd gone 1,003 consecutive batters between hit batters. Huh.
(2) HICKSIE. So good to have Aaron Hicks back. He dominated Friday's game on both sides of the ball. Hicks held Mookie Betts to a single in the third inning on a ball that had double written all over it. It was hit toward the line, Hicks rushed over, picked it up, and fired to second to hold Betts at first. Great play that likely saved a run since the next batter, Andrew Benintendi, ripped a single.
Hicks also doubled for his team's first hit of the game in the third inning, and in the eighth inning, he made Reed pay for hitting Gardner in the toe with a two-run home run into the short porch that brought Yankee Stadium to life. The offense lulled the ballpark to sleep over the first seven innings. Hicks brought the Stadium to its feet. It was LOUD. Here's the homer:
A Yankee Stadium cheapie? You bet. The Red Sox have hit their fair share of cheap homers in their home ballpark over the years, so it all evens out. Hicks got the Yankees on the board and cut the deficit to 3-2. He wasn't done having an impact on the game. More on that in a bit.
(3) It's too bad the play was scored a wild pitch and not a passed ball, because I wanted to make a "it's about time Gary Sanchez was the one advancing on a passed wall" joke. Alas. Anyway, good walk by Judge. Reed came after him with nasty sliders and Judge spit on 'em for the walk. He's been chasing sliders a little too much of late. Okay, a lot too much.
(4) Man, how great is Didi Gregorius? He's everything the Yankees hoped he would become. Gregorius put an end to the ugly RISPFAIL streak with a line drive single to left-center field to score Sanchez and tie the game. Didi is a heart and soul player for the Yankees. He's such an important part of the team, both on and off the field. The Yankees need more guys like him. Gregorius went 1-for-4 in the game and is hitting .310/.334/.511 (122 wRC+) on the season.
(5) Welcome to the Yankees, Todd Frazier. He's been with the team for nearly a month now, but a big hit against the Red Sox makes it official. Todd's a True Yankee™. He muscled a 99.8 mph two-strike fastball from Joe Kelly into center field to score Judge and give the Yankees a 4-3 lead. One of the biggest hits of the season considering the situation, the standings, and all that. It wasn't a screaming liner of anything (74.8 mph exit velocity), but it did the job.
(6) Getting that insurance run felt huge and boy did the Yankees need it. I was surprised Torreyes, a big time first pitch swinger, didn't take a big ol' hack expecting a first pitch fastball from Kelly. He got a slider inside and let it go for a ball. Neat. Torreyes got the run home with a two-strike sacrifice fly. Hooray for contact. The Yankees have had enough problems simply getting the bat on the ball with men on base lately.
(7) I really hoping Hicks would hit a home run from each side of the plate in same inning. He had a chance. He took the righty Reed deep to open the scoring and then faced the lefty Fernando Abad later in the inning. Alas, Hicks popped up to end the inning. That's okay. You done good, A-A-Ron. A homer from each side of the plate in the same inning would've been cool as hell. When it was all said and done, the Yankees led 5-3.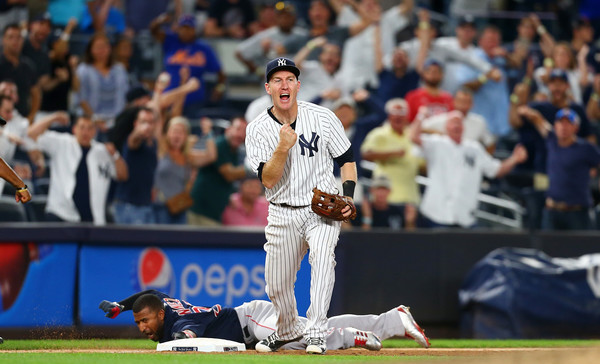 The Stressful Ninth
The Yankees broke out and scored five runs in the eighth to take the lead! Hooray! Aroldis Chapman then came in and immediately walked the bases loaded on 15 pitches. With no outs too. Sigh. Larry Rothschild went out to the mound to talk to Chapman after the third walk — "Pitch better," was the message, I assume — and it wasn't until after the mound visit that Dellin Betances started warming up. Oy vey.
Okay, so bases loaded with no outs and a two-run lead. Good thing Torreyes got that insurance run in, huh? Benintendi fought off a two-strike pitch and lifted a sacrifice fly to deep left field, plenty deep enough to score Jackie Bradley Jr. from third base, to cut New York's lead to 5-4. But wait! Eduardo Nunez attempted to tag up on the play and get the tying run to third with one out. Hicks put an end to that nonsense. To the action footage:
Great throw by Hicks. Great, great throw. Don't sleep on the pick and tag by Frazier at third though. He made a great play too. Nunez was clearly out but the Red Sox challenged anyway because hey, why not? That's the 26th out in a one-run game and a potentially huge play. Maybe you get lucky with the replay. Here's how huge that play was:
Red Sox win probability if Nunez is safe: 31.3%
Red Sox win probability if Nunez doesn't tag up and stays at second: 28.1%
Red Sox win probability when Nunez was thrown out: 6.4%
Huge swing in win probability. From 31.3% to 6.4%. I don't blame Nunez for trying to tag up there — it took a perfect throw by Hicks and a perfect pick-and-tag by Frazier to get him, and even then the play was close enough to be reviewed — but yeah, a terrible decision in hindsight. Chapman got Mitch Moreland to fly out harmlessly to center field for the 27th out and that was that. Game over. Stressful ninth inning for sure, but a win is a win, and the Yankees needed this win like crazy.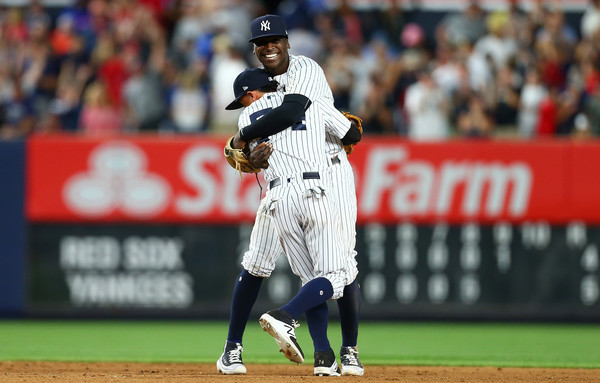 Leftovers
Acceptable-ish start from Jaime Garcia. He allowed a two-run homer to Hanley Ramirez in the first inning — he tried to bust him inside with a 3-1 fastball but didn't get the ball in far enough — and a solo homer to Benintendi in the fifth. Garcia wiggled out of a bases loaded, one out jam in the third inning with a strikeout (Chris Young) and a ground out (Xander Bogaerts). His final line: 5.2 IP, 7 H, 3 R, 3 ER, 3 BB, 6 K on 103 pitches.
The unsung hero: Adam Warren. He replaced Garcia, recorded the final out of the sixth inning, then tossed perfect seventh and eighth innings as well. Huge. Warren shut the Red Sox down and gave the offense a chance to get back in the game. He needed 35 pitches to record those seven outs and now has a 1.80 ERA (2.65 FIP) in 50 innings this year. Only 27 hits and 13 walks allowed too (0.80 WHIP).
Every starter reached base at least once except Garrett Cooper and Austin Romine, both of whom went 0-for-2 before being lifted for a pinch-hitter. Gardner pinch-hit for Romine to leadoff that eighth inning, so the Yankees gave up the DH and had to move Sanchez behind the plate for the ninth inning. Zero problems with that. Even if it didn't work out. The Yankees needed offense and Romine wasn't going to provide it.
Two hits for Hicks (double, homer) and one each for Sanchez (single), Gregorius (single), Frazier (single), Jacoby Ellsbury (single), and Torreyes (double). Judge drew two walks. Sanchez, Frazier, and Gardner drew one each. Gardner also got hit by a pitch. He batted twice, both times in the same inning, and reached base twice without putting the ball in play. Classic Gardy.
And finally, with the win the Yankees are back to within 3.5 games of the Red Sox for first place in the AL East. They were six outs away from being 5.5 games back. Pretty big swing in the standings, this game was.
Box Score, WPA Graph & Standings
ESPN has both the box score and updated standings, and MLB.com has the video highlights. We have a Bullpen Workload page. Here's the win probability graph:

Source: FanGraphs
Up Next
Same two teams Saturday afternoon in the second game of this three-game series. That's a 4pm ET start. Luis Severino and Drew Pomeranz are the scheduled starting pitchers. RAB Tickets can get you into Yankee Stadium if you want to catch that game in person.