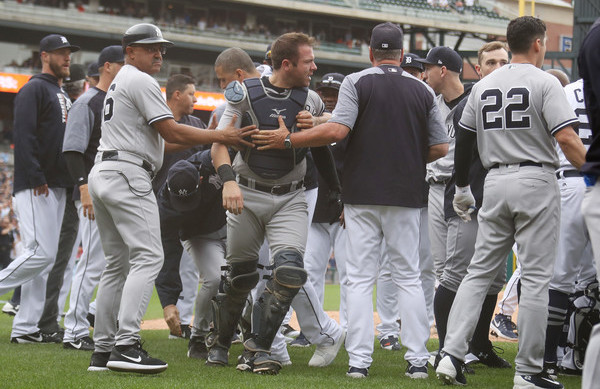 As expected, MLB has handed down several suspensions and fines following Thursday's brawl(s) with the Tigers. Here's a recap of the discipline, as announced by MLB this afternoon:
Miguel Cabrera: Seven-game suspension for "inciting the first bench-clearing incident and fighting."
Alex Wilson: Four-game suspension for "intentionally throwing a pitch at Todd Frazier" after warnings had been issued.
Gary Sanchez: Four-game suspension for "fighting, including throwing punches."
Austin Romine: Two-game suspension for "fighting, including throwing punches."
Brad Ausmus: One-game suspension for "the intentional actions of Wilson."
Joe Girardi, Rob Thomson, Tommy Kahnle, Brett Gardner, Garrett Cooper, Clint Frazier, and Jose Iglesias all received fines but were not suspended. Cooper and Frazier were fined for entering the field of play while on the disabled list. I'm kinda surprised Dellin Betances escaped without any discipline, even if he didn't hit James McCann on purpose. Same with Michael Fulmer, who started the whole thing by hitting Sanchez.
I imagine Sanchez and/or Romine are going to appeal their suspension. I mean, they kinda have to, otherwise the Yankees won't have any catchers tonight. Sanchez will definitely appeal because he (and the Yankees) want to get that suspension knocked down as much as possible. The more Gary is on the field, the better. Every game without him hurts the team's chances at the postseason.
Kyle Higashioka is currently on the Triple-A Scranton disabled list, so the Yankees don't have a obvious third catcher to call-up for the time being. They'll have to add someone (Eddy Rodriguez, most likely) to the 40-man roster. The Yankees do have an open 40-man spot, though that'll go to Greg Bird when he returns. Also, suspended players can't be replaced on the roster. Teams have to play short.
All things considered, I think the Yankees got off pretty light here. I thought Sanchez was heading for six or seven games given the sucker punches. Rougned Odor got eight games (reduced to seven on appeal) for punching Jose Bautista when he was squared up. Sanchez threw punches at defenseless Cabrera. Whatever. Forget this pointless nonsense, be happy no one got hurt, and move on.
Update: Not surprisingly, Sanchez and Romine both said they will appeal their suspensions. Ken Rosenthal hears the appeals may not be heard until after rosters expand on September 1st, which would make it a million times easier to deal with losing a catcher(s). Also, Jack Curry hears Sanchez was only suspended four games because Cabrera instigated the brawl. Gary on reacted, basically.