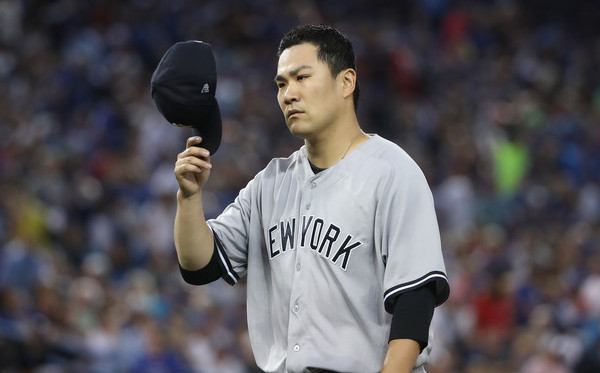 1:03pm ET: Joe Girardi described the injury as fatigue, or a dead arm. There's no structural damage and the Yankees are essentially planning to give Tanaka a ten-day break. He won't throw for five days before getting back to it. That's not so bad, as long as that's all it really is.
12:24pm ET: The Yankees are down another starting pitcher. Masahiro Tanaka has been placed on the 10-day DL with shoulder inflammation, the Yankees announced. Gio Gallegos was called up to fill the roster spot for the time being. The Yankees are already without CC Sabathia (knee) and Michael Pineda (elbow). Pineda is done for the season with Tommy John surgery.
Perhaps the shoulder issue explains Tanaka's rough start in Toronto three days ago, when he allowed three runs (two earned) in four innings plus two batters. Overall, this has been a poor season for Tanaka (4.92 ERA and 4.65 FIP), though he's been much better over the last two months or so. He has a 3.33 ERA (3.64 FIP) in his last eleven starts after pitching to a 6.55 ERA (5.68 FIP) in his first 12 starts.
Tanaka's next start was scheduled for Monday against the Mets, and the Yankees do have plenty of options to replace him. Bryan Mitchell is already stretched out and on the 25-man roster. Caleb Smith and Luis Cessa are sitting in Triple-A, as is Domingo German. All three of those guys are on the 40-man roster and eligible to be called up. None are within the ten-day send down window.
Chance Adams is a possibility as well, though he just started for Triple-A Scranton last night, so he's not an option for Monday. The Yankees have an open 40-man roster spot. Adding Adams and calling him up at some point in the future would be a piece of cake. For what it's worth, Smith is lined up to start tomorrow for the RailRiders and Cessa is lined up for Monday. That's convenient.
There's no word on how long Tanaka will be sidelined yet. I imagine he's already had an MRI and all that. Sabathia received cortisone and lubrication injections in his troublesome right knee yesterday, and he's scheduled to throw a bullpen session tomorrow. It's possible he could be activated as soon as his ten days on the DL are up, meaning the Yankees would only need someone to make one spot start to fill in for Tanaka before Sabathia returns.
The Yankees called Jordan Montgomery back up yesterday and he's going to replace Sabathia. Montgomery is on a 180-ish innings limit this year, giving him roughly 60 more innings to go this year. That seems like plenty to get through the season, no? Hopefully. For now, the Yankees are down yet another starting pitching. Good thing they got two at the trade deadline, huh?