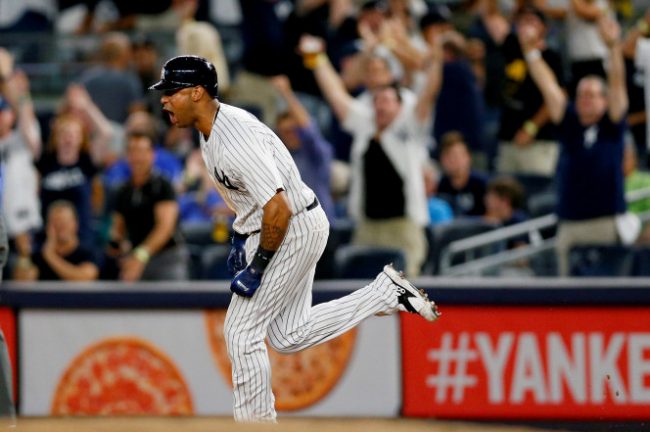 It's not over 'til …
Facing a late three-run deficit and their offense stuck in neutral, the Yankees seemed headed for another depressing loss in the Most Important Game of the Year. Then the Fighting Spirit kicked in and the Comeback Kids delivered another stunning rally to beat the Red Sox, 5-4, in the series opener.
How improbable was the victory? The Red Sox were 34-0 this season when leading by at least three runs at the start of the eighth inning before Friday. And the Yankees hadn't beaten the Red Sox in a game when trailing by three-plus runs entering the eighth in nearly a decade, since a 8-7 win on September 14, 2007 at Fenway.
The comeback was ignited by Gritty Gutty Brett Gardner, who was hit by an Addison Reed slider to lead off the eighth. Reed hadn't hit a batter since the second game of the 2014 season, and had faced more than 1,000 batters in that span before plunking Gardy.
Aaron Hicks then got the crowd into frenzy with a majestic two-run bomb that landed just over the short right field porch. Based on the combo of launch angle (41 degrees) and exit velocity (96.5 mph), that type of batted ball resulted in a hit just seven percent of the time this season.
Didi Gregorius followed with a game-tying opposite field single, a clutch hit that deserves a sweet #FunFact: Didi is the first Yankee shortstop with a game-tying hit in the seventh inning or later at Yankee Stadium against the Red Sox in more than 50 years! The last guy to do that was Tony Kubek on June 17, 1964, in a game that the Yankees would eventually lose in the 12th inning.
Todd Frazier capped the rally with another RBI single to left field, earning his first True Yankee Moment. It was his 17th hit as Bronx Bomber, but the first one that gave the Yankees a lead … at any point in the game, regardless of inning.
Of course, because this was a Yankees-Red Sox game, there had to be more drama. Aroldis Chapman provided it when he walked the bases loaded with no outs in the ninth, but got of the jam thanks to a spectacular throw by Aaron Hicks, who gunned down Eduardo Nunez at third base for a game-saving double play. It was the Red Sox 16th baserunning out at third base and 64th overall, both of which lead the majors this season.
Chapman's white-knuckle outing to seal the win also gives us our Obscure Yankeemetric of the Series: He's the first Yankee ever to get a save despite walking at least three batters and allowing a run, while pitching no more than one inning.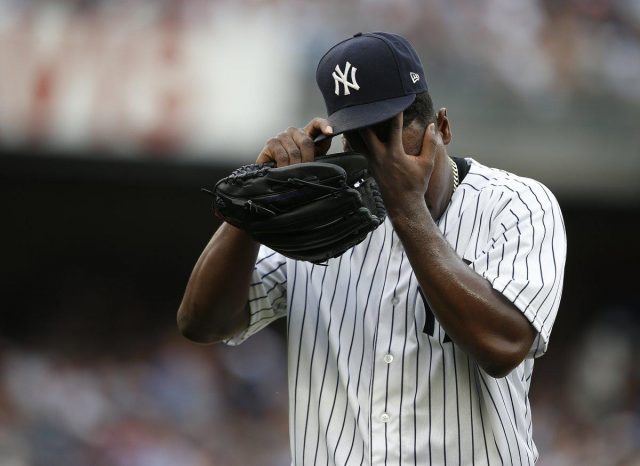 Baseball is cruel
In less than 24 hours, the Yankees went from experiencing one of their most exhilarating wins of the season, to one of their ugliest losses in 2017. The 10-5 rout was a lesson in regression to the mean, as several statistical trends for both teams came to a screeching halt in this game.
The Yankees suffered their first loss this season when hitting at least three homers, falling to 17-1 in those games. They were one of two teams that hadn't lost when going deep three-plus times, leaving the Red Sox (10-0) as the lone team in that group.
Yankee pitchers had held the Red Sox to a .047 (.3-for-64) batting average with runners in scoring position over their first 10 matchups this season; the Red Sox surpassed that hit total in one game on Saturday, going 4-for-11.
Luis Severino, who started the day with the best ERA in the majors since the All-Star break (0.83) and had allowed a total of five runs in those five second-half starts, got pummeled for twice as many runs (10) in 4 2/3 innings of work. He also had given up just one run combined his two previous starts versus the Red Sox this season.
Those career-high 10 runs allowed made Severino the first pinstriper since Andy Hawkins on June 5, 1989 to cough up double-digit runs in fewer than five innings pitched at Yankee Stadium. That 1989 game might be the franchise's most embarrassing loss, one that included six errors, a whopping 13(!) unearned runs allowed by the home team, and very very unhappy crowd in the Bronx.
Even more bad news:
Luis Severino: 1st Yankee in last 100 years to give up 10+ runs in fewer than 5 IP vs Red Sox

— Katie Sharp (@ktsharp) August 12, 2017
(On a slightly more positive note, the last Yankee to allow 10 or more runs versus the Red Sox, regardless of innings pitched, was Hall of Famer Red Ruffing in 1939.)
Most of the damage was done by Boston's 23-year-old rookie outfielder Andrew Benintendi, who crushed two three-run homers off Severino. He became the first Red Sox player since Jimmie Foxx in 1938 to hit multiple three-run bombs against the Yankees. Benintendi also is the youngest Red Sox ever with six RBI against the Yankees, and the youngest on any team to hit multiple homers and drive in at least six runs against the Yankees since Cleveland's Pat Seerey in 1945.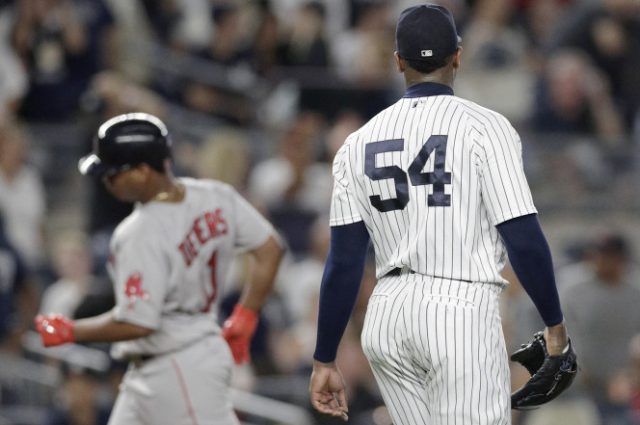 Nightmare on River Avenue
In what has become an all-too-familiar and frustrating story for this Yankees team, they suffered yet another soul-crushing loss on Sunday night, snatching defeat from the jaws of victory. Once again, the bullpen imploded, flushing a 2-1 lead in the ninth and then losing the game in the 10th. Here's the gory details of the meltdown:
20th blown save, the second-most in MLB, and four more than they had all of last season.
Third loss when taking a lead into the ninth inning, their most in a season since 2013 — and two of those three have come against the Red Sox (hard to forget July 14, eh?).
21st loss by one run, the most in the AL and third-most in MLB. Oh, and they had only 12 one-run losses last year.
The biggest goat horns were worn by Aroldis Chapman, who gave up the game-tying homer in the ninth to Rafael Devers. Devers' blast is a perfect example of #YouCantPredictBaseball. The lefty swinger clobbered a 102.8 mph fastball into the seats, the fastest pitch ever hit for a homer in the PitchFX era (since 2008). Prior to Sunday, Chapman had faced 418 left-handed batters in his regular-season career and given up exactly one home run — to Luke Scott on June 26, 2011, the first homer surrendered by Chapman in his major-league career. Those 418 lefty hitters were by far the most faced by any pitcher in the last 50 years that had given up one or zero homers to lefties.
Before the late-inning sadness, this game was a classic pitchers duel. Jordan Montgomery matched Red Sox ace Chris Sale with another impressive outing, holding the Red Sox to one run on two hits while pitching into the sixth inning. It was his second straight game allowing one or fewer runs and no more than three hits, the youngest Yankee southpaw to have back-to-back starts like that since a 22-year-old Al Leiter in 1988.
Sale continued his dominance over the Bronx Bombers with another gem, striking out 12 and giving up just one run in seven innings. It was the third time in a row he's struck out at least 10 Yankees, the first pitcher to do that since Pedro Martinez in 2001. And it was his second straight game with 12-plus strikeouts and no more than one earned run allowed, joining Indians lefty Sam McDowell as the only pitchers in MLB history to do that in back-to-back games against the Yankees.