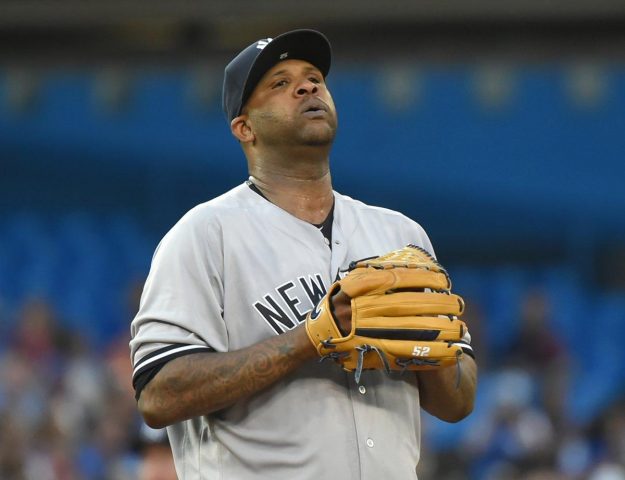 Where's home plate?
The road trip continued with a trek north of the border, to a place that has been a house of horrors for the Yankees this decade. They entered the series in Toronto with a 27-41 record at the Rogers Centre since 2010, their worst winning percentage at an AL ballpark over the past eight years.
So, predictably, they dropped the first game on Tuesday, though the result had much more to do with their continued failure to cash in on scoring chances. They flooded the basepaths with 14 baserunners, but only two of them crossed the plate, the first time that's happened in nearly a year, since last August 15 against … the Blue Jays.
Or maybe they lost because they failed to send a ball over the fences. The Yankees have just three wins when they don't homer, the fewest in the majors this season, and after going homerless on Tuesday, their 3-20 record without a home run is the second-worst in baseball.
All of the damage by the Blue Jays came from Josh Donaldson, who belted two two-run homers off CC Sabathia in the first three innings. Sabathia later revealed that he was pitching with pain in his right knee, which was the likely cause of a troublesome drop in his fastball velocity.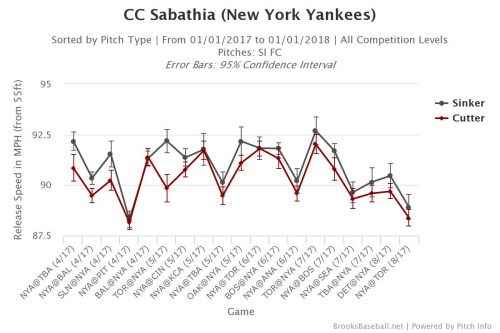 He averaged 89 mph on his sinker and 88.4 mph on his cutter, both of which were his second-lowest marks on those pitches this season, ahead of only his start in Pittsburgh in April. The injury was likely the main reason for his struggles, though you have to wonder if the inevitable regression monster was lurking given these numbers entering the game:
Sabathia had a 2.29 ERA on the road, the best in the AL (min. 50 IP), and hadn't allowed more than one earned run in each of his last six road outings before Tuesday. He also had held Donaldson without a homer in their previous 37 matchups, the most plate appearances Donaldson had in his career against a pitcher he had yet to take deep.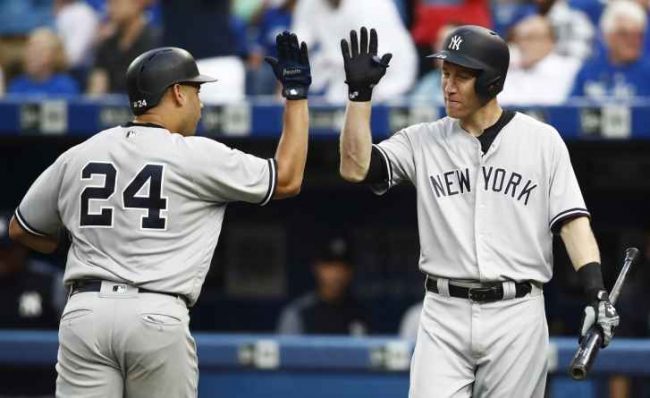 Dinger party
The Yankee bats returned with vengeance on Wednesday night, exploding for 11 runs and 17 hits, including eight for extra bases. It was the first time they reached each of those totals on the road in more than two years, since a 13-6 shellacking of the White Sox at Cellular Field on July 31, 2015.
Todd Frazier, Gary Sanchez and Didi Gregorius each went deep as the Yankees improved to 17-0 when hitting at least three homers, the best record in the majors. The only other team that's unbeaten in three-homer games this season is the Red Sox (10-0).
Frazier had by far his finest game as a Yankee, with three hits — a homer, double and single — three RBIs and four runs scored. Those two extra-base hits on Wednesday were the same number that he had in his previous 18 games (70 plate appearances) in pinstripes.
The Toddfather is just the fourth Yankee third baseman to drive in three or more runs and score four or more times in a game, joining A-Rod (six times), Scott Brosius (1999), Graig Nettles (1976) and Bobby Brown (1949).
The inclusion of Brown here gives us a chance for our Yankeemetric History Lesson of the Week. Brown, who later became a practicing cardiologist and spent a decade as the president of the American League (1984-94), has one incredible stat from his eight seasons with the Yankees:
A career .279/.367/.376 hitter, Brown was a monster in the postseason, hitting .439 in 41 at-bats in 17 World Series games. That's the second-highest World Series batting average in baseball history by any player with at least 40 plate appearances, behind David Ortiz (.455).
Garrett Cooper was the other standout player on Wednesday, going 4-for-5 with two RBIs, and producing a bevy of #FunFacts for the 26-year-old rookie. He is the …
Seventh Yankee ever with a four-hit, multi-RBI game within his first 10 career games. This might be one of the most eclectic lists of players we've ever produced: D'Angelo Jimenez (1999), Shane Spencer (1998), Rusty Torres (1971), Elston Howard (1955), Jerry Coleman (1949) and Chicken Hawks (1921) — yes, a real person and one incredible statistical claim to fame.
Third Yankee first baseman with at least four hits against the Blue Jays, joining Mark Teixeira (2010) and Don Mattingly (six times).
Fourth rookie first baseman in the last 100-plus years to have a four-hit game, along with Joe Collins (1950), Bud Souchock (1946) and Lou Gehrig (twice).
And, of course, this would not be a Yankeemetrics post without Aaron Judge re-writing the record books. He took his 82nd walk of the season in the fifth inning, breaking the Yankee rookie record set by Charlie Keller in 1939. The major-league rookie record in the modern era (since 1900) is 107 walks by Ted Williams in 1939, a number that is certainly within reach over the next seven weeks.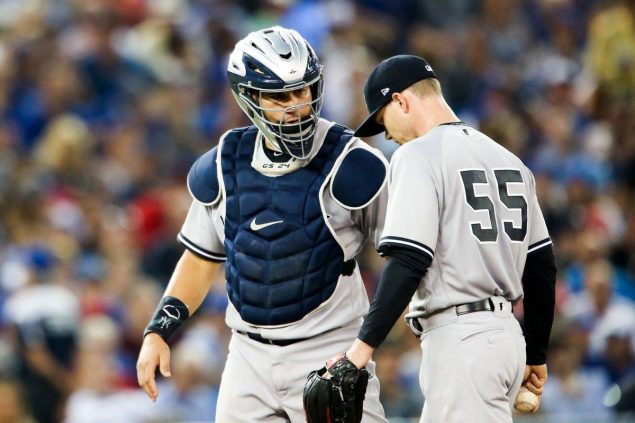 Stranded in Canada
One night after an offensive explosion — which now seems like a blip during this miserable and extended slump — the Yankees flipped the script on Thursday and were blanked by the Blue Jays, 4-0. It was deja vu all over again, as they had plenty of chances to score (11 baserunners) but left a small navy of men on base because of their horrid clutch hitting (0-for-9 with runners in scoring position).
But maybe we should have predicted this frustrating loss, given their recent struggles to light up the scoreboard at the Rogers Centre. It was the Yankees 10th shutout loss in Toronto since 2011, easily their most at any road stadium over the last seven seasons. Second on the list? Camden Yards and Tropicana Field, with five at each place.
Sonny Gray was okay on a night he needed to be perfect, but he did hold the Blue Jays to three runs (two earned) in six innings, his eighth start in a row with at least six innings pitched and no more than two earned runs allowed. That's the longest such streak by an AL pitcher this season and tied with Max Scherzer for the second-longest in the majors, behind Aaron Nola (9).
Two of those starts have been with the Yankees, and he's lost both of them, as the Yankees have scored a total of zero runs in the 12 innings he's been on the mound. His consolation prize is being the proud winner of our Obscure Yankeemetric of the Series: Gray is the second pitcher ever to begin his Yankee career with two losses despite pitching at least six innings and allowing two or fewer earned runs in each game, joining Harry Byrd in 1954.
Aaron Judge inched closer to yet another record, although this is one he'd like to avoid. When he took a called strike three in the fifth inning against Marco Estrada, it was his 27th straight game with a strikeout. That's the second-longest single-season streak by a position player in MLB history, trailing only Adam Dunn's 32-game streak to start the 2012 season.