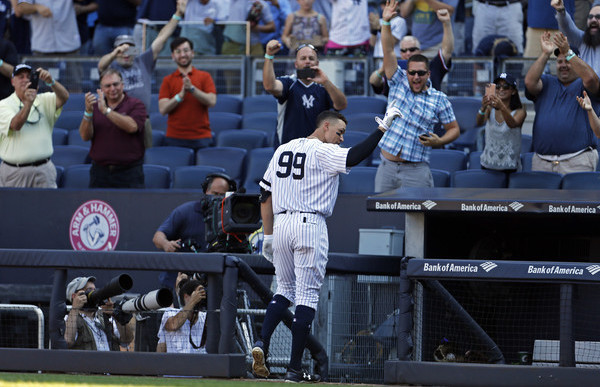 Although the Yankees are still mathematically alive in the AL East race, odds are they will go to the postseason as a wildcard team, and odds are they will host the Twins at Yankee Stadium. The Yankees have already punched their postseason ticket. Once the Red Sox clinch the AL East and the Twins clinch the second wildcard spot, everything will be set.
The Wild Card Game is, technically, its own postseason round. Teams set their 25-man Wild Card Game roster, then can make adjustments prior to the LDS. That leads to some unique roster construction. Why carry four or five starting pitchers for one game, for example? I'm a bit surprised MLB didn't try eliminate that Wild Card Game roster rule. Or maybe they did try and were unsuccessful. Whatever.
Anyway, the Yankees carried 16 position players and nine pitchers on the 2015 Wild Card Game roster. For real. Like I said, there are better ways to use those last few roster spots than carrying extra starting pitchers. The Yankees are not guaranteed to follow the 16 position players and nine pitchers blueprint again, but it does give us an idea what to expect in advance of the Wild Card Game next Tuesday.
So, with that Wild Card Game now six days away, I figured this would be a good time to try to piece together the 25-man roster the Yankees could use for that winner-take-all affair. Really stinks the Yankees are going to win 90-ish games then have to play in that Wild Card Game, huh? Oh well. Can't do anything about it. Let's take a look at the potential Wild Card Game roster.
The Locks
This is the easiest group, so we might as well start here. These are the 18 players we all know will be on the Wild Card Game roster as long as they're healthy.
Position Players (12): Greg Bird, Starlin Castro, Jacoby Ellsbury, Todd Frazier, Brett Gardner, Didi Gregorius, Chase Headley, Matt Holliday, Aaron Judge, Austin Romine, Gary Sanchez, Ronald Torreyes
Pitchers (6): Dellin Betances, Aroldis Chapman, Chad Green, Tommy Kahnle, David Robertson, Luis Severino
Pretty straightforward, right? Right. I'm as annoyed by Dellin's walks as much as anyone, but they're not leaving him off the Wild Card Game roster in favor of … Chasen Shreve? Jonathan Holder? Ben Heller? Gio Gallegos? Another starter? Yeah, no. These 18 dudes will be on the Wild Card Game roster.
Locks, If Healthy
Aaron Hicks (oblique) returned last night and Adam Warren (back) is expected back soon. At one point earlier this season it seemed Hicks would start the Wild Card Game, maybe even hit first or second, but not anymore. The injury and Jacoby Ellsbury's late season resurgence put an end to that. He'll be on the Wild Card Game roster as the fourth outfielder though, as long as he's healthy. Warren will of course be on the roster as well. Again, as long as he's healthy. Health is the only reason these two wouldn't be on the Wild Card Game roster. They're on, so add them to the locks and that's already 20 players.
The Extra Starters
Like I said, the Yankees carried only nine pitchers on the 2015 Wild Card Game roster. That's typical. It's one game, not a series, so there's no need to carry all five starters. The Yankees figure to carry the scheduled starter (duh), a backup starter in case the scheduled starter is unable to go for whatever reason (hurt during warmups, sick before the game, etc.), and an extra starter should things go crazy in extra innings. Three starters seems like the right amount to me.
Severino is on track to start the Wild Card Game with one extra day of rest. That's the easy part. Who backs him up? That will depend as much on the pitching schedule as anything. Whoever starts the final regular season game Sunday won't be on the Wild Card Game roster Tuesday, for example. Right now, Sonny Gray lines up to pitch the day of the Wild Card Game on normal rest and Jordan Montgomery is on track to pitch that day with two extra days of rest. Masahiro Tanaka and CC Sabathia, meanwhile, would be on short rest that day.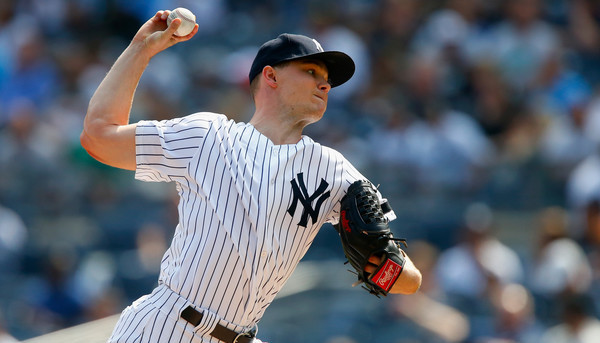 Because of the schedule, Gray and Montgomery seem like the obvious candidates to be the backup starters behind Severino. I suppose Jaime Garcia could be in the mix given how he dominated the Twins last week, though I think that's unlikely. The Yankees could always call an audible and change the rotation this week, but that would surprise me. They'll have their best ready to go in Severino. Assuming Warren is healthy, Severino plus Gray and Montgomery gets the Yankees to nine pitchers and 22 players on the roster overall.
The Final Bench Spots
The 12 locks plus a hopefully healthy Hicks gets the Yankees to 13 position players, leaving three open spots should the Yankees again go the 16 position players plus nine pitchers route. Realistically, there are five candidates for those three roster spots: Miguel Andujar, Tyler Austin, Clint Frazier, Erik Kratz, and Tyler Wade. Garrett Cooper didn't even get a September call-up, so I he's not a postseason roster candidate. Ditto Kyle Higashioka.
I think Austin is on the postseason roster for sure. He'd give Joe Girardi a right-handed power bat on bench and, just as importantly, a backup first baseman should Bird (or Headley) get lifted for a pinch-runner. You don't want to give up the DH or have to play Holliday at first base in the Wild Card Game. Austin's righty power and ability to play first base (and right field in a pinch) seems pretty clearly worth a Wild Card Game roster spot in my opinion. Easy call.
Wade, even though he basically never plays, strikes me as someone who has a leg up on a Wild Card Game roster spot as well. He'd give the Yankees coverage all around the infield and can play left field in a pinch as well. Also, he can run. Crazy fast. Maybe the Yankees don't consider him a designated pinch-runner option — they didn't acquire that player this September — but still, the situation could present itself, and Wade is the closest thing the Yankees have to a true burner available. I think he's on the roster as the 24th or 25th player.
Frazier's roster fate could be tied to Hicks. If Hicks re-injures the oblique or simply can't get going these next few days, Frazier would be the obvious candidate to serve as the fourth outfielder in the Wild Card Game. I love Frazier, but I'm really hoping Hicksie is on that Wild Card Game roster. He's such a weapon when right. The Yankees could always carry Hicks and Frazier, in which case Frazier's role would be extra righty bat, fifth outfielder, and potential pinch-runner. Frazier is low key fast as hell. That could come in handy at some point during a close game.
The Yankees don't trust Andujar's defense at third base right now — they've made that clear given how little he's played there so far — and he can't play any other positions, so he doesn't have much to offer in the Wild Card Game. He'd be an extra righty bat and emergency third baseman. That's it. Kratz? Don't be surprised if he's on the roster. The Yankees carried three catchers in the 2015 Wild Card Game — Sanchez, who had two September at-bats in 2015, was on the Wild Card Game roster that year — and they could do so again, just for an emergency. You know we're in for at least one Wild Card Game roster surprise, right? Right.
If Hicks and Warren are healthy enough to make the Wild Card Game roster, and it sure looks like that'll be the case, I think those final three position player spots wind up going to Austin, Kratz, and Wade. Austin hits, Wade fields and can run, and Kratz is there for peace of mind. Here's a recap of the 25-man roster we've talked out in this post:
| Catchers | Infielders | Outfielders | Starters | Relievers |
| --- | --- | --- | --- | --- |
| Sanchez | Bird | Austin | Severino (SP) | Betances |
| Romine | Castro | Ellsbury | Gray | Chapman |
| Kratz | Frazier | Gardner | Montgomery | Green |
| | Gregorius | Hicks | | Kahnle |
| DH | Headley | Judge | | Robertson |
| Holliday | Torreyes |  Wade | | Warren |
Austin and Wade are more utility players than true outfielders, but I stuck them in the outfield section for easy table building purposes. The Twins are going to start a right-hander no matter what in the Wild Card Game — the only lefty in their rotation is up-and-down depth guy Adalberto Mejia, and he sure as heck isn't starting that game — so I imagine Bird will be in the starting lineup and Holliday will not. Holliday has been pretty terrible against righties lately.
The Yankees, of course, don't want to use their 25-man roster in the Wild Card Game. They'd like to stick with their nine starting position players and three, maybe four pitchers, tops. That would be the ideal Wild Card Game scenario. The rules say you have to carry a 25-man roster though, and you knows, maybe those 23rd and 24th and 25th players on the roster end up being a factor. No one plans for it to happen that way, but baseball can be weird sometimes.