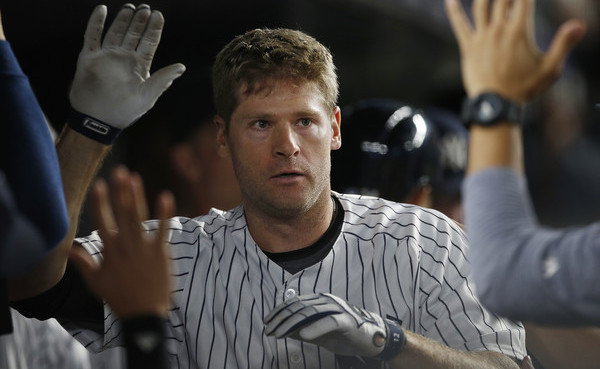 These last 18 months have been a pretty hectic ride for third baseman turned first baseman Chase Headley. Headley, as I'm sure you remember, got off to that dreadful start last season before kicking it into gear in May. This year he started great in April, slumped horribly in May, and has been very good since.
Here, to really drive home the point, is Headley's production since the start of last season: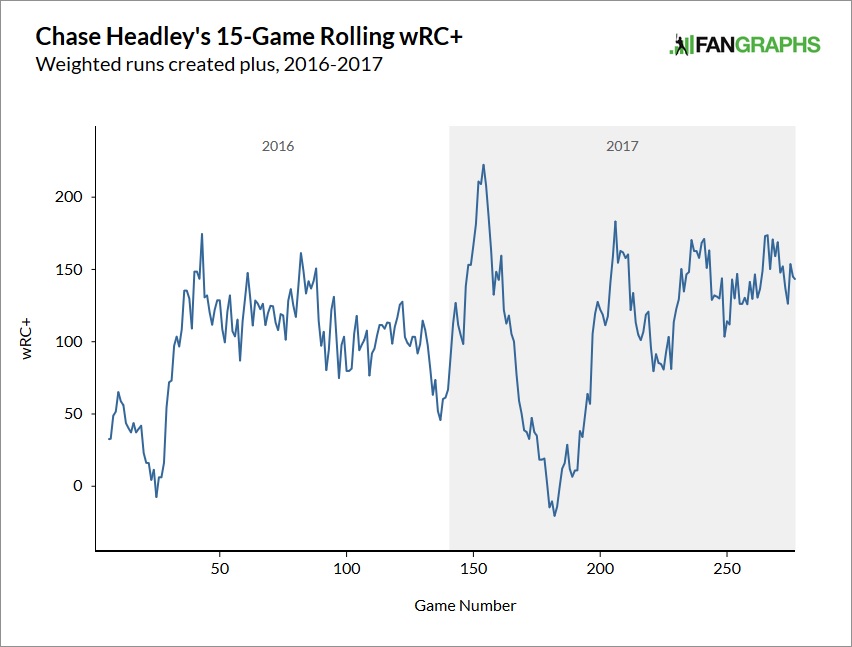 The peaks are high and the valleys are very deep. I mean, Headley hit .150/.268/.150 (22 wRC+) last April and .165/.211/.235 (14 wRC+) this May. Brutal. Legitimately one of the worst hitters in baseball (if not the worst) both months. Fans seem to have a very love-hate relationship with Headley based on his production. Well, maybe it's more like tolerate-hate than love-hate. Whatever.
Anyway, since breaking out of that ugly May slump a few weeks back, Headley has been one of the most productive and most consistent Yankees at the plate. He's hitting .307/.383/.454 (123 wRC+) since June 1st, a span of 364 plate appearances. Does he hit for power? Goodness no. Headley has nine homers in those 364 plate appearances despite the ball being juiced and his home ballpark being Yankee Stadium.
The lack of power is an obvious flaw in Headley's game. He has hit for average and done an excellent job getting on base since June 1st, and that is pretty darn important. You can live with a lack of power when a guy is hitting over .300 and getting on base a ton. Also, within that overall improvement has been a considerable uptick in production against left-handed pitchers. To wit:
First half vs. LHP: .195/.222/.287 (29 wRC+) with 3.3% walks and 28.9% strikeouts
Second half vs. LHP: .362/.406/.621 (169 wRC+) with 7.8% walks and 10.9% strikeouts
Two totally different players. Of course Headley is not really as good against lefties as he has been the last few weeks, nor is he really as bad against lefties as he was the first half of the season. The truth is in the middle somewhere. Consistency would be nice, but you know what? Headley's been great against southpaws for weeks now and it's helped the Yankees win a lot of games. Better late than never.
Here's the thing that really stands out about Headley's second half performance: he's done all this while moving to first base almost seamlessly. And maybe the move to first base and offensive uptick are connected. Headley could feel more comfortable at first base and it's helping at the plate? I suppose so, except the hot streak started in early June and Headley didn't shift to first until the Todd Frazier trade in mid-July.
Either way, Headley shifted to first base and took to the position very well. He had some experience there (58 total innings prior to 2017), so it wasn't completely new to him, but he'd never played the position full-time. Headley's inexperience still rears its ugly head at times — he'll often range too far to his right for a ground ball when he should let the second baseman field it — but, generally speaking, he's fared well over there. He's been, by far, the team's best first baseman this year. (That is both a compliment to Headley and an indictment of the other first basemen.)
The Yankees have dealt with a number of injuries (Matt Holliday, Starlin Castro, Aaron Hicks) and underperformers (Aaron Judge, Castro and Holliday when healthy) in the second half, yet they've avoided a collapse in the standings — at 38-26, the Yankees have the AL's second best record since the All-Star break, behind only the Indians (46-17) — thanks in part to Headley. He's been an impact hitter for more than three months now, and he's helped shore up a major weakness with the transition to first base. Getting this kind of performance from Headley is one of the reasons the Yankees are set to return to the postseason.