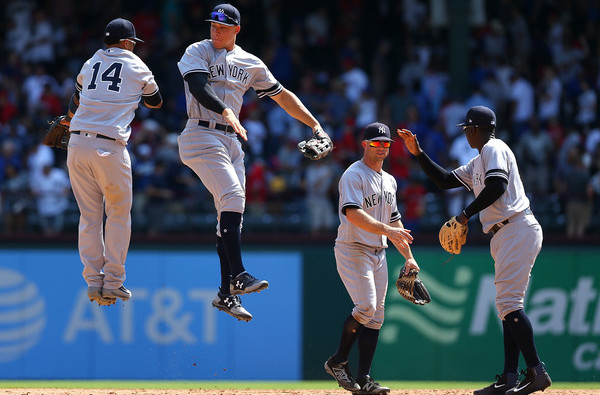 The Yankees sure do seem to have a knack for coming through with big wins after crushing losses, don't they? They came back with a nice win yesterday after blowing a four-run lead Friday. They blew out the Orioles the day after that crushing walk-off loss. Shut down by Doug Fister? Win the next day. Aroldis Chapman gives up an extra inning homer to the Mariners? Sonny Gray dominates the next day. All season long they've been doing it.
The Yankees did that again yesterday, meaning today's game with the Rangers is the rubber game. Win the game, win the series. I've been saying this for years, but just keep winning series. The Yankees have seven series remaining this season, including this one, and winning all seven would all but assure them of a postseason spot. Go out and win the series, then head back to New York for basically the rest of the season. Here is the Rangers' lineup and here is the Yankees' lineup:
LF Brett Gardner
3B Chase Headley
DH Gary Sanchez
SS Didi Gregorius
2B Starlin Castro
RF Aaron Judge
1B Greg Bird
CF Jacoby Ellsbury
C Austin Romine
LHP Jordan Montgomery
Another great weather day in Arlington. Sunny but not crazy Texas hot. Today's series finale will begin at 3:05pm ET and you can watch on YES. Enjoy the game.
Roster Move: Garrett Cooper (hamstring) was activated off the disabled list and optioned to Triple-A Scranton, the Yankees announced. Kinda surprised they didn't bring him to the big leagues now that rosters have expanded, but how many right-handed hitting corner bats does one team need?