Is baseball fun? Yes, baseball is extremely fun. The Yankees had to play a makeup game with the Royals on Monday, and they turned that makeup game into an 11-3 win. Aaron Judge made rookie history along the way. The Yankees will clinch homefield advantage in the Wild Card Game with one more win or one more Twins loss. Whatever comes first.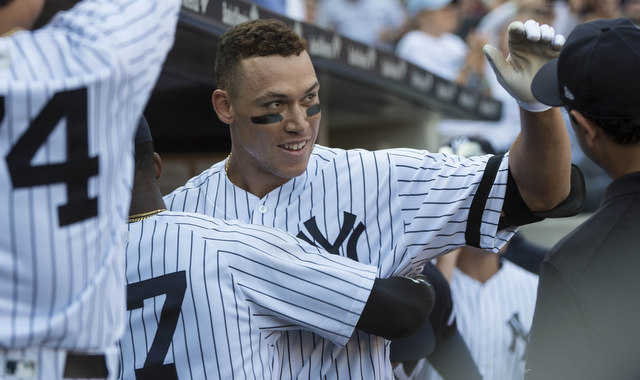 Move Over, Big Mac
Holy crap Aaron Judge has hit more home runs than any other rookie in baseball history. That is insane. What would you have been happy with from him this season? I'd have signed up for .250/.340/.450 with 25 dingers in a heartbeat going into Spring Training. Instead, Judge is hitting .283/.414/.620 (169 wRC+) overall this year, and on Monday afternoon he smacked his 49th and 50th — 49th and 50th! — home runs of the season, tying then breaking Mark McGwire's rookie record.
The record tying blast was a classic Judge at-bat. He worked a full count — going into the game, his 167 plate appearances with a full count were far and away the most in baseball (Edwin Encarnacion was second with 145) — against Royals rookie Jake Junis, then drove a fastball at the top of the zone the other way into the right field seats for a two-run home run. Perfect. The dinger gave the Yankees a 3-0 lead in the inning.
Four innings later, after the Yankees increased their lead to 6-3, Judge went deep again, this time to break McGwire's record. Trevor Cahill started Judge with two curveballs, one for a ball and one for a swinging strike. He set up a changeup with a high fastball for ball two, but the changeup was a little too up in the zone, and Judge roped it out to left field. One dinger to right, one dinger to left.
That is now seven home runs in the last seven games for Judge, and 13 home runs in 22 games in September. Remember his post-All-Star Game slump? I do. It was ugly for a while there. Safe to say Judge has snapped out of it though. He's crushing the ball to all fields and he looks confident at the plate. He looks like First Half Aaron Judge, and it is beautiful to see. With the Yankees at home the rest of the regular season, Aaron needs to hear M! V! P! chants every at-bat. Make it happen.
Six Good Innings, One Bad Inning
CC Sabathia went from six shutout innings to a bare minimum quality start real quick Monday. It took eight pitches, in fact. Sabathia cruised through the first six innings, holding the Royals scoreless on three hits and a walk. Kansas City had just one runner make it to third base and only three get as far as second base in those six innings. CC was on cruise control.
The wheels came off a bit in the seventh inning. Joe Girardi sent Sabathia out for the seventh with a 6-0 lead and his pitch count at 72, and hey, that's what I wouldn't done. Eric Hosmer started that seventh inning with a single, then Salvador Perez got the Royals on the board with a high and far two-run home run to left field. Sabathia caught a little too much of the plate with a high changeup. Blah. Mike Moustakas then followed with a solo homer deep to right field. That ended Sabathia's afternoon and cut the lead to 6-3.
Sabathia's final line: 6 IP, 6 H, 3 R, 3 ER, 1 BB, 4 K on 80 pitches. He was better than that line indicates though. Sabathia faced 24 batters and it wasn't until batters 22, 23, and 24 that the Royals really started to square him up. Next time Girardi should look into his managerial crystal ball so he knows to pull his not at all struggling starter before things start to fall apart. What are they paying this guy for? Geez. (I kid, I kid.)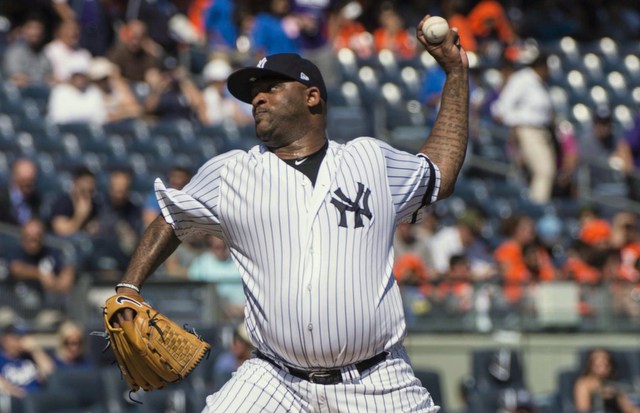 Tack-On Runs
Fortunately, the Yankees had built up plenty of breathing room before Sabathia's little seventh inning implosion. They scored their first run of the afternoon in the very first inning. Brett Gardner dunked a leadoff single to right-center, Judge flew out to deep center field (even his outs are hard-hit these days), Gary Sanchez poked a double into the right field corner, and Didi Gregorius got the run home with a grounder to first base. The Yankees were up 1-0 only 12 pitches into the bottom of the first. Judge then made it 3-0 in the third.
The sixth inning is when the Yankees really broke things open. Gregorius stroked a one-out single to left then, while at first, he tripped on the base and fell down when he stepped back on a pickoff throw. It looked kinda bad at first, but Didi was laughing at himself the entire time and stayed in the game with no problem. I know this because he scored all the way from first base on Matt Holliday's double to left field to stretch the lead to 4-0. Losing Gregorius to an injury on a stupid pickoff throw would be awful. Thankfully, it didn't happen.
Know who else is red hot aside from Judge? Greg Bird. He followed Holliday's double with a two-run home run into the second deck in right field to give the Yankees a 6-0 lead and officially blow this one open. Bird is now 6-for-14 (.429) with three doubles and two homers in his last four games, and, most importantly, he looks more comfortable at the plate than he has all season. Took a while to get over last year's shoulder surgery and this year's ankle surgery, but it appears Bird is now over them, and not a moment too soon.
Two home runs for Judge and one home run for Bird must've had Sanchez feeling a little left out, so he added a home run as well. The crowd was still giving Judge a standing ovation following his 50th home run curtain call — that was the loudest I've heard Yankee Stadium since Alex Rodriguez's farewell game last year — when Sanchez lined a dinger into the left field seats for an 8-3 lead. Third time this month Judge and Sanchez have gone back-to-back, I do believe. Once against the Rangers, once against the Orioles, and once against the Royals (I think).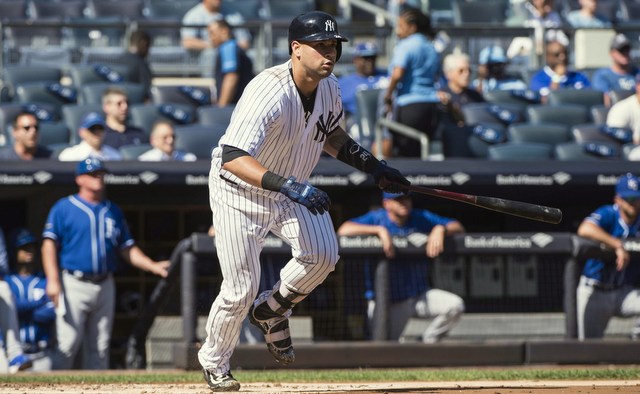 But wait! There's more. The Yankees added a three more runs in the eighth inning thanks to a silly Torreyes hit — a bloop dunked in along the right field line, then the ball got away from Alcides Escobar when he tried to apply the tag at second base, allowing Toe to get to third — and a Gardner double into the corner. Gregorius then singled in another run and Holliday plated another with a sac fly. Judge had a chance to hit his third homer of the game that inning, but alas, he was walked for the 120th time this season. L-O-L. Love this team, guys. Love them with all of your baseball heart.
Leftovers
Judge, Bird, and Sanchez combined to go 6-for-13 (.462) with four home runs, one double, and two walks. First time — and hopefully not the last time — those three have gone deep in the same game. Three hits for Sanchez, Gregorius, and Torreyes. Two hits for Gardner and Judge. The wraparound 9-1-2-3-4 portion of the lineup went a combined 13-for-22 (.591) with three doubles and four homers. That'll do.
Chad Green replaced Sabathia after the seventh inning mini-meltdown and pitched around a walk. He struck out one and now has 102 strikeouts in 67.1 innings this season. Remember, he started the season in minors. Green didn't play his first MLB game until May 9th this year. David Robertson, who was already warmed up before Judge and Sanchez provided insurance runs in the bottom of the seventh, threw a clean eighth and Tommy Kahnle handled the ninth. Nice and easy.
And finally, thanks to today's game, Judge has now homered against every single AL team this season. Well, except the Yankees. The Royals completed the set. I have no idea how to look this up, but hitting a home run against every other team in the league — again: against every other team in the league! — sounds incredibly hard to do. At least in the expansion era.
Box Score, WPA Graph & Standings
Head over to ESPN for the box score — their redesigned box scores suck so much and I haven't yet found an alternative to my liking — and updated standings, and MLB.com for the video highlights. We have a Bullpen Workload page. Here's the win probability graph:

Source: FanGraphs
Up Next
The Royals are heading out now that the makeup game is over, and the Rays are coming to town for a three-game series. One Yankees win will eliminate Tampa Bay from postseason contention. Blake Snell and Jordan Montgomery are the scheduled starting pitchers for Tuesday night's opener.