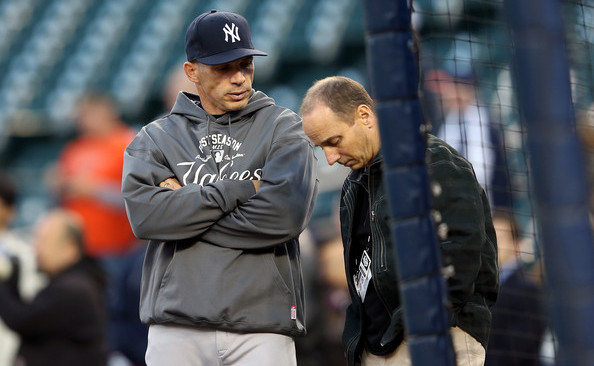 First of all, let's take a moment to congratulate the Yankees on securing a playoff spot in 2017. This team was expected to maybe compete for the second wild card spot if everything broke their way, and now they're on track to win 90 games. That's fantastic. Much to what I'm sure is the chagrin of fans of other teams and organizations, the Yankees' rebuild lasted about as long as it takes to microwave a burrito. For exceeding expectations and cementing their spot as one of the last standing after the marathon that is the baseball season, this team deserved every drop of beer and champagne last night. To see a team that was this fun achieve something so unexpected is a delight and I'm beyond ecstatic for the players.
Now, let's look ahead for a bit, hopefully into a future that includes raising a 28th World Series banner. On Friday, Mike looked at the payroll and budget situation for 2018. Using his template, let's examine the potential 2018 roster as it 'stands' now. Like Mike, I'm going to assume Masahiro Tanaka will opt out of his current deal, bad start Friday night and all.
In his post, Mike listed the players needing to be replaced as Tanaka, CC Sabathia, Todd Frazier, and Matt Holliday. Of those, Tanaka is obviously the hardest to replace. If he does go, that task may be impossible because no free agent starters are of his caliber. The rotation would be in an okay spot considering they'd be leading with Luis Severino and Sonny Gray. A bit of improvement from Jordan Montgomery makes him into a third starter. Between the minor league system and some small time deals on the (not so hot) free agent market could round out the rotation decently. Considering how much of a question the rotation was this time a year ago, the Yankees could afford to go in with one that isn't great and ride the lineup and bullpen like they did for a lot of this year.
Of the pitchers they're (probably) losing, Sabathia is more likely to return on a small contract, maybe with some innings incentives. He's said he wants to pitch for a winning team, and the Yankees are likely to be one. Tapping him to anchor the back of the rotation means the Yankees could take some innings risks with others in the fourth spot between CC and Monty.
To replace The Todd and Arms Holliday, the Yankees may be able to kill two birds with one stone…in the person of Todd Frazier. As good as Holliday looked at the beginning of the year, he's looked much less so lately and given their experience with him and Chris Carter this year, I think the team'll look to be more flexible at DH. That is, they won't opt for a strictly DH type; they don't have one in house and unless Carlos Santana somehow leaves Cleveland (doubtful), an elite option doesn't exist on the free agent market.
The best option, I think, is to re-sign Todd Frazier. I wasn't wild about that idea when he was brought on, but having him on the team gives the Yankees insurance for both Greg Bird's health and Chase Headley's performance. Those three guys can rotate between third, first, and DH until someone really grabs the job by the horns. While Bird may be limited to first, Headley and Frazier can both play the corner infield spots and the combination of all three could lead to upwards of 100 walks and 60 homers in some combination; that would be well worth it.
It's likely that the 2018 Yankees will look incredibly similar to the 2017 Yankees. A lack of turnover can be a bad thing–see the 2017 Mets–but this team doesn't have many major holes to fill–outside of Tanaka–and there's a solid base of talent in each facet of the roster. Things are looking up for next year. Now, let's see how they take care of this year.