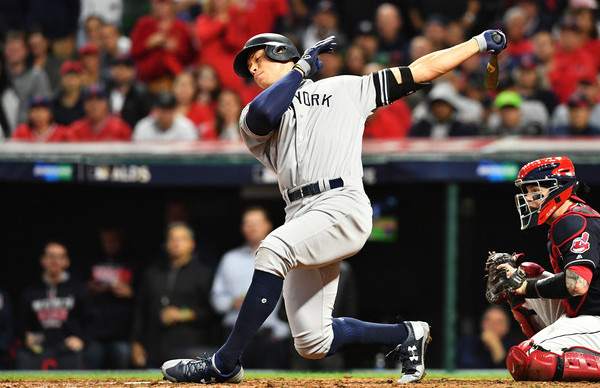 Thanks to their historic comeback from an 0-2 deficit in the ALDS, the Yankees are heading to the ALCS to the face the Astros. It's only the eighth time in 59 total opportunities that a team came back to win the LDS after losing the first two games. And the Yankees did it against the best team in the American League. A satisfying series, it was.
Two things stand out about the ALDS comeback. One, the Yankees could've won that series 4-1. They had a five-run lead in Game Two, and it slipped away in part due to Joe Girardi's non-challenge. The Indians had not lost three straight games since July — they'd lost just four of their final previous 39 games as well — then the Yankees went out and beat them in three straight. Hot damn.
And two, the Yankees won the series and completed the comeback even though Aaron Judge, their best player and a legitimate MVP candidate, was pretty much a non-factor all series. He went 1-for-20 with 16 (!) strikeouts in the five games. The one hit was a big one, it was that two-run double against Trevor Bauer in Game Four, but still. The Indians did an incredible job keeping Judge in check.
"I haven't been doing my job there at the top of the order, and my teammates came up big for me this series. Now it's time to regroup and get ready for the (ALCS)," said Judge to Bryan Hoch and Dan Martin following last night's win. "It's not tough for me. I've been through this before. Everyone has. Guys were able to pick me up when I wasn't able to get the job done."
On one hand, the Yankees managed to win the series despite Judge's performance, which is evidence of how good and deep they are. On the other hand, they probably can't count on that happening again. The Yankees need Judge to contribute. Not necessarily monster homers every at-bat, though I'd take them. Quality at-bats, base hits, walks … something more than strikeouts.
Judge, to his credit, did work the count in the ALDS. He didn't go up there, flail at three pitches for the strikeout, then head back to the dugout. He saw 138 pitches in his 24 plate appearances in the series, or 5.75 pitches per plate appearance. That's ridiculous. We also saw a Judge take a lot of called strikes in the ALDS. Here are the pitch locations and pitch types of Judge's called strikes in the series, via Baseball Savant: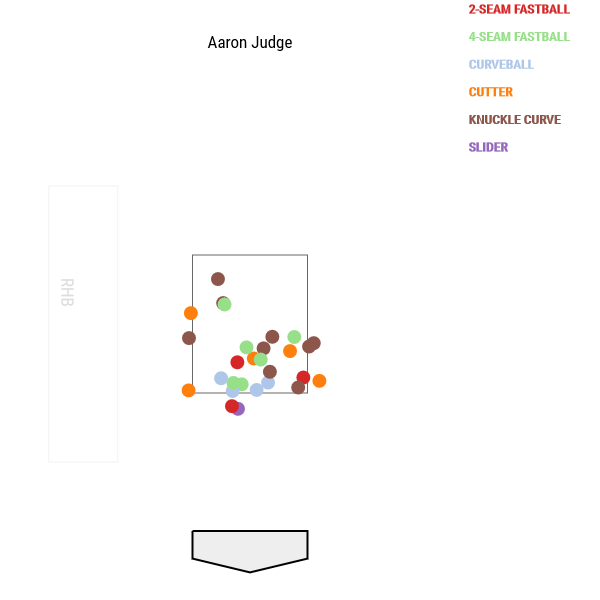 First things first, yes, Judge did get hosed on some called strikes both down below the zone and off the edges of the plate. The called strike three on the strike 'em out, throw 'em out double play last night was particularly bad. Umpires are going to make bad calls sometimes. It happens. With Judge, it seems to happen down at the knees more than anywhere. Umps haven't adjusted to a 6-foot-7 hitter's strike zone, I guess.
"He's been a little more emotional … I think sometimes young kids are afraid to say something. But I definitely wouldn't have a problem with it," said Girardi to Mike Mazzeo when asked whether Judge should argue balls and strikes more often. "He's extremely respectful. But I don't necessarily think arguing for yourself is being disrespectful if you do it in the right way. It could hurt him, too. It could go the other way, too. So it's a fine line. You really don't know."
And secondly, there are more than a few hittable pitches on that plot. Breaking balls that stayed up and fastballs over the plate and in the bottom half of the strike zone. They're not meatballs, but they were pitches he might've been able to do something with. Judge crushed pitches basically everywhere during the regular season. Up, down, inside, on the outer half, you name it here. Here is his regular season isolated power zone profile, via Baseball Savant: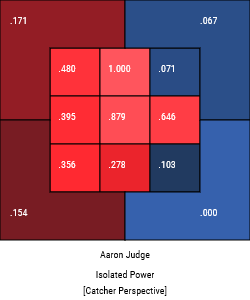 Those pitches down in the zone and over the middle of the plate — not the pitches down and away — Judge can handle those. He did all through the regular season. The Indians did a tremendous job keeping Judge off balance in the ALDS — by Game Two it was clear he was going to see a steady diet of breaking balls — but there definitely appeared to be some instances in which Judge let a hittable pitch go by.
The best way to avoid strikeouts? Don't get into two-strike counts. And after an ALDS that featured lots of deep counts and also some passivity, the best way for Judge to get back on track could be being more aggressive at the plate, and jumping on those early count pitches in the zone. That isn't to say he should be reckless and swing at everything over the plate, but look for something hittable early rather than waiting for the perfect pitch, and trying to work a long at-bat. Jump on 'em early, you know?
Fortunately for Judge, he no longer has to face the Indians pitching staff. The Astros have a great staff too! But they don't have Corey Kluber's slider, or Trevor Bauer's curveball, or Carlos Carrasco's slider, or Andrew Miller's slider, or Cody Allen's curveball. Those are nasty, nasty pitches. Justin Verlander's curveball is obviously great, as in Ken Giles' slider, otherwise the Astros can't bury Judge with elite breaking balls. That's not their staff.
That doesn't mean they won't attack Judge's weaknesses, of course. They're still going to throw him breaking balls because breaking balls are harder to hit than fastballs, and anything you can do to limit how often this guy makes contact is a plus. Judge is still a threat to hit a ball off the scoreboard at any moment. Other teams don't feel comfortable with him in the box. Judge had a rough ALDS and the Yankees won anyway. To have their best chance to beat the Astros, the Yankees will need Judge to do more at the plate, and the best way to do it may be swinging early in the count.
"He was going up against some amazing pitching," said Brian Cashman to Hoch last night. "Turn the page and now focus on Houston. Reggie (Jackson) always talked about, 'If you have the bat in your hand, you can change the story.' Thankfully, he'll have the bat in his hand for another series. He's one of the reasons we got this far, but it takes a village. Other people were able to pick it up and find a way to carry us through."