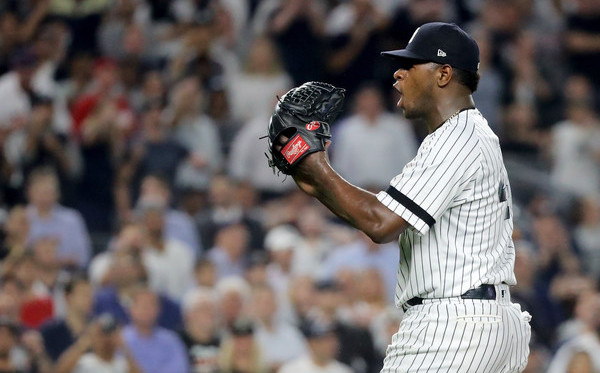 Incredibly, the ALDS is going back to Cleveland. The Yankees, after dropping Games One and Two at Progressive Field — Game Two in particularly gut-wrenching fashion — rallied to win Games Three and Four at Yankee Stadium to force a decisive Game Five tomorrow night. This team, man. They don't go down with a fight. We've seen it all year.
The Yankees are in the ALDS because their bullpen bailed out Luis Severino in the Wild Card Game last week. Severino recorded one (1) out before a parade of relievers held the Twins to one run in 8.2 innings. The Yankees didn't build a deep power bullpen for that reason, but it sure came in handy. New York's bullpen is their greatest weapon.
And yet, the Yankees did not force Game Five with their bullpen. More than anything, they're going to play for an ALCS spot tomorrow night because they received great starting pitching from Masahiro Tanaka and Severino in Games Three and Four. The bullpen, particularly Aroldis Chapman and Tommy Kahnle, helped along the way, as did some timely hitting, but the starters were the stars of the show.
Tanaka in Game Three: 7 IP, 3 H, 0 R, 0 ER, 1 BB, 7 K
Severino in Game Four:  7 IP, 4 H, 3 R, 3 ER, 1 BB, 9 K
The Indians did touch Severino up for two home runs in the middle innings last night, but he finished very strong and completed seven innings to give the gassed bullpen a rest. Considering his miserable Wild Card Game start last week, that was a monster performance for Severino. What a great rebound.
"Part of it is the steps I've seen him take this year. You've seen players continue to take that step and he'd done it all year," said Joe Girardi after last night's win. "I told him after the game, he grew up a lot today. He started to get tired after the six innings and it was the part of the lineup giving him trouble and he was able to get the extra inning, which was good for our bullpen. To me, that's growing up."
Even after that Wild Card Game performance, the Yankees were never going to stave off elimination in the ALDS without quality starting pitching. Riding the bullpen in the postseason is one of those ideas that sounds great, and works a lot of the time, but isn't practical on a daily basis. You can't pitch Chad Green and David Robertson every single game. Chapman can't get five-out saves day after day. It can't be done. Thees guys are human and they get tired. They're not robots.
The Yankees, especially after getting crummy starting pitching performances in the Wild Card Game and Game One of the ALDS, were going to need great starts from Tanaka and Severino in Games Three and Four. Not good starts. Great starts. The Indians are too good to beat with bad starting pitching. Every team in the postseason is too good to beat with bad starting pitching. The Yankees needed more from their starters and Tanaka and Severino provided it.
"I think every win starts in the pitcher's hand," added Girardi. "Your starting pitcher and how he does and how he goes out and attacks the hitter and gets them out and gives you a chance to win."