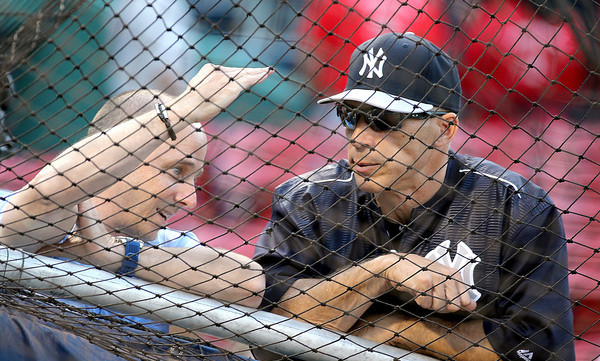 It has now been four days since the Yankees parted ways with Joe Girardi, and we're still waiting to hear who they're considering for the job. I imagine we'll hear something soon. It took the Red Sox eleven days to find a new manager. It took the Nationals nine days. It took the Yankees eleven days to replace Joe Torre with Girardi. The managerial search could be wrapped up by the end of next week. We'll see. Here are some notes.
Cashman/Girardi friction started over the summer
According to Jack Curry and Joel Sherman, Brian Cashman's decision to recommend parting ways with Girardi has been brewing since the summer, when friction increased between the two. The decision was made after lots of smaller disagreements built up into one big problem. Cashman supposedly decided to recommend parting ways with Girardi even before the ALDS.
At some point after the World Series, Cashman figures to hold his annual end-of-season press conference, and I'm sure he'll be asked about the friction with Girardi, and whether winning the ALCS or World Series would've saved his job. Either way, this was not a rash decision. It's not because of the non-challenge in Game Two of the ALDS or anything like that. The relationship between the two had deteriorated over time, and when that happens, it's time to make a change.
Hairston connected to managerial job
Jerry Hairston Jr., the former Yankee and big league utility man, is among those connected to the Yankees' managerial opening, reports Ken Rosenthal. Hairston, now 41, played 45 games with the 2009 Yankees after coming over from the Reds at the trade deadline. He last played in 2013, and following that season, he joined the pregame and postgame crew on SportsNet LA, the Dodgers' regional network.
Hairston comes from a baseball family — his father, grandfather, uncle, and brother all played in the big leagues — so I guess he has that going for him. Still though, Hairston has no coaching or managerial experience, so he'd be a rookie skipper in New York. I know nothing about his communication skills or interest in analytics, and according to Sherman, good communication and an understanding of analytics are two top requirements for the next skipper.
Paul not a managerial candidate
Catching coordinator Josh Paul, who apparently has a lot of fans within the organization, is not a candidate for the manager's job, reports George King. He could be considered for a coaching position, however. Paul has been with the Yankees since his playing career ended in 2008, and over the years he's coached and managed in the lower levels of the farm system. He's spent the last three years working with catching prospects. To wit:
Going from coaching and managing in the low minors to doing so at the big league level is quite a jump, though it wouldn't be unprecedented. These days teams are hiring managers with no experience at all. I'm not sure the Yankees want to go that route, but if they find someone they consider the right man for the job, I don't think they'll worry too much about his background.
Yankees want to replace Denbo before Girardi
According to Jon Heyman, the Yankees want to name a replacement for departed farm system head Gary Denbo before naming a replacement for Girardi. They have already interviewed four candidates for Denbo's job and are likely to promote someone from within. Meanwhile, both Heyman and Sherman say the Yankees are likely to look outside the organization for a few manager. Here's the list of candidates I put together for CBS.