I don't even know what to say. A litany of mistakes turned an 8-3 lead into a disastrous 9-8 loss in 13 innings Friday night, putting a Yankees on the brink of elimination in the ALDS. There are no excuses for this one and plenty of blame to go around, and no one deserves more blame than Joe Girardi.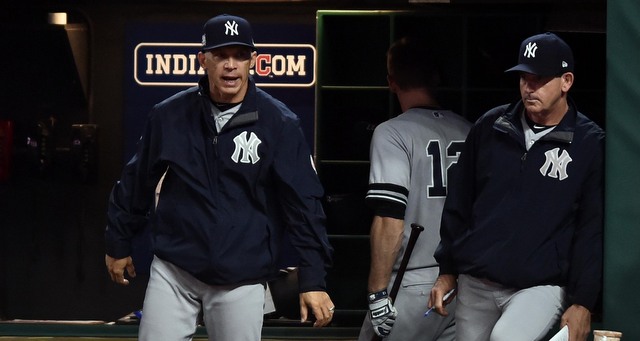 Sometimes Indecision Is Worse Than A Bad Decision
This game turned in the sixth inning. I'll get to everything that happened before the sixth and after the sixth in a little bit, but right now, let's focus on the sixth. The Yankees took an 8-3 lead into that sixth inning and CC Sabathia was cruising. He'd retired 11 straight batters before walking Carlos Santana on four pitches to start the frame. Jay Bruce lined out softy to Didi Gregorius at shortstop and that was it, Sabathia's evening was over.
Personally, I was totally cool with removing Sabathia, even after only 5.1 innings and 77 pitches. We've seen Sabathia have trouble this season once his pitch count gets over 80-85, so going to a fresh Chad Green in a very important postseason game was a-okay with me. I just didn't expect Green to be less than dominant. He looked pretty fatigued. Following an Austin Jackson fly out and a Yan Gomes double, Green hit Lonnie Chisenhall in the hand with a two-strike fastball. It is maybe the single biggest play of the season.
Immediately, Gary Sanchez pointed to the dugout telling the coaching staff to ask for a review because the pitch did not actually hit Chisenhall in the hand. It hit the knob of the bat and deflected into Sanchez's glove. That's a foul tip! That's strike three! The inning was over! Sanchez was telling the Yankees to challenge … and the challenge never came. Chisenhall went down to first and everyone looked at each other for a moment, but no challenge. Here's the play:
I am going to repeat this: the ball hit the knob of the bat and deflected into Sanchez's glove for an inning-ending foul tip strike three. That's what the Yankees had to gain there. The third out of the inning with two men on base to preserve their 8-3 lead through six innings. Inexplicably, the play was not challenged, and two pitches later Francisco Lindor walloped a grand slam off the right field foul pole. That 8-3 lead was suddenly an 8-7 lead. Some numbers:
Yankees win probability had strike three been called: 97.3%
Yankees win probability after the hit-by-pitch to load the bases: 93.2%
Yankees win probability after the grand slam: 68.4%
The difference between a strike three and the grand slam was roughly 30 percentage points of win probability, which is massive. That's on par with the biggest non-walk-off hits in baseball each season. Green was having trouble putting hitters away and did not look very good — he'd warmed up three times since the second inning, which probably didn't help — and eventually put a yucky slider on a tee for Lindor.
We have to go back to the non-challenge though. I've been harping on this for years. Girardi does not use his challenges enough. He has a great success rate year after year, but he also challenges fewer plays than just about every other manager, and that feels like a giant waste. Furthermore, you get two challenges in the postseason, not one. And Girardi still did not use one. Did I mention it would've been an inning-ending strike three? Because it would've been an inning-ending strike three.
I don't blame home plate umpire Dan Iassogna for calling that a hit-by-pitch. It happens so fast I think it's easy to understand why you'd call it a hit-by-pitch. But it wasn't, and plays like that are why replay exists. There was nothing Girardi could've said after the game to make things better. He instead somehow made them worse. Here's the video, if you want to watch. Here's what Girardi said about the non-challenge:
"There was nothing that told us he was not hit on the pitch. By the time we got the super slo-mo, we were a minute — probably beyond a minute — and it was way too late. They tell us we have 30 seconds … Being (an ex-catcher), my thought is I never want to break a pitcher's rhythm. That's how I think about it."
I … uh … what? First of all, your catcher was telling you the batter was not hit by the pitch. Maybe Girardi would've listened if Austin Romine was behind the plate? If you're not going to trust your starting catcher on a potentially huge play like that, it's a big problem. Secondly, Chisenhall sure as heck did not react like a hitter who just a took pitch the hand, and that was an indication something was up. Pitches to the hand hurt. Girardi should know that. Chisenhall is either the toughest dude in history or he didn't get hit.
And third, holy crap the "I never want to break a pitcher's rhythm" stuff is unbelievable. What a joke. Girardi had no problem breaking Aroldis Chapman's rhythm in the tenth inning when a ball may or may not have been thrown into the camera well. He had no problem with the endless parade of mound visits we saw this summer breaking his pitcher's rhythm. Something tells me Green would have been totally cool with sitting in the dugout with a five-run lead having his rhythm broken had the call be challenged and overturned.
That to me sounds like a manager who screwed up, knows he screwed up, and doesn't want to admit he screwed up, so he came up with that ridiculous excuse. Where is the accountability? Aaron Judge struck out in a record 30-whatever straight games this year and answered every question, took all the blame after each game. Tyler Clippard coughed up how many games this year? He took responsibility for all of them. The manager completely botches a challenge situation in the postseason and we get "I never want to break a pitcher's rhythm" as an answer? Seriously?
Even if Girardi challenges and the replay crew in New York doesn't overturn the call, fine, who cares? You did all you could do. A play that enormous can not go unchallenged. Just challenge it. Don't wait for the thumbs up from replay guru Brett Weber. It's the sixth inning and possibly the last best chance for the Indians to get back in the game. It was inexplicable and a complete failure on Girardi's part. This was his Buck Showalter/Zach Britton moment. He will never escape it. It is part of his legacy. The decision — indecision, really — flew in the face of common sense, it cost the Yankees dearly, and Girardi wouldn't even accept responsibility. Awful. Absolutely awful.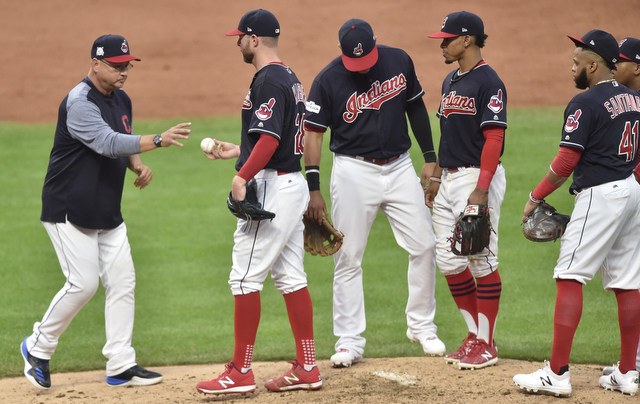 Breaking Down The Klubot
Okay, let's get to the rest of the game. Who had the Yankees scoring six runs in 2.2 innings against Corey Kluber? Not me. That's for sure. Most runs he's allowed this season. True story. Right in the very first inning it was clear Kluber was not the usual F.U. mode Corey Kluber. He walked Judge and gave up a two-run home run to Sanchez to give the Yankees a quick 2-0 lead. Hooray!
The best part: the Yankees continued to work Kluber after the homer. By time Aaron Hicks struck out to end the first inning, they'd forced Kluber to throw 38 — 38! — pitches. Kluber hadn't thrown 30 pitches in an inning since July 9th, in his final start of the first half. Couldn't have asked for a better start. Two innings later, Starlin Castro poked a two-strike single back up the middle to give the Yankees their third run, and two batters after that, Hicks crushed a three-run home run to right field. Look at this thing:
Given the stakes and the pitcher, it is one of my all-time favorite home runs. Kluber just could not get the third out of that third inning and Hicks made him pay big time on that hanging slider. Two innings after that, Greg Bird demolished a two-run home run against Mike Clevinger to stretch New York's lead to 8-3. Eight runs through five innings in a game Kluber started? We all would've taken that in a heartbeat. More than anyone expected.
Sabathia Grinds It Out
Man do I love Sabathia. His defense does not, apparently. Right after the Yankees took that 2-0 lead in the top of the first, they gave it right back with a gift-wrapped rally. Todd Frazier made an error on Lindor's ground ball — he tried to ole it and missed — Sabathia walked Jose Ramirez on four pitches, then Sabathia hit Edwin Encarnacion in the knee with a pitch to load the bases with one out. Suboptimal! Carlos Santana tied the game with a two-run single.
Austin Jackson opened the second inning with a single, then Frazier committed his second error of the game when his throw to second base on Gomes' potential 5-4-3 double play short-hopped Castro at second. Castro couldn't make the pick and both runners were safe. A sacrifice bunt moved the runners up, then the Yankees a) intentionally walked Lindor to load the bases, and b) brought the infield in. Why set up the double play with the intentional walk only to bring the infield in? I do not understand. Jason Kipnis poked a single threw the drawn in infield for a 3-2 lead. Sigh.
Had the Yankees gone on to win this game, I was all ready to write that Sabathia's escape job in the second inning as the biggest moment of the game. The Yankees were down 3-2 and the Indians had the bases loaded with one out. Sabathia managed to get Ramirez to pop-up in foul territory and Michael Brantley to strike out to end the inning, limiting the damage. That was huge. Ramirez and Brantley were the first two batters of an eleven straight batters retired stretch.
Sabathia's final line: 5.1 IP, 3 H, 4 R, 2 ER, 3 BB, 5 K. Frazier did him no favors with the two errors and Green allowed the runner he inherited from Sabathia to score as well. Like I said, I was cool with pulling Sabathia after 5.1 innings and 77 pitches. I just didn't expect Green to come in and not be able to put guys away. He allowed nine two-strike foul balls to the four batters he faced. That's not the Chad Green we saw all season.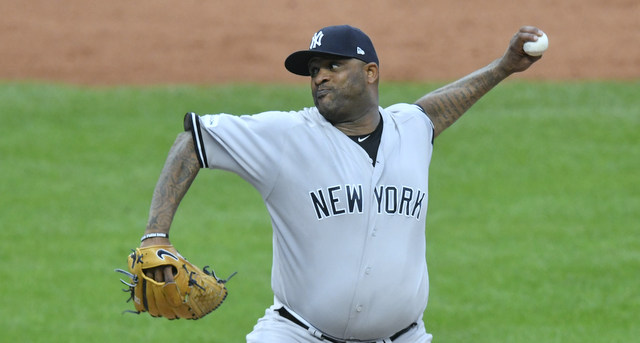 Blowing The Rest Of The Game
The non-challenge and grand slam were terrible, BUT, the Yankees still had the lead. It was 8-7 and the Yankees needed some combination of nine outs from David Robertson — Robertson replaced Green after the grand slam — and other relievers to earn the win in Game Two. Easy? No, not against the Indians. But doable.
Robertson mowed through the middle of the order in the seventh inning, then, despite Girardi saying he might not be available at all following his extended outing in the Wild Card Game, Robertson went back out for the eighth inning as well. He then gave up the game-tying solo home run to Bruce. Remember when the Yankees didn't claim him on trade waivers or agree to take on his salary at the trade deadline? Think they regret that one? They should.
The Bruce home run tied the game 8-8. It was pretty crushing. Tommy Kahnle came in to finish off the eighth inning, and in the ninth, out came Chapman. He threw a scoreless ninth and tenth inning. So, just to circle back, Chapman could throw two innings in a tie game but not two innings with a one-run lead. Why not just use him to start the eighth instead of a fatigued Robertson? What the hell is going on here? I can't be the only one who thinks this makes no sense.
While the bullpen did its thing, the offense was busy doing not much of anything. They had five baserunners in 8.2 innings after Bird's dinger. Frazier led off the sixth with a single, then Gardner banged into a double play. Frazier led off the eighth with a single, Gardner bunted him up, but Judge grounded out and Sanchez struck out. Bird drew a walk and Hicks singled to put men on the corners with two outs in the tenth, then Chase Headley grounded out.
Worst of all, Frazier reached base again leading off the 11th, this time when third baseman Erik Gonzalez threw away a routine ground ball. Threw it way over Santana at first base and into the stands, allowing Frazier to advance to second base. Pinch-runner Ronald Torreyes then ventured too far off the bag and was picked off by Gomes from behind the plate. Brutal. Just brutal. Torreyes was originally called safe before the play was overturned.
A potential rally was snuffed out just like that. The Yankees never had another baserunner. Meanwhile, on the mound, Dellin Betances was throwing fire for the second straight night. Six up, six down in the 11th and 12th. As good as Betances has looked all season. Girardi decided to send Dellin back out for a third inning, which is when things went south. Jackson worked a leadoff walk, stole second, then scored on Gomes' walk-off double down the third base line to end the game. Betances gets saddled with the loss but doesn't deserve it. That game was lost long before he took the mound.
Leftovers
The Yankees had eleven hits and somehow they were all tied up in five players. Two hits for Sanchez, two hits for Castro, two hits for Bird, two hits for Hicks, and three hits for Frazier. All other Yankees went 0-for-20. Judge did draw three walks though. Gregorius drew one and Bird had one as well. Eight runs should be enough. More than enough. I mean, six innings in 2.2 innings against Kluber and lose? Turrible.
Green was charged with three runs in one-third of an inning. Robertson, Kahnle, Chapman, and Betances then combined to allow two runs in 6.2 innings, which isn't bad in the grand scheme of things, they just happened to be two back-breaking runs. The Bruce game-tying homer and the Gomes walk-off double. Well, technically it was scored a single, but it would've been a double under normal circumstances.
Box Score, WPA Graph & Standings
Head over to ESPN for the box score and MLB.com for the video highlights. Here's our Bullpen Workload page and here's the loss probability graph …

Source: FanGraphs
Up Next
The ALDS now shifts from Cleveland to New York, where the Yankees have been a much better team in 2017. Hopefully that trend continues in Game Three. It kinda has to. This season has been fun as hell and I'm not ready for it to end. Saturday is a travel day and the series will resume Sunday night. Masahiro Tanaka and Carlos Carrasco are the Game Three scheduled starting pitchers. The Indians, in case you're wondering, have not lost three consecutive games since June.