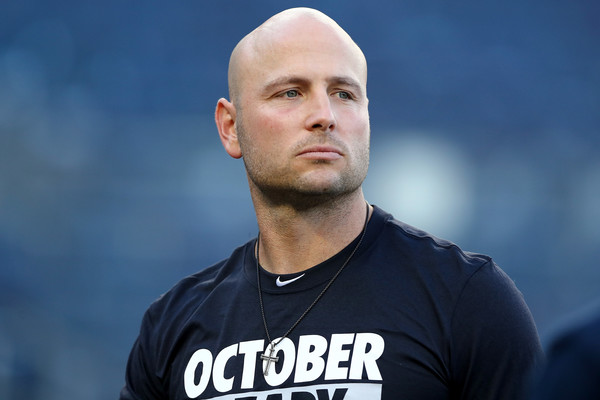 All but five players on the Yankees' 25-man ALDS roster have played in this series.
Two of the five are the Game 3 and 4 starters, Masahiro Tanaka and Luis Severino, who will each pitch if the series gets to Monday. One is Jordan Montgomery, the break in case of emergency reliever or blowout mop-up man. Another is Austin Romine, the backup catcher.
And then there's Matt Holliday. What's his role again? That's a good question.
Holliday is no longer the designated hitter. That much is clear. The Yankees have flipped between Jacoby Ellsbury and Chase Headley at DH for the last week except during last Sunday's meaningless game vs. the Jays. While starting Ellsbury at DH means no true backup outfielder, Joe Girardi has gone with him anyway.
Now 37-years-old, Holliday hasn't played the outfield all year and there's obviously no way he's starting ahead of Brett Gardner, Aaron Hicks or Aaron Judge. It's highly doubtful the team feels comfortable with him playing the field, even at first base, which he played a few times early in the year. Greg Bird is the man at first, with Headley and Todd Frazier likely ahead of Holliday in the pecking order.
So where does Holliday fit in? In theory, he makes most sense pinch hitting (or starting) against left-handed pitching. He has normal splits, batting .220/.301/.418 (89 wRC+) vs. RHP and .267/.366/.477 (125 wRC+) vs. LHP.
The Indians have a rotation with 4-6 righties and no lefties. That means no starts.
So that leaves him as logically only worth pinch hitting against the two lefties on the Indians' roster: former Yankees Andrew Miller and Tyler Olson. Olson pitched to only Ellsbury, Frazier and Gardner in the third/fourth inning on Friday, too early to go to a pinch hitter for Ellsbury.
Miller has pitched against the DH twice in this series. In the eighth inning on Thursday, Girardi kept Headley up there with none on and one out (he drew a walk). With Ellsbury coming up and none on, two outs in the eighth on Friday, Girardi pinch hit … Headley, not Holliday.
So in the most logical spot to use Holliday, Girardi chose Headley instead. It's hard to quibble with the decision, too. Headley had walked vs. Miller the day before and was 5 for 7 with that walk against Miller in his career going into Friday night. Those numbers are hard to argue with.
That's before you mention that Holliday is 0-for-4 vs. Miller and 0-for-1 vs. Olson in his career. He's just 1-for-7 as a pinch hitter this year, 9-for-43 in his career. He doesn't seem well-suited for the job he ostensibly fills.
So I repeat: What is his role on this roster? The Yankees could have used another pinch runner or an extra outfielder, which Tyler Wade or Clint Frazier could provide. They have DH covered. They aren't facing many LHPs and Miller pitches well against both lefties and righties.
After being unable to play in National League parks early in the year, Holliday ironically makes the most sense in a series against an NL squad where pinch-hitting opportunities abound and all four playoff squads feature left-handed starters.
When asked on Saturday whether Holliday would play on Sunday, Girardi said, "We will continue to look at things and we'll see." He's 1-for-4 with a single against Carlos Carrasco in his career, which is better than Headley's numbers against the Indians' starter. However, Ellsbury hits him well (8-for-21 with a triple, home run and two walks), so he makes the most sense to start.
And that likely leaves Holliday waiting on the bench once again, the 25th man on the 25-man roster. Maybe he finds his way into this series, facing Olson at an opportune time or being used to deke Terry Francona away from even going to the lefty. However, it seems like the Yankees could have put the spot to better use than a RHB without a clear position or role.