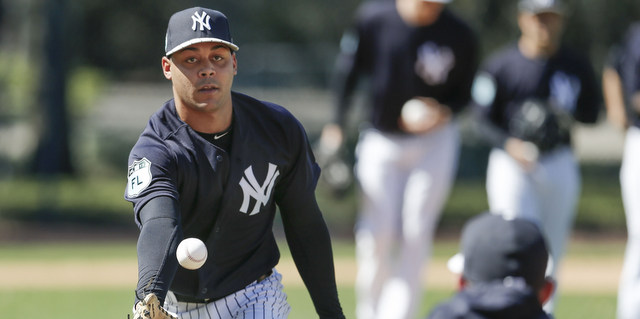 Earlier today the Arizona Fall League announced the rosters for their Fall Stars Game, the league's annual top prospect showcase. Yankees prospects Justus Sheffield and Thairo Estrada were selected for the game, plus both Billy McKinney and Estevan Florial are on the Final Two ballot. Here's the ballot. Go vote one of them into the game. Here are the East and West rosters.
Sheffield, who came over in the Andrew Miller trade, is New York's top pitching prospect in my opinion. He threw 93.1 innings with a 3.18 ERA (4.58 FIP) around an oblique injury for Double-A Trenton this year, and so far he has a 2.37 ERA with 21 strikeouts and two walks in 19 innings in the notoriously hitter friendly AzFL. The scouting reports have been glowing too. From Keith Law (subs. req'd):
Sheffield was absolutely filthy in his AFL debut, sitting 94-96 with a plus slider at 86-87 and above-average changeup at 86-89, better at the 86-87 part of that range. He's always been athletic with a good delivery that's online to the plate, but now his arm looks faster than ever, and he has a real breaking ball in the slider — he didn't throw a curveball at all. He was on my top 100 last winter on the promise of his athleticism and changeup, but now he's got more fastball and a potential out pitch in the slider.
Estrada has long been a personal favorite. He's hitting .390/.432/.512 through ten AzFL games after hitting .301/.353/.392 (107 wRC+) with a 10.3% strikeout rate as a 21-year-old at Double-A during the regular season. Estrada will be Rule 5 Draft eligible this winter, so a big showing in the AzFL could push the Yankees to add him to the 40-man roster. Middle infielders who can hit are worth keeping around.
The AzFL Fall Stars Game is this Saturday at 8pm ET, and the game will be shown live on MLB Network and MLB.com. Players on the Fall Stars Game rosters are going to play. It's not like an All-Star Game where some guys might not get in. Sheffield might even start the game. That'd be neat.