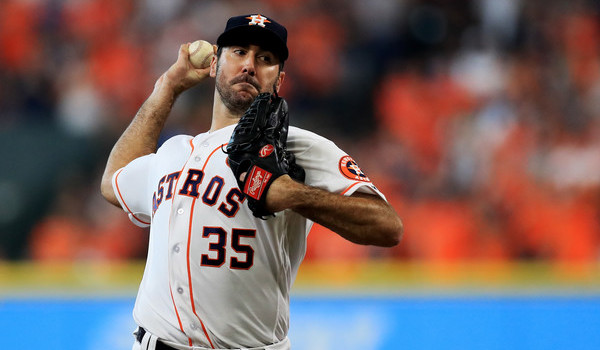 Tonight the Yankees have a chance to advance to the World Series, and they're in this position because they beat up on Dallas Keuchel in Game Five. Keuchel shut the Yankees down in Game One, which he's done throughout his career, but the tables were turned in Game Five and he didn't make it through five innings. Keuchel said the Yankees hit good pitches. The Yankees said they hit mistakes. Whatever.
In Game Six later tonight, the Yankees will again look to flip the script against a pitcher who dominated them earlier in the series. Justin Verlander was vintage Justin Verlander in Game Two, holding the Yankees to one run on five hits and one walk in nine innings. He struck out 13 and threw 124 pitches, something that basically never happens anymore. Only 17 times did a pitcher throw 120+ pitches in a game during the 2017 regular season.
"I know this is one of the main reasons I was brought here. I think so far I've done what they've asked or what they've needed of me to help the rotation and help get deep in the playoffs," said Verlander yesterday. "This is obviously the biggest game for the Astros up to this point for this season. The expectations are there. My teammates, I'm sure, are expecting a lot of me. And I expect a lot of myself. So this is why we play the game. And I love these opportunities to pitch in these atmospheres, these type of games. It should be a lot of fun."
Even at age 34 and with more than 2,600 innings on his arm, Verlander's stuff is still as electric as ever, and he was on in Game Two. The fastball was humming, the curveball started up above the zone and finished down below the zone, and that new-ish slider he has started down the middle and finished in the left-handed hitter's batter's box. When Verlander is on, there's not much you can do to beat him. You just have to wait him out.
That said, the Yankees are seeing Verlander for the second time in the span of a week, which could help them in tonight's game. As I mentioned prior to Game Five, pitchers who make two starts in a postseason series haven't seen their performance slip in the second game, on average. On average is the key phrase there. In an individual game, anything can happen, and the Yankees could zero in on something Verlander did in Game Two and adjust.
"I'm sure there will be some adjustments, yes. I think as any pitcher you don't want the team, if you're going at the same team twice in a row, you don't want them to see the exact same guy or same game plan, so there will probably be some adjustments on my end," added Verlander. "But also I have to trust my instincts and what my eyes tell me more than anything."
Verlander dominated in Game Two for two reasons. One, his stuff was electric. That's always a good start. And two, he was ahead in the count all night. Verlander faced 32 batters and 22 saw a first pitch strike. Thirteen of the 32 batters saw an 0-2 count, and that's no way to hit. How did Verlander get ahead in Game Two? With his fastball. Only six of those 32 batters did not get a first pitch fastball. Here are his first pitches in Game Two, via Baseball Savant: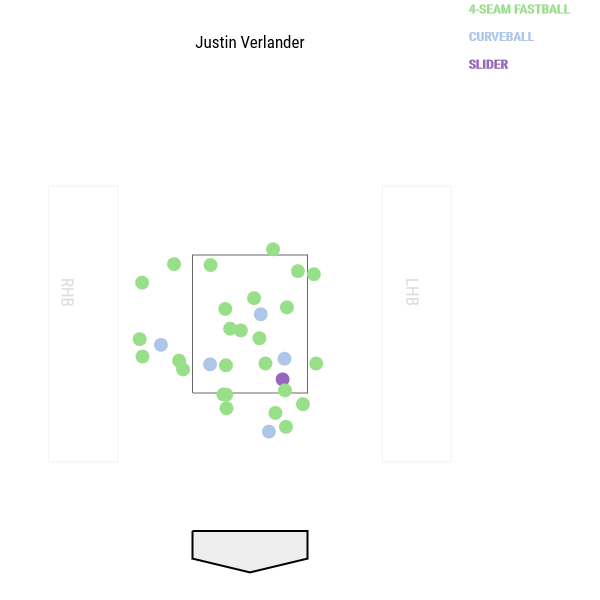 Thirty-two batters, 26 first pitch fastballs. Furthermore, the first pitch non-fastballs were thrown to specific batters. Gary Sanchez saw three first pitch curveballs in his four at-bats and Greg Bird saw two first pitch curveballs in his four at-bats. Chase Headley saw a first pitch slider, and he was struggling mightily at the time, so I guess Verlander just felt like piling on. But yeah, six first pitch non-fastballs and five were thrown to Sanchez and Bird.
During the regular season Verlander threw 69.8% first pitch fastballs, so seven out of ten times he'd throw a heater on the first pitch to try to get ahead. That's what he does. Verlander has a great fastball and he uses it to put the hitter on the defensive. Luis Severino, who will oppose Verlander tonight, does the same thing. Because Verlander throws so many first pitch fastballs, this seems like something the Yankees might be able to use to their advantage in Game Six tonight.
Now, I'm not saying everyone should go up to the plate and look to an ambush a first pitch fastball. But in select situations, say with a runner on base or in scoring position, sitting dead red on a first pitch fastball might be the best way to get something to hit against Verlander. Of course you want to work the count, especially with Houston's bullpen being shaky. Then again, Verlander is probably going to throw 110+ pitches anyway, so how much does that help?
Verlander has such a great fastball that you could sit on the pitch, get it, and still not do anything with it. That's why he's so great. But the Yankees are a very good fastball hitting team. They hit everything well, but especially fastballs. Their .355 xwOBA on fastballs was seventh best in MLB during the regular season. Knowing Verlander is going to throw so many first pitch fastballs seems like a possible advantage. It's something to hunt in a specific count given how often he goes to his heater to start an at-bat.
With any luck, Verlander will be worn down a bit following his high-intensity 124-pitch outing in Game Two, and he won't be quite as sharp tonight. Even with an extra day of rest. If the Yankees hunt first pitch fastballs in certain situations and capitalize, great. If not, well that's okay too. As good as Verlander was in One Two, he's not unbeatable. The Yankees got to Keuchel in Game Five and they have the talent to do the same to Verlander in Game Six.